Great Gift Ideas at Bloom

---
Great Gift Ideas at Bloom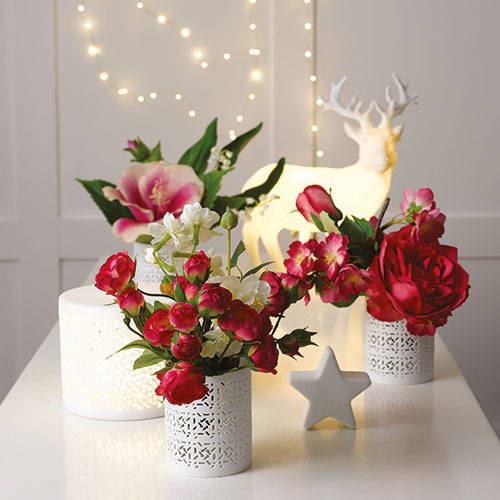 We have a range of Gift Ideas perfect for your loved ones at Bloom. No matter your budget, we have something for everyone. Shop the full collection here and ensure you're ready for the big day.
Entertaining in style or simply feeding family and friends - whatever your plans, here's the perfect table decoration.
Our Price £19.00
Joy, constancy, patience...the Victorians associated specific virtues with certain flowers and these in turn were linked to a particular month of the year. Such a charming idea deserved to be revived, which is what we've done with these beautiful blooms.
Our Price £12.00
This petite arrangement is named "Titan" after its collection of delicately crafted red ranunculuses, rosehips and lush green foliage.
Our Price £25.00
Intense deep purple and regal red anemone blooms, tied with a pretty tonal grosgrain ribbon to create an exuberant bundle of sheer joy.
Our Price £39.00
The Poinsettia is christmas in a flower, these mini versions work on their own or placed together for a vivid block of colour. Wonderful for bringing festive cheer all around the home.
Our Price £6.00
Our pretty tripych of short, hand-tied bouquets perfectly pirouette in a pretty cut-out porcelain vases. The third of our tempting trio is 'Fairy', which showcases a single, pink hibiscus surrounded by delicate white lily of the valley blooms. Supplied with a delicate white vase and ready for display.
Our Price £29.00
During the festive season Christmas trees are used to being the focus of attention. But (whisper it softly), there's a contender for the starring role waiting in the wings.
Our Price £99.00
A hand-tied bouquet of English cup roses and sprigs of holly dropped into our stag tankard. And wouldn't it make a wonderful gift - if you can bear to part with it?
Our Price £39.00
This traditional Victorian Christmas Berry Pot is ideal for table or home decorations. Bursting joyously from a twine-bound pot, this Christmas cornucopia of pine cones faux berries and foliage injects a pop of festive fun into your décor.
Our Price £19.00
Although it's called the white Christmas flower bouquet this enchanting little arrangement is far more versatile than its name suggests. Combining white ranunculus with rose hips and dark foliage, it's a seasonal arrangement that seems right for all seasons - spring, summer and autumn as well as winter.
Our Price £59.00