Great February Finds at Domu!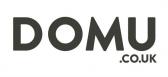 Calling All Affiliates!
Although our big brand clearance is over, there are still lots of branded items to buy on site at great prices. So our main focus for this week's post is to continue push sales towards these products. Shop them here: http://www.domu.co.uk/in-the-kitchen/big-brand-event
We will also be focusing on promoting the following categories:
Don't forget to add your own affiliate tracking links!
Happy Selling!
Domu Affiliate Team