Great deals for Valentine's Day at Expedia.co.uk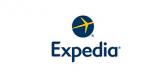 Hi Affiliates
Expedia have some great deals for Valentines!
Whether you are celebrating years of happiness or just starting out an exciting new journey, we have got all bases covered!
A few of the Destinations include:
*Barcelona, Spain
*Berlin, Germany
*Budapest, Hungary
*Cannes, France
*Copenhagen, Denmark
*Florence, Italy
*New York, USA
*Reykjavil, Iceland
and many more....
Return flights + 4 nights are start from as little as £121 per person!
HAPPY PROMOTING!