Graze Important Price Update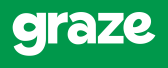 Dear Affiliates,
Please take a look at this important update from the Graze Affiliate Programmes!
From Monday 5th November the UK subscription box price will increase from £3.99 to £4.49
We therefore ask that any copy you have stating the £3.99 box price be removed and reflect the new price.
Please don't hesitate to get in touch if you have any questions.
Happy Promoting!
The Graze Affiliate Programme