Graze: Commission increases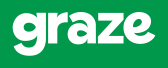 Dear Affiliates,
FOR THE WHOLE OF OCTOBER WE WILL BE INCREASING TRIALIST COMMISSION BY A WHOPPING 50% 
Following the overwhelming success of our limited time commission increase last January, we're excited to announce that we will be increasing commission again in October 2015!
Graze have recently successfully launched into retail, this combined with our TV ad on air throughout October means interest in graze will be at an all-time high.
Take advantage of this by promoting graze on your website and newsletters, and watch your commission grow!
Don't hold back, make sure you're shouting loud and clear about our free graze box offer. If you have any specific requests or requirements we can assist with, feel free to get in touch.
OCTOBER COMMISSION INCREASE DETAILS
50% commission increase in October
From 1st to 31st October 2015, commission will be increased as follows:
- £2.25 (increased from £1.50) per sign-up
- £1.50 paid when the full price box is purchased
... earn up to £3.75 per sign-up simply by promoting our fantastic free graze box offer!
The increased commission will be automatically applied for sign-ups generated during this period. Take advantage of this great offer by maximising our exposure on your sites and reap the rewards.
Many thanks and happy promoting!
The graze affiliate team