Graham & Brown: Free Standard Delivery & Last Delivery Dates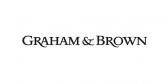 Dear Affiliates,
The graham & Brown are offering free standard delivery before Christmas & below, see the last delivery dates for customers to receive their Graham & Brown purchases before Christmas.
Last Delivery Dates:
Free Standard Delivery: 20.12.2016
Express Delivery: 21.12.2016
Next Day Delivery: 22.12.2016
If you have any questions about joining the affiliate programme or would like to know more about the brand, please don't hesitate to contact a member of the Graham and Brown account management team.
Additionally, if you have any opportunities for increased exposure, please get in touch.
Kind Regards
The Graham and Brown Account Management Team
grahamandbrown@twentysixdigital.com