GLAMGLOW launches on Affiliate Window with 10% commission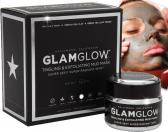 We are delighted to announce the launch of the new GLAMGLOW Affiliate Programme on Affiliate Window.
Launch Offer - Double Commission!
To celebrate our launch, we'll be offering an increased commission of 10% on any GLAMGLOW sale until 23rd March (usually 5%), so join today!
About GLAMGLOW - A Worldwide Phenomenon!
GLAMGLOW is an exceptional performance driven mud treatment brand initially created for Hollywood's entertainment, music and award industries.
Renowned for delivering the most incredible instant results to the world's most notable celebrities, GLAMGLOW's range of treatments contain the highest quality ingredients and deliver both instant and cumulative results - whatever the skin type!
Celebrity fans include Jennifer Anniston, Miley Cyrus, Michael Buble, Nina Dobrev, Denzel Washington, Jay-Z and Natalie Portman - it really is Hollywood's best kept beauty secret.
Multi-award winning GLAMGLOW is one of the hottest brands in skincare right now with the original YOUTHMUD treatment being dubbed Best Face Mask in the World after being voted for by all 44 global editions of Elle Magazine.
Recent press attention from India Knight, an incredibly trusted journalist for The Sunday Times only means the hype around GLAMGLOW is set to continue and demand for the range has been phenomenal!
We offer FREE DELIVERY on all orders to the UK and Ireland and 10% off with offer code AW10 (exclusive to Affiliate Window). Our conversion rate is high!
Why join the GLAMGLOW Affiliate Programme?
We have a full product feed available for you as well as a range of powerful creative for you to choose from (see examples below). We'll be in touch on a regular basis letting you know about new awards, new offers and amazing press coverage we receive via newsletters and The Hub.
By joining our programme now, you'll be receiving a commission of 10% on every sale that you make before 23rd March and 5% from then on.
Should you have any questions or just want to get in touch, please contact Catherine on affiliates@natalieroche.com
We look forward to working with you!
Tags: beauty offers, beauty treatments, GLAMGLOW, Health & Beauty, natural, programme launch, programme launches, promotion