Give Your Website A More Memorable Domain Name with Easily.co.uk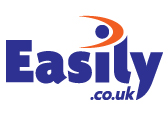 Hi,
Make your website into a dot whatever you like, with the brand new gLTDs (generic Top Level Domains), released by Easily.co.uk every week.
This week .REPORT .VISION and .FISH have been made available by Easily.co.uk, but be sure to check out the whole catalogue of domains by clicking here.
A new gLTD gives you the opportunity to customise your website into something more personal, memorable and specific to your audience.
Easily.co.uk also offer great deals on web-hosting and email packages, for more info please visit the website at www.easily.co.uk/
Commission is 8.5% for standard domain names, but you can earn up to 20% for the business and personal website creator full packages.
If you have any questions or promotional opportunities then please get in touch!
Thanks,
Chris & The Easily.co.uk Team
affiliate.manager@easily.co.uk
Tags: b2b, domain names, email hosting, new domain names, top level domains, unique domain names, web hosting, web hosting packages