---
Gift Hampers For Men at Hampergifts.co.uk
When it comes to gifts, men have an uncanny ability of being unfussy yet notoriously hard to buy for. From Dad's who say "Just get me some socks" to boyfriends who tell you to "I don't want a birthday present" while secretly wanting a birthday present, buying for the men in your life can be a challenge. For that reason, our gift hampers for men cover all your bases.
This charming gift contains six carefully chosen treats to entice any cheese & wine lover. The classic blue stilton and fruity Australian merlot are both award winners. And they'll go perfectly with the medal winning thin and crispy oatcakes and the spicy tomato chutney. The mouth watering chocolates are an indulgence for anytime! The Stilton Surprise comes beautifully hand-tied with purple ribbon in a re-usable woven basket.
Our Price £34.50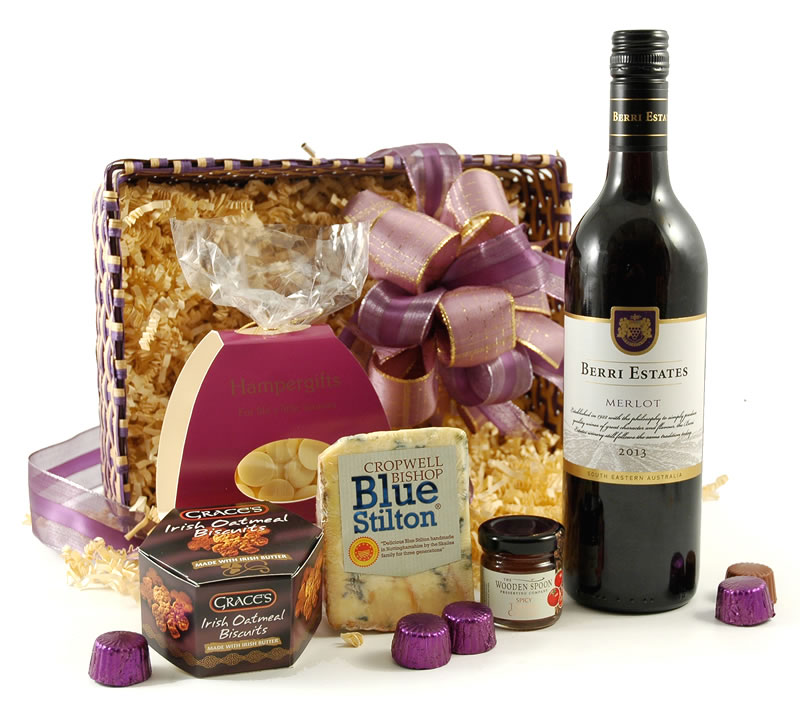 Arriving hand-tied with ribbon, this gift pack contains an aromatic collection of bathing products perfect for any gentleman. Full of natural butters and pure essential oils, you'll find a pair of scented soaps, shower gel, body lotion and a fizzing bath blaster to help relax and unwind.
Our Price £17.50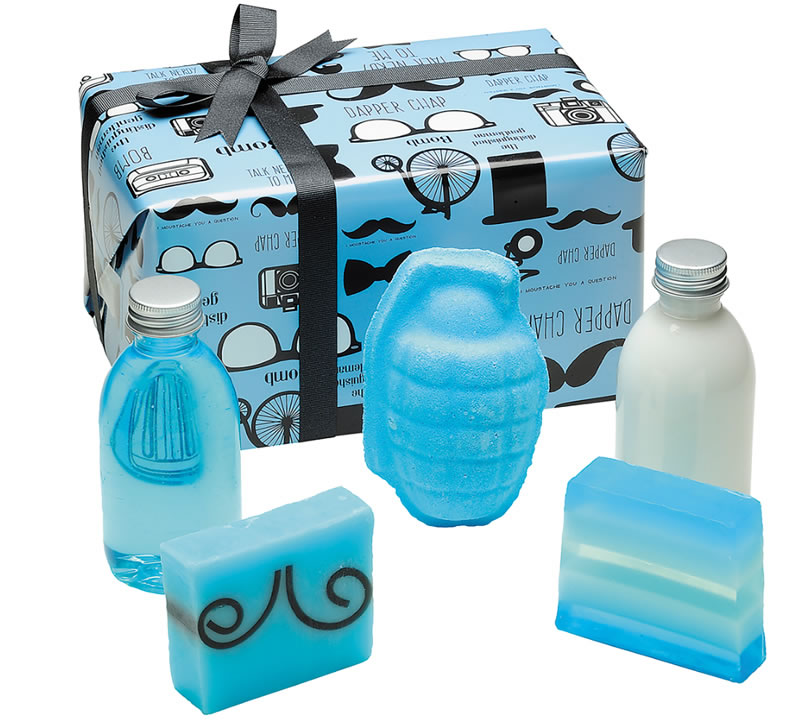 A great gift for family, friends or even just sharing round an office. Our smart Muffins, Cookies & Flapjacks Selection is brimming with seven delicious large American-style muffins, three flapjacks in mouth watering flavours, not to mention the scrumptious chocolate & hazelnut cookies! Arriving in a stylish tray gift wrapped with ribbon, this is a unique treat that can be shared by everyone.
Our Price £19.99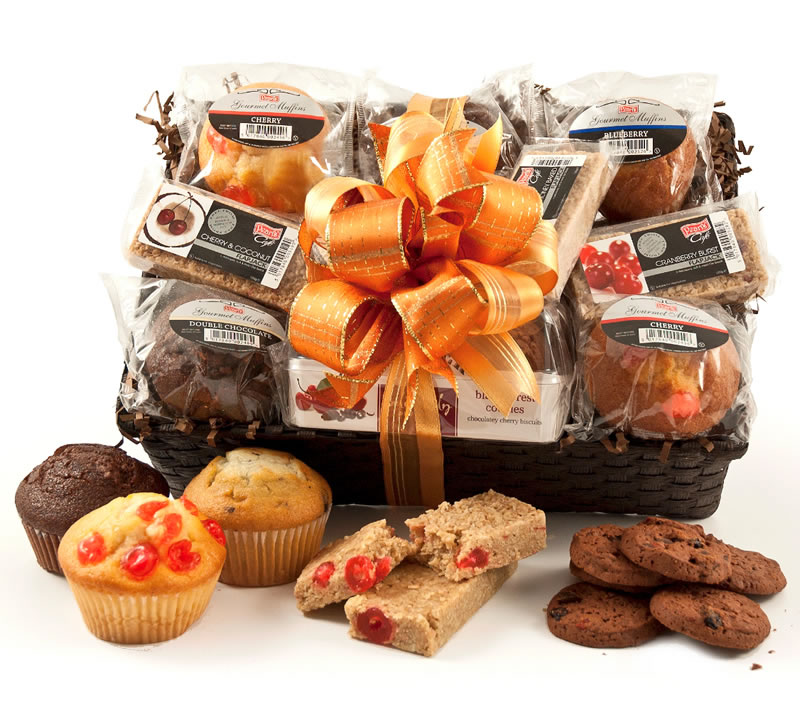 Anytime's a good time to take a break with a cuppa! Our tea and coffee hamper contains a subtly-flavoured Assam Tea and a full-bodied fresh ground breakfast coffee. We've also included a range of perfect tea-time (or coffee-time) snacks! You'll have trouble deciding between cherry & coconut and honey flapjacks, an indulgent double chocolate muffin and the incredibly tasty cookies. Or for a smaller snack, how about the delicious chocolate-coated cashews? All these items come carefully arranged in a classy box with magnetic fastener, which you can reuse again and again.
Our Price £23.99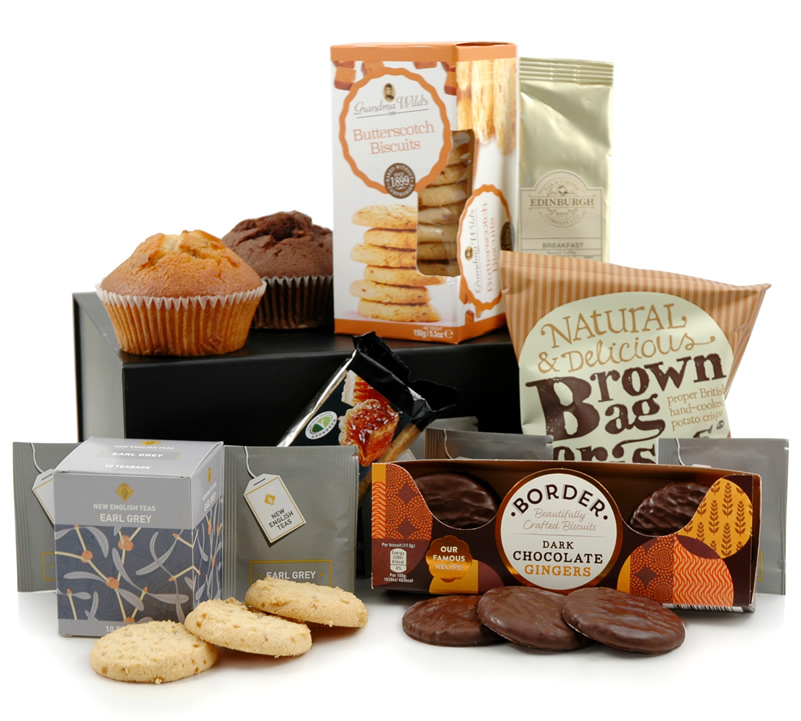 Demolishing this elaborate construction will be a special treat! Each of the striking, reusable burgundy & silver boxes is filled to the brim with indulgences like Honey Roasted Nuts, Hazelnut Praline Pieces, Sugared Almonds and more. This stylish gift is beautifully finished with a hand-tied ribbon - ideal for chocoholics, chocolate lovers, and people who just like a chocolate surprise now and again.
Our Price £30.00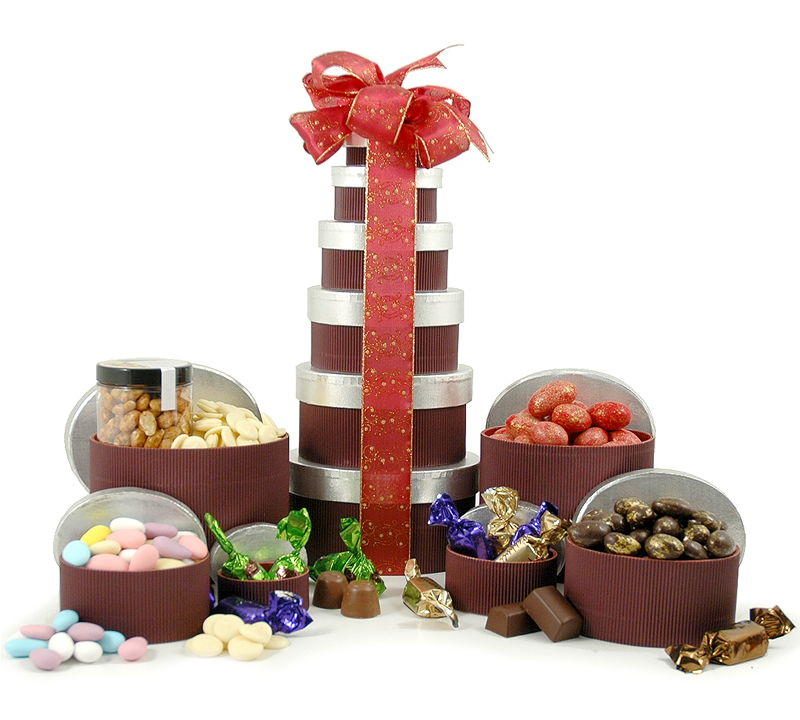 Whoever has the good fortune to receive this patriotic hamper will get the chance to eat their way round the British Isles. Starting in Scotland, they'll enjoy Cairnsmhor oatcakes along with a cup of the Edinburgh Tea & Coffee Company's best brew. Journey further south with a bevvy of carefully-chosen treats including a deliciously moist cherry flapjack, a generous family-size fruitcake and some first-class gooseberry and sloe gin jam. Of course, all these delicacies come attractively presented in a handmade wicker basket, finished in style with red, white & blue ribbon - making this a great present for nearly any occasion.
Our Price £36.00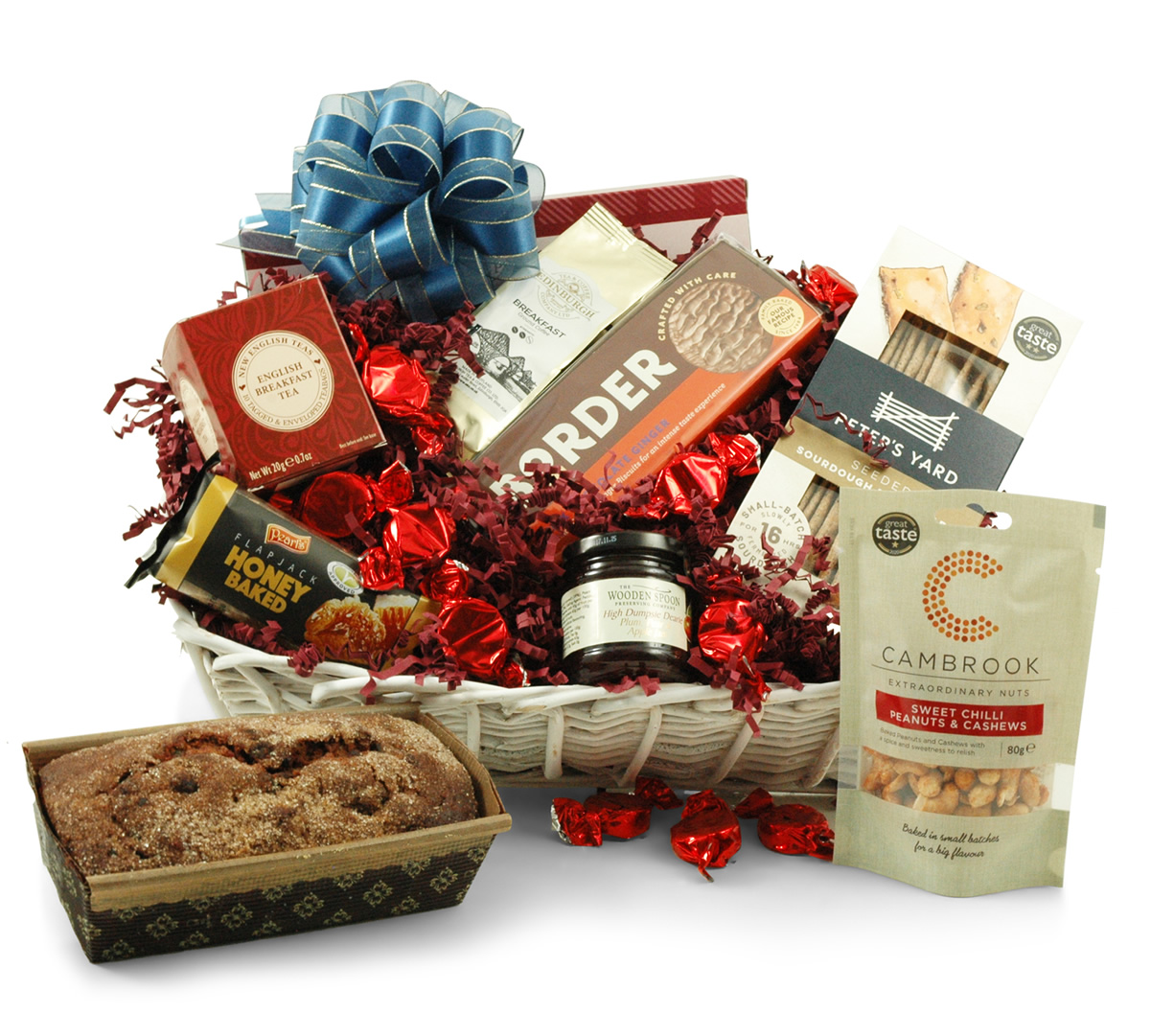 At the heart of our best selling wine hamper is a delicious medal winning Chilean Merlot. This elegantly gift wrapped hamper also includes some carefully picked Belgian chocolates, shortbread, chocolate coated honeycomb and other delights which go beautifully with the wine. The Ruby is the perfect gift for a friend or colleague who enjoy a nice glass.
Our Price £37.99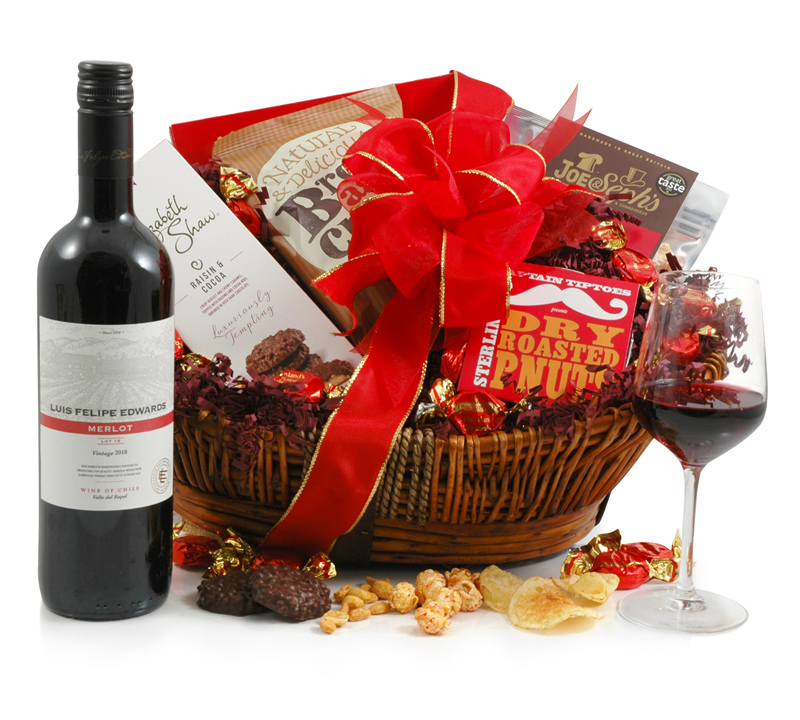 A lovely whisky hamper containing a half bottle of Bells Scotch Whisky and a delightfully indulgent selection of goodies - including crumbly fudge, dark orange chocolates and a delicious rich fruit cake. All arriving in a gift-wrapped basket with an adorable free baby teddy bear.
Our Price £45.00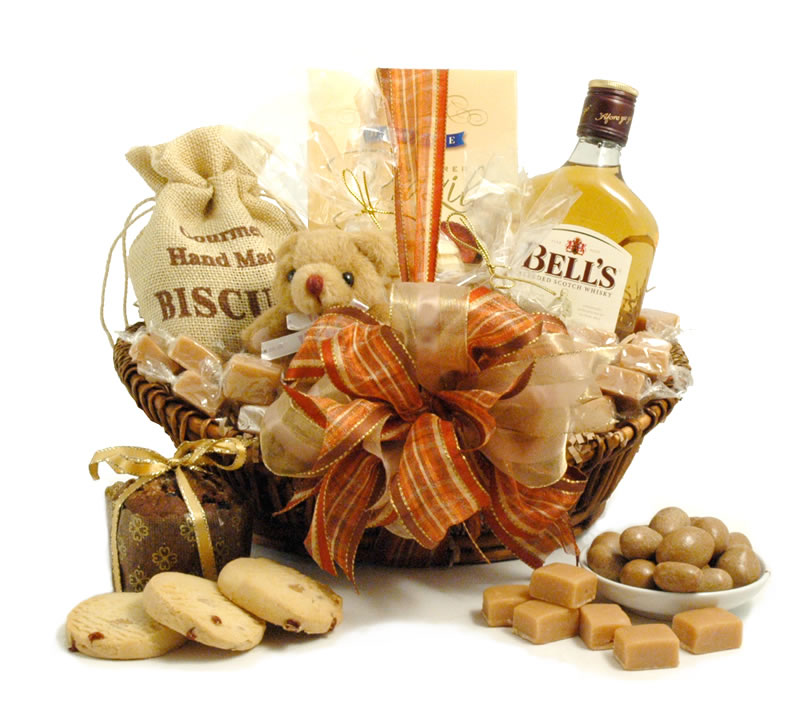 Our top-of-the range chocolate tower is a soaring 50cm tall and features 8 golden gift boxes, each one filled to the brim with a vast amount of chocolates, cookies and other sweet treats. This is pure indulgence on a grand scale! The contents include sugared almonds, lemon butter cookies, honey roasted nuts, Belgian truffles, chocolate coated Brazils, fruit cake, flapjack, caramels, hand-made honey biscuits and a huge amount more. The sheer number of goodies mean this gift is perfect for sharing - either in an office or for the whole family.
Our Price £49.99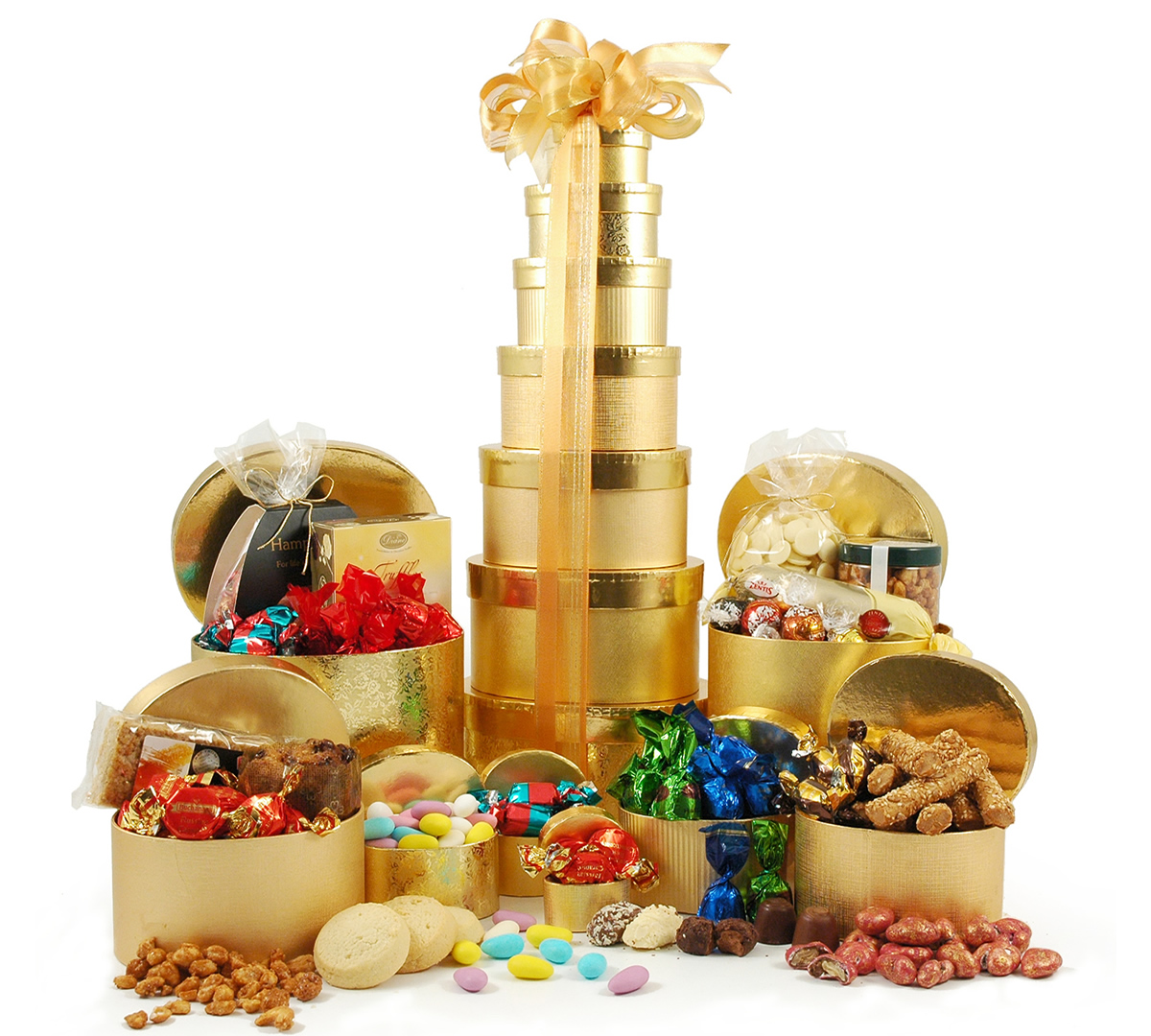 Standing at a whopping 73cm this is by far the tallest tower in our range. Containing 22 premium items presented in five sleek black gift boxes with silver lids, this makes an ideal corporate greeting, and is perfect for sharing at home or in a office. The Black Tower is jam-packed with all manner of indulgences - from pickle, pâté, crackers and nuts to fruit cake, chocolate, fudge & popcorn. And like all our towers it arrives beautifully gift-wrapped with ribbon, ready to present to the lucky recipient.
Our Price £85.00