Get Your Holiday 'Must Haves' at Swimwear365

Dresses and Skirts are always must have items to include in your holiday fashion wardrobe.
At Swimwear365, we have a fantastic range of dresses and skirts, each with multiple ways of wearing them, giving you maximum use and style options. With maxi dresses, beach dresses and mini-skirts as well as much more, our range comes to life in a wide range of vibrant colours and eye catching styles.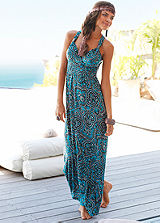 So whether you're looking for a stylish beach bar number, poolside cover up or stunning evening outfit there is always an appropriate choice for all at Swimwear365.
New Affiliates
Not yet a part of the Swimwear365 affiliate program…you're missing out on our 10% commission rate! Plus, we've got some fantastic joining incentives for April!
Be sure to check out our profile on Affiliate Window
Alternatively, contact us direct at swimwear365.promotions@orangecanyon.co.uk
Tags: beachwear, dresses, holiday fashion, ladies swimwear, maxi dresses, skirts, Swimwear