Get featured on the Etsy US Blog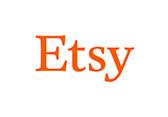 Dear Affiliates,
We have some exciting news to celebrate the Holidays...
You could win
a feature
on the
Etsy US blog
plus a
£300 Etsy gift card
!
This is a huge opportunity for your site as the blog receives over 250,000 unique visits per month!
All you need to do is publish an Etsy Holiday Gift Guide post on your site and email Stefanie the post link once it is live. The theme of the post is up to you - it can cover whatever category you'd like, from fashion and food to pets and home decor, etc.
Our Etsy Editors will choose 7 winners from each of our core markets (Australia, Germany, Canada, USA, France, UK and Rest of World) to be featured together in one post on the Etsy US blog.
Runners up in each market will win a £200 gift card and those in 3rd place will receive a £100 gift card, so there are plenty opportunities to win!
To submit your gift guide into the competition, you must meet the following criteria:
• Write an Etsy dedicated Holiday gift guide post, highlighting only Etsy products and share why you think it makes a great gift
• Deep-link all Etsy items in the post
• Publish the post before December 2nd
The chosen winners will be featured on the Etsy US blog with the unique Etsy items featured in their post and a link to their website.
Winners will be announced on December 9th and the blog post will be published on December 12th.