GEMPORIA - 30% OFF - FAKE NOTHING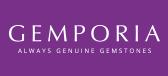 Hello Affiliates!
We are excited to announce a new promotion that we would love for you to push!
As of tomorrow, the 9th of March, customers will be shop and save with a massive 30% off on site. This offer will only last until midnight on the 13th of March so don't hesitate to make the most of this amazing opportunity to boost your commission sales!
For any more information, please contact the Gemporia Affiliate Team.
Thanks!
Benjamin.Craig@TGGC.com
www.gemporia.com