Friday flash sale, incoming!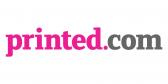 Prepare yourselves! You only have 2 days until the first ever Friday flash sale hits the printed.com site. You'll be able to get your hands on one of 200 canvas prints at a delightfully discounted rate for one day only. But be warned: once they're gone, they're gone!
All our canvas prints are recreated on scratch-resistant Innova Décor canvas and hand finished in England by our artisans, Steve, Alan and Paul. That only gives you a couple of days to pick out your favourite photo and make sure it's canvas-ready so you can beat the crush!
Tags: canvas prints, photo prints, photographic prints, photos on canvas