Free UK delivery on all Vans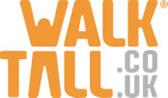 Hope you're having a good week!

We wanted to tell you that Walktall has a great offer of FREE UK delivery on all orders of Vans styles, but it's only until Friday night, so you'll need to act fast to take advantage of this great promotion!

Here are the offer details:
Offer: Free delivery (UK standard) on all Vans
Code: WTAVSFP
Expiry: 11.59pm on Friday 9th February 2018
For full terms and conditions*, please see below.
Don't forget we have great discounts in our sale: https://www.walktall.co.uk/sale
Also, it has been brought to our attention that a number of affiliates are stating that Walktall sells clothing on their websites. Please can we encourage you to check your Walktall details are up to date and there is no mention of Walktall selling clothing. We currently sell footwear, socks and accessories, but no clothing. We hope this will avoid any confusion for your customers. Please can you also ensure that the Walktall logo you display on your website is up-to-date.
If you have any questions about this or require any imagery then please do not hesitate to contact us.
Happy Promoting
The Walktall Affiliate Team

*Terms and conditions
- Free delivery (UK standard) on orders of Vans footwear.
- Offer only applies to orders of Vans.
- No minimum spend required.
- Free delivery includes sale items.
- Enter the offer code WTAVSFP when ordering.
- Offer only applies to UK orders.
- This offer cannot be used in conjunction with any other offer.
- Offer expires at 11.59pm on Friday 9th February 2018.
- We reserve the right to withdraw this offer at any time.
Tags: discount code, fashion, footwear, free, free delivery, offer, offer code, offers, promotional code, vans, voucher code, walktall