Free UK delivery offer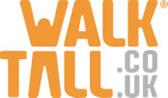 We hope you're having a great week!

We wanted to tell you that Walktall has a great offer of FREE UK delivery on all orders but it's only until Friday night, so you'll need to act fast to take advantage of this fantastic promotion!

Here are the offer details:
Offer: Free delivery (UK standard) on all orders
Code: WTAFEBFP
Expiry: 11.59pm on Friday 2nd March 2018

We are now adding new spring/summer styles to Walktall.co.uk so be sure to promote them today: https://www.walktall.co.uk/new

For full terms and conditions*, please see below.

Happy Promoting
The Walktall Affiliate Team

*Terms and Conditions
- Free delivery (UK standard) and returns on all orders.
- No minimum spend required.
- Free delivery includes sale items.
- Enter the offer code WTAFEBFP when ordering.
- Offer only applies to UK orders.
- This offer cannot be used in conjunction with any other offer.
- Offer expires at 11.59pm on Friday 2nd March 2018.
- We reserve the right to withdraw this offer at any time.
Tags: code, fashion, footwear, free, free delivery, offer, offer code, offers, voucher, voucher code, walktall