Free International Shipping at Boy London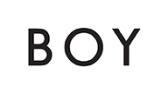 Boy London Affiliate Newsletter
---
Free International Shipping at Boy London
Free international shipping + duties and taxes paid on all orders when you use code : 3DEL
Offer expires - 21/11/2021
Reversible puffer jacket, with classic BOY Eagle logo printed across back and small eagle logo printed on chest. High neck, zip up front closure, two front pockets, elasticated cuffs and adjustable hem.
Our Price £335.00
Short sleeve t-shirt featuring classic iconic BOY Eagle logo, printed on the front.
Our Price £60.00
Long sleeve sweatshirt with classic BOY Eagle logo print on front, in a regular fit with ribbed cuffs and hems.
Our Price £110.00
Classic, black Markham puffer jacket with BOY Eagle badge "153 King's road" sewn on sleeve. Double zip closure with three front pockets and removable hood.
Our Price £225.00
Bonded sherpa fleece body providing warmth and comfort, making it the perfect everyday jacket for the colder weather. Raised collar neckline and full front zip fastening.
Our Price £150.00
Put a pin in it. Our lightweight khaki graphic printed bomber jacket is perfect for summer. It features safety pin detailing, black BOY printed text on the front and a hand graphic as the back print.
Our Price £200.00
Punk is protest. Our Black cotton hoodie depicts the 1981 Brixton Riots in a grey-scale print.
Our Price £130.00
Read between the lines! Our grey, cotton sleeveless hoodie features our graphic stencil eagle logo with a wrap-around effect and black drawstring detailing.
Our Price £125.00
Black pullover hood with bonded sherpa fleece body, perfect to be worn throughout the colder seasons. Featuring a heavy embroidered patch of the iconic BOY Eagle logo.
Our Price £100.00
The future is ours. Our black cotton FUTURE TEE features a screen-printed Boy London and slogan.
Our Price £50.00