Free Delivery on Marsh Sewage Plants at Drainage Superstore
Drainage Superstore Affiliate Newsletter
---
Free Delivery on Marsh Sewage Plants at Drainage Superstore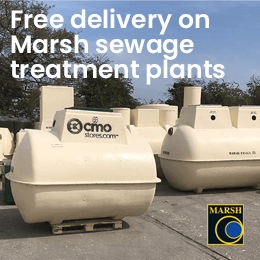 Marsh Industries produce state-of-the-art off-mains drainage solutions to the domestic, commercial and agricultural sectors from their UK manufacturing plants in Kettering and Bridgwater. They have earned a deserved reputation for providing high quality wastewater treatment products that really do add value, are economical, efficient and environmentally sensitive.
When non dissolvable objects are flushed into the sewer and then into a sewage treatment plant or pump station downstream, it can lead to blockages or worse - possible plant failure.
Our Price £3,950.00
The Uni:Gem Star, is a unique septic tank conversion unit which exceeds EN12566-3 / EN12566-6 standards and conforms with 2020 General Binding Rules (GBRs for septic tanks or small sewage treatment plants for domestic use).
Our Price £2,550.00
The MA1 is a beacon alarm panel with a single input for a float switch and a single input for a pressure switch. If either trigger, the beacon will illuminate and a buzzer (not a klaxon) will sound. ThE MA1 is mains powered and has a 48 hour battery back-up inside.
Our Price £310.00
Polylok's Poly-Air activated carbon vent filter can remove offensive odours such as Hydrogen Sulphide as they exit the sewer pipe network through vent pipes. This filter will eliminate these unpleasant odours.
Our Price £105.00
Marsh Industries Raincell water harvesting system for home and garden use. The rain cell harvesting systems uses rainwater from where it falls, rather then diverting it into a surface water drainage network that can lead to flooding and potentially major distruption downstream.
Our Price £4,550.00
The Marsh Whisspurr Acoustic Vibration Reaction (AVR) unit has been designed to limit noise levels and vibrations from diaphragm compressors used in the water and wastewater treatment sectors.
Our Price £150.00
The Marsh cesspool cesspit tank is a covered, watertight unit for storing raw household sewage. It has no outlet and relies on road transport for the removal of raw sewage. No biological treatment is involved.
Our Price £1,100.00
The portable and compact Portapura sewage treatment tank from Marsh Industries has been specifically designed for temporary accommodation (caravans/travel homes), site offices, site toilets and workshops.
Our Price £3,100.00
The Marsh Ultra:Polylok L (UPL) draws upon Marsh Industries' extensive experience in the industrial and commercial sewage treatment sectors bringing its outstanding performance and added-value engineering to the domestic sector.
Our Price £2,550.00
The Ensign domestic sewage treatment plant comes with lifting eyes to make and unloading and installation faster and safer. We designed the Marsh Ensign 6 plant to self-level on the base and with our unique pipe connections ensure the installation is undertaken efficiently and correctly.
Our Price £3,000.00