Flybe: New Programme Launch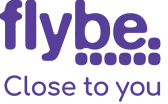 Hi all,
We are pleased to announce the launch of Flybe's affiliate programme on Awin!
Flybe is the local, great value airline that's close to you. They fly from more UK airports than any other airline, and their friendly staff are always going above and beyond to give you exceptional service every time you fly.
As well as serving the UK (including routes from Aberdeen, Manchester, Birmingham and their home city of Exeter), they fly to European destinations as diverse as Dusseldorf, Bordeaux, Amsterdam and Milan.
We offer 1% commission on all valid flight sales on a 30-day cookie basis.
We look forward to welcoming you to the programme. Should you have any questions, please reach out to christina.downes@umww.com.
Many thanks,
The Flybe Affiliate Team.