Flash Sale – 15% off orders over £30 at Chemist Direct
Chemist Direct Affiliate Newsletter
---
Flash Sale – 15% off orders over £30 at Chemist Direct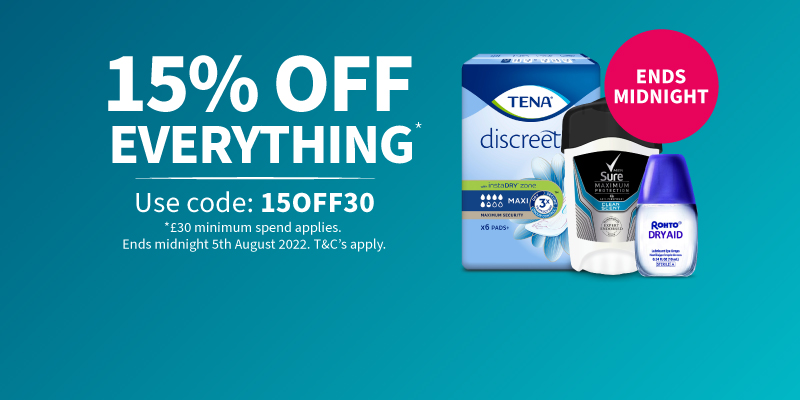 We have a Flash Sale at Chemist Direct, get 15% off orders over £30!
Use code '15OFF30' at checkout to receive discount. Be Quick! This code expires at Midnight, 5th August 2022.
T&C's – Excludes all baby milk and baby food, Alli, Regaine, Viagra, Slimfast, Paedisure, Ensure, PPE, Souvenaid, Complan, Orlos, Delivery Pass and Covid Test Kits.
Click here to find out more.
Nicotinell Mint 2mg lozenge provides on-the-go relief when nicotine withdrawal symptoms strike. It dissolves in the mouth to release a small dose of nicotine helping to satisfy any cravings. Pack contains 204 lozenges. Ideal for smokers of more than 30 a day.
Our Price £19.59

This easily absorbed sun fluid offers ultra-high protection agains damaging UVA/UVB rays. With SPF50. Water resistant and fragrance free. Suitable for sensitive skin.
Our Price £18.00

CeraVe Moisturising Cream 454g, provides a rich nourishing cream for all day hydration with 3 essential ceramides to help protect the skin's natural barrier. Suitable for dry to very dry skin. Fragrance free.
Our Price £16.00

A moisturising cleansing lotion for normal to dry skin with 3 essential ceramides to help protect skin's natural barrier. CeraVe Hydrating Cleanser is suitable for both the face and body and is designed to soothe sensitive skin that can be prone to irritation and eczema.
Our Price £15.00

Exfoliate and moisturise extremely dry, cracked feet and protect the skin's natural barrier for a soft, smooth feel with CeraVe SA Renewing Foot Cream. This fast-absorbing, non-greasy cream helps to improve the texture of compromised skin.
Our Price £8.50

Rugged Nature Beard Oil Cedarwood is designed to hydrate, buff and reduce irritation for beards. The formula is made from all natural ingredients including Argan oil and Apricot kernel oil.
Our Price £13.50

Up to 100% more plaque removal: round head cleans better for healthier gums. Dynamic movement helps you achieve enhanced cleaning results. Dentist-inspired round brush head oscillates, rotates and pulsates to break up and remove plaque.
Our Price £59.99

The essential toothbrush to achieve an everyday clean. Removes more plaque than a regular manual toothbrush. 2D Cleaning Action, oscillates and rotates to remove plaque better than a regular manual toothbrush.
Our Price £40.00

Tommee Tippee Fun Style soothers feature a symmetrical design and soft, flexible but durable silicone teats. The traditional shield style with bright, playful designs with fun characters suitable for use anytime, anywhere.
Our Price £14.99

Optrex Infected Eyes Eye Drops soothe and cleanse to provide relief for minor eye irritations.
Our Price £7.49