Flash Sale - 10% off Everything at Chemist Direct
Chemist Direct Affiliate Newsletter
---
Flash Sale - 10% off Everything at Chemist Direct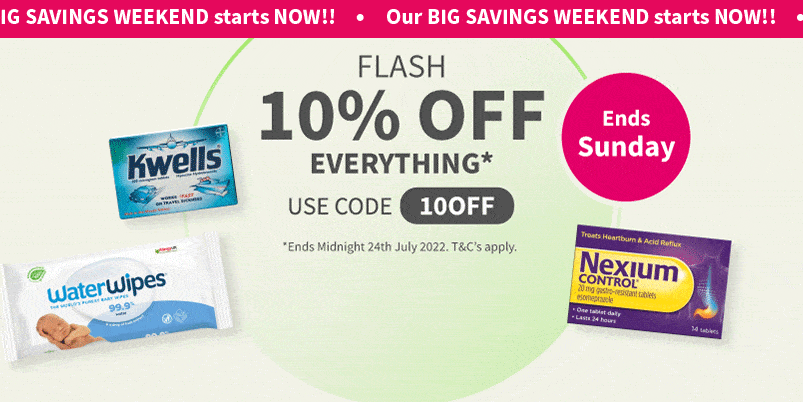 Flash Sale - 10% off Everything at Chemist Direct.
Use code - 10OFF at Checkout.
Expires - Midnight, 24-07-2022.
T&C's apply.
Click here to find out more.
Healthspan CBD 1,000mg oral drops are 10.7%. The oil format allows for the oil just to be applied using a dropper under the tongue for easy absorption and eliminates the need for swallowing capsules.
Our Price £54.95

KarmaMood is a traditional herbal medicinal product that has been traditionally used to relieve the symptoms of slightly low mood and mild anxiety.
Our Price £25.49

Healthspan Night Time CBD contains natural extracts of chamomile, hops, lavender and lemon balm and is formulated for night-time use. The oil can be applied with the dropper under the tongue for fast absorption.
Our Price £22.95

Bonjela Junior Gel is specially formulated to relieve pain associated with mouth ulcers including those caused by braces. Suitable for children aged from 5 months to 16 years. Sugar free.
Our Price £3.99

Keep your child's gums and teeth strong and healthy, and keep breath fresh.
Our Price £2.25
Specially designed for children age 3-5 years, to protect little teeth. Aquafresh Little Teeth Toothpaste 3 - 5 Years has a mild minty flavour and will keep teeth strong and healthy.
Our Price £1.99

Protect and clean young teeth with Aquafresh Advance Kids Toothbrush 9-12 Years. With interdental bristles for those hard to reach areas.
Our Price £1.99

Benadryl Allergy Liquid Release 10mg Capsules provide everyday relief from hay fever symptoms and other allergic conditions.
Our Price £34.14

Allergy & Hayfever Relief contains 10mg of Loratadine for relief from hayfever, seasonal allergies, skin allergies, and hives. Multipack of 360 Tablets - 30 Tablets x12 Pack.
Our Price £15.49

Optrex Hay Fever Relief Drops for soothing relief from sore, itchy eyes affected, and Allergy Relief Cetirizine tablets, which contains an active ingredient to protect your body from symptoms caused by pollen, skin allergies, dust/mould allergies, or pet allergies.
Our Price £7.39