Flash Sale - 10% off Everything at Chemist Direct
Chemist Direct Affiliate Newsletter
---
Flash Sale - 10% off Everything at Chemist Direct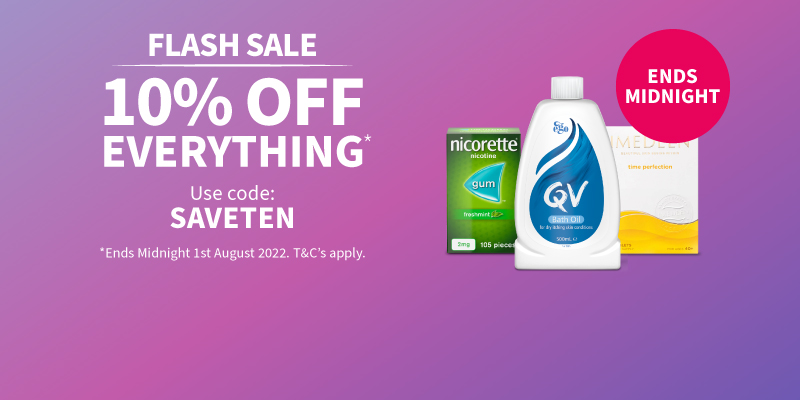 Flash Sale - 10% off Everything at Chemist Direct.
Use code - SAVETEN at Checkout.
Code expires - Midnight 01-08-2022.
Terms and exclusions apply.
Click here to find out more.
Excilor Fungal Nail Infection Pen treats nails for fungal nail infections. If you're suffering from a fungal nail infection and don't want it to spread, use Excilor Fungal Nail Infection Pen for a quick and simple remedy for fungal nail infections.
Our Price £23.99

Mycosan Fungal Nail Treatment provides symptomatic treatment and prevention of fungal nail infections. It is easy to apply and actively stops the development of fungus.
Our Price £19.99

Scholl Lower Back Pain Relief Insoles were created to relieve pressure off the lower back. They do this by supporting the position of the foot which can reduce stress transfer to the lower back.
Our Price £19.99

Scholl Freeze Verruca & Wart Remover is clinically proven to quickly remove warts from your feet.
Our Price £15.00

Remove stubborn mature warts with a fast application from Wartie.
Our Price £13.99

The 7 Day Variety Kit has everything you need to get started on the 3.2.1. Plan and kick-start your weight loss journey! With plenty of variety to keep you interested, you are sure to find your fav in our selection of products.
Our Price £20.00

SlimFast Meal Replacement Bars are packed with protein, fibre and 32 vitamins and minerals for a tasty balanced meal. The bars can aid in weight loss and help keep the weight off.
Our Price £6.99

Stay fuelled for whatever the day throws at you with Grenade Carb Killa Jaffa Quake. These triple layer cake bars are low in sugar and carbs but high in protein and fibre.
Our Price £2.59

Prevent pregnancy with Lovima! This progestogen-only (POP) mini-pill is now available without prescription.
Our Price £28.99

Prevent pregnancy in women of childbearing age with Hana. This progestogen-only pill (POP) contains 75 micrograms of desogestrel.
Our Price £19.75