---
Find The Perfect Gift For Her at Sock Shop
Treat that someone special with the Gifts For Her Collection at Sock Shop.
Click here to find out more.
Well we're absolutely 'crackers' about our boxed ladies SockShop Wild Feet Christmas Cracker Socks! Inside each of these luxurious, cream with gold accents Christmas crackers is a pair of cotton rich, festive-themed nutcracker ankle socks, in three designs.
Now £10.99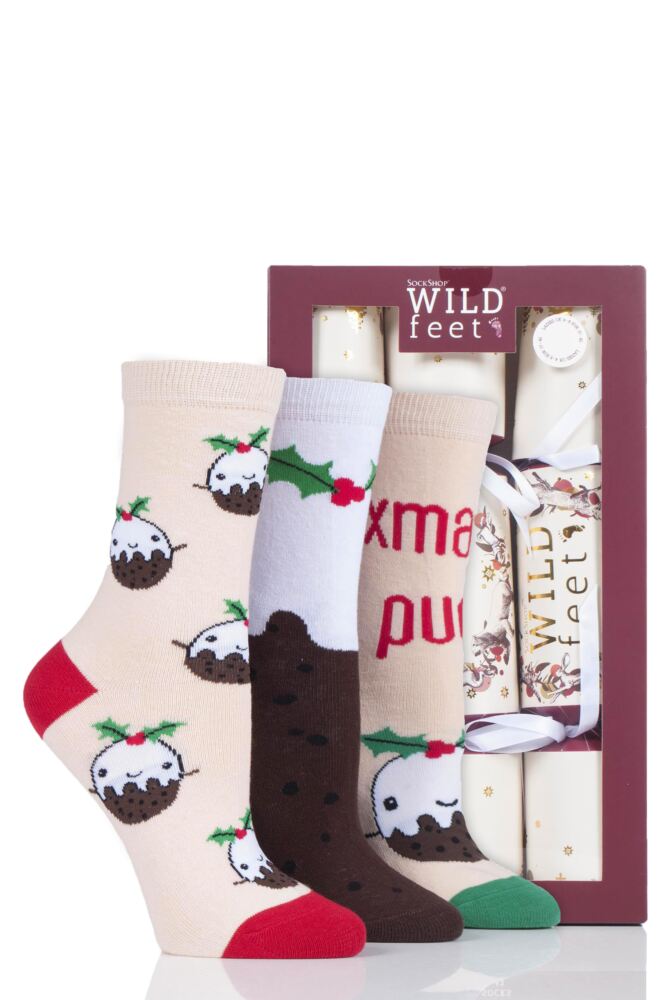 In a festive, sparkly igloo-shaped pack, wish someone you care about a merry 'Sloth-Mas' — especially if they're just a little fond of lazing about, with this ladies triple pack SockShop Wild Feet Gift Boxed Sloth-Mas Cotton Socks.
Now £11.99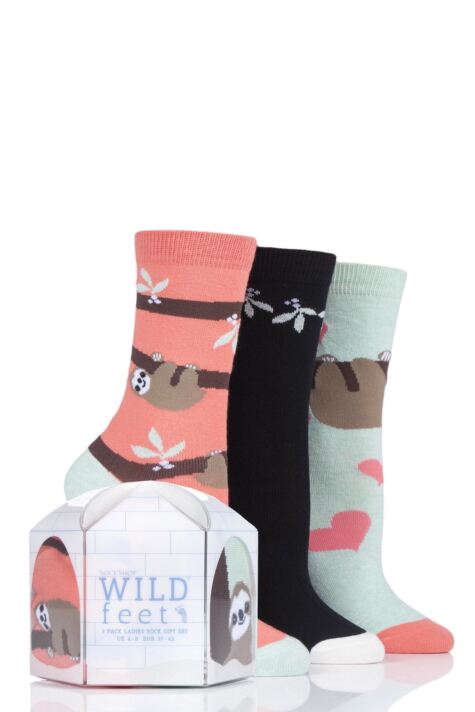 For cat lovers, witchy women and even for Halloween if you like, our cute, yellow eyed kitties that feature on these SockShop Wild Feet Black Cat Cotton Socks stare in that defiant way that we love them for, from two pairs of this triple pack. These fun black and sky blue background socks have a glamorous touch too, with silver glitter stars, moon, toes and heels decorating them.
Now £9.99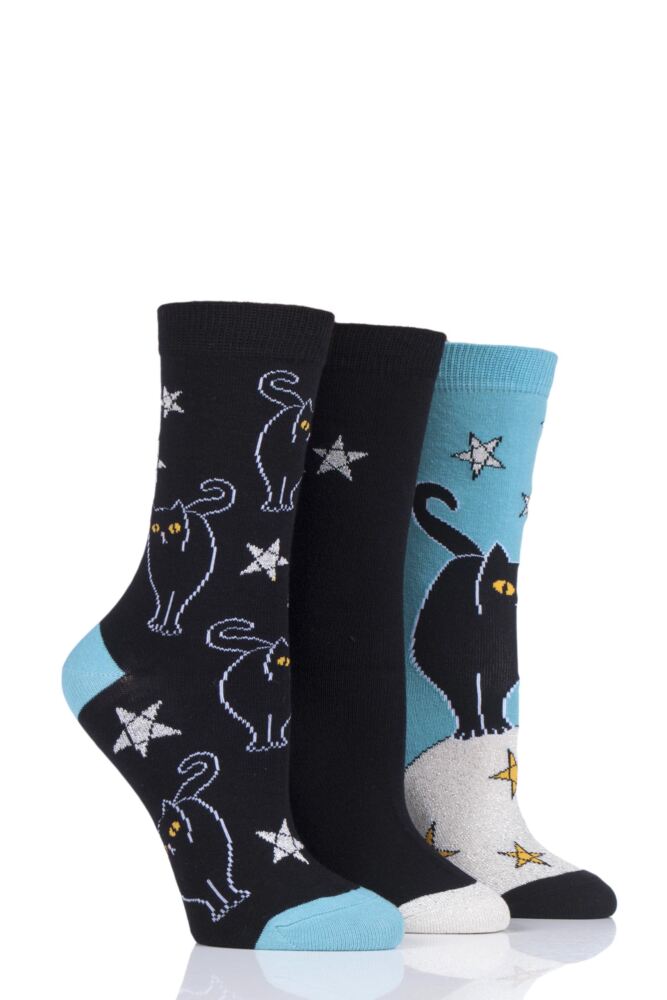 Give a gift this Christmas that can be used year after year - our new Wild Feet Christmas Jumper range doesn't just give you a new pair of socks, but also a reusable decoration! The small knitted, decorated bag with hanger contains a pair of our best festive-themed ladies socks.
Now £4.99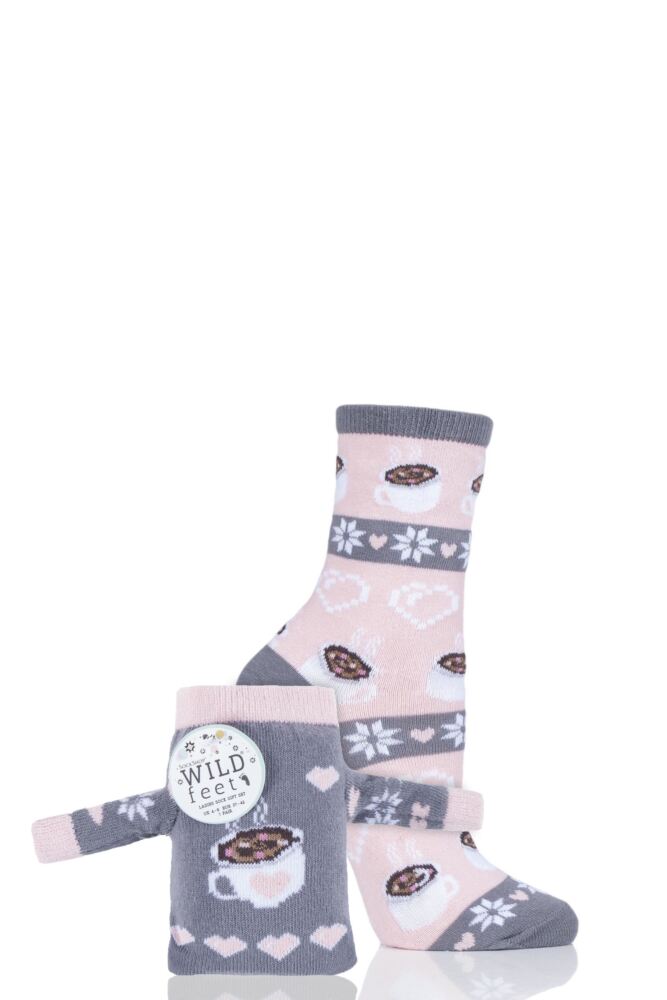 We know from our previous, successful doggie-themed socks that dog lovers like to celebrate their pets, so pug people, prick up your ears, because everyone should hear about these festively glittery SockShop Wild Feet Pug Christmas Jumper Gift Bag Socks!
Now £4.99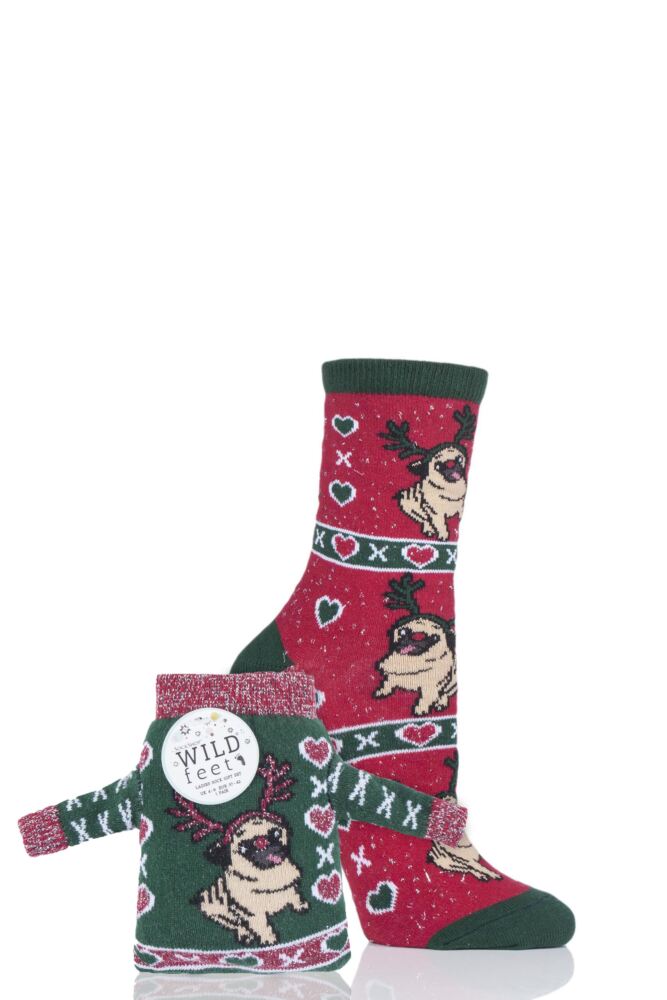 Each housed in a stylish, decorated gift box, these ladies three-pair sets of SockShop Wild Feet Cotton Socks will make a delightful small present for any animal lover. The cotton rich, standard ankle length socks come in an array of colours and shades, with two different animal motif designs and some even incorporating lovely silky fur-textured details.
Now £11.99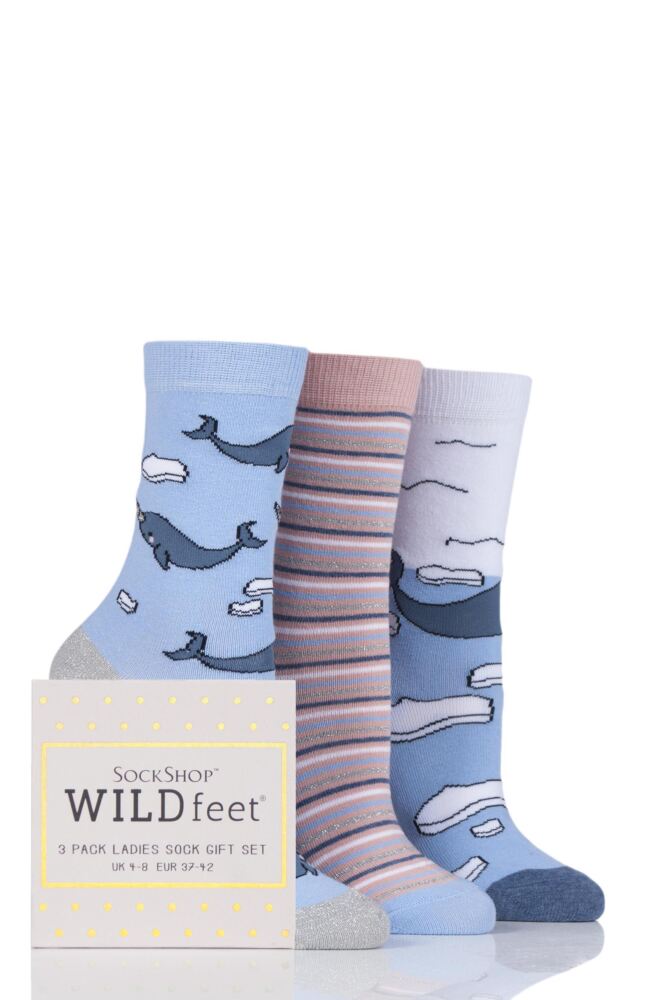 Over the years, many things have become traditions for hanging on the Christmas tree - ornaments, candy canes, tinsel… now we're adding a new twist on tradition with our SockShop Wild Feet Gingerbread Christmas Jumper Gift Bag Socks!
Now £4.99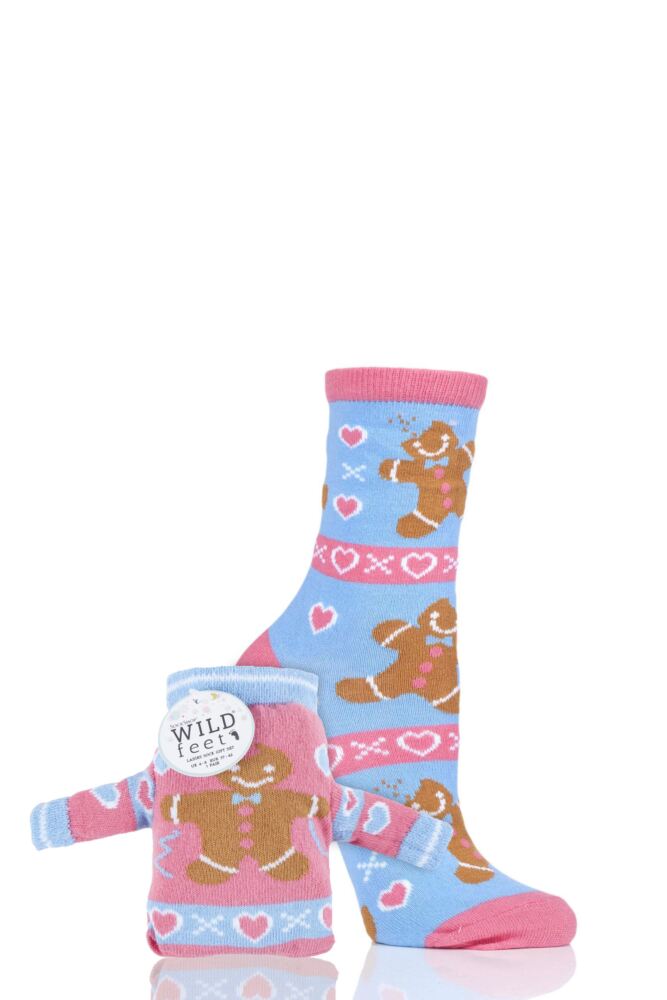 Dinosaurs didn't do Christmas, but if they did, we're sure that they would have put a pair of these ladies SockShop Wild Feet Stegosaurus Christmas Jumper Gift Bag Socks on their Christmas lists! These snazzy, candy cane decorated dino-socks are colourful and cotton rich, soft to the touch and lots of fun. They come rolled into their own tiny Christmas jumper, perfect for hanging on the tree if you like, and reusing the year after as a decoration.
Now £4.99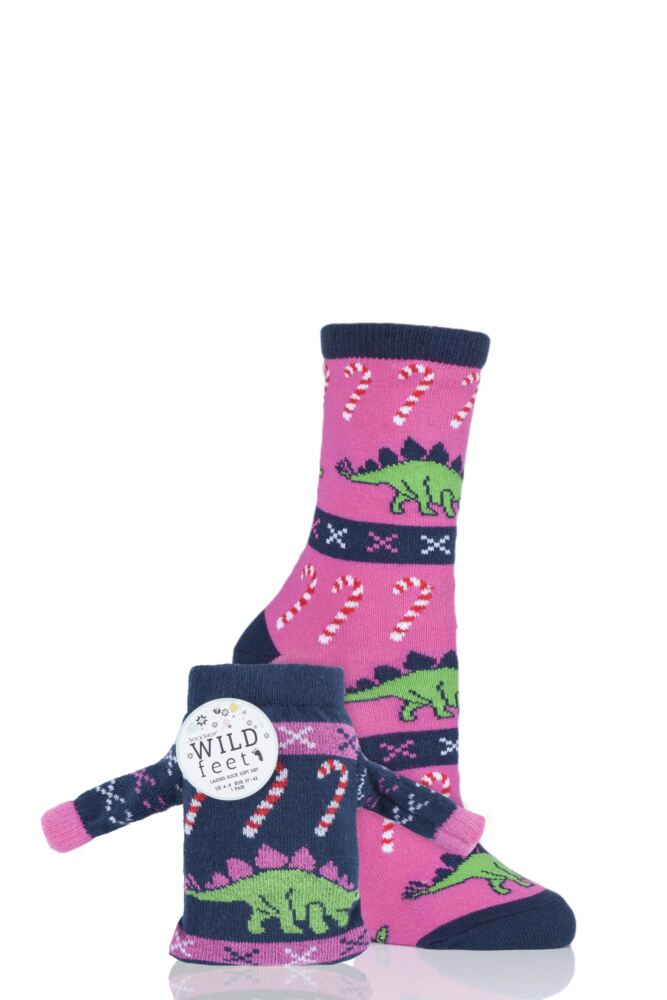 Putting their happy feet to good effect, these party penguins are shaking a festive flipper on these SockShop Wild Feet Dancing Penguin Cotton Socks! Our triple pack of cotton rich ladies ankle socks show the Santa hat-wearing ice birds on grey and ice blue marl backgrounds, and also feature a smattering of silver sparkle, in the form of a giant glitter ball.
Now £9.99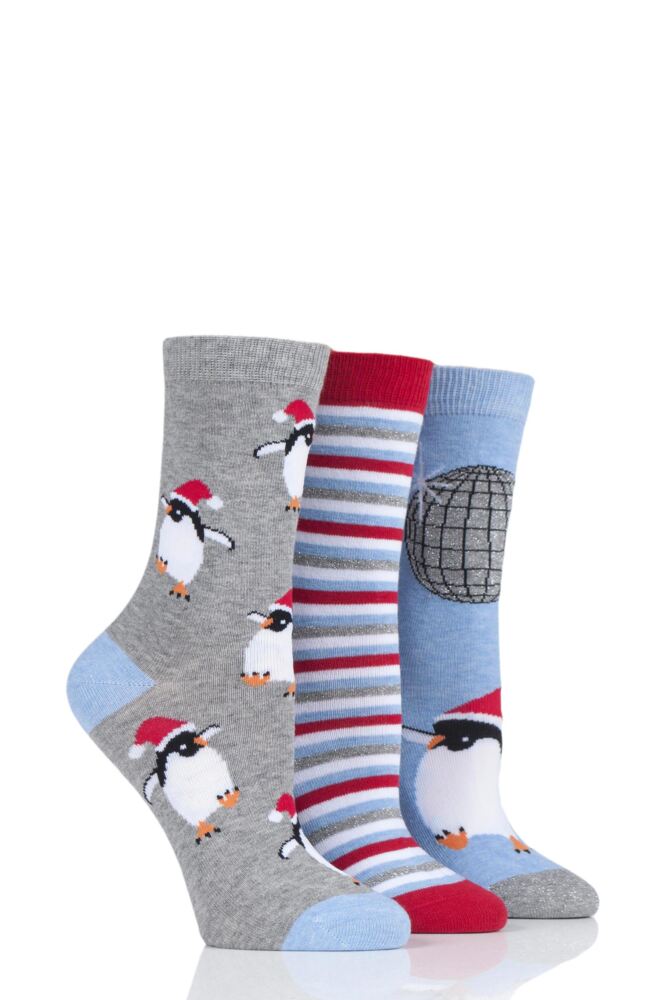 Now, we aren't wholly sure that floating a pug as shown on our new SockShop Wild Feet Balloon Pug Cotton Socks is the best way to exercise them, but allow us a little artist license, because it's just such a cute image! This triple pack of mixed colour designs has our intrepid explorer drifting through the clouds and the stars, buoyed by a pretty pink balloon, along with a versatile, attractive block pink pair with contrast details.
Now £9.99