---
Festive Dining With LSA International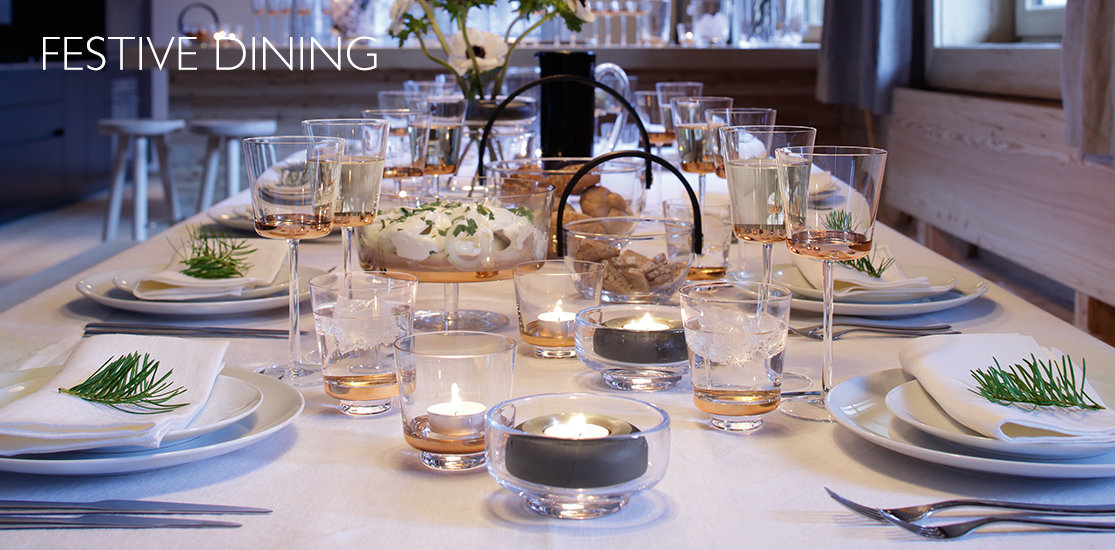 The halls are decked, so now it's time to give your dining table a seasonal spin. A large platter, individual glass pudding bowls, or a stylish sauce jug. How will you update yours?
Shop the full collection here.
Hand-drawn stems elevate the straight-sided, cylindrical bowls of these glasses. The geomteric shape offers contemporary presentation for wine or desserts.
Our Price £40.00
Inspired by the folk traditions of woodworking, assorted patterns are carved into this handmade glass dome and corresponding square wooden base, made with ash from FSC® certified sources.
Our Price £100.00
For serving oil, vinegar and vinaigrettes at the table, this set includes two mouthblown glass bottles with wooden stoppers and base made from solid, sustainably-sourced oak.
Our Price £38.00
The distinctive spherical stems and Baroque-inspired silhouettes add opulence to these mouthblown wine glasses, ideal for special occasion dining and entertaining.
Our Price £40.00
A design of classic simplicity makes this white porcelain bowl ideal for the finest soup and pasta dishes.
Our Price £50.00
This pair of modern wine glasses is mouthblown with a fine rim. The elegant silhouette offers sophisticated presentation for fine wines and complements the Olivia carafe.
Our Price £32.00
This modern, handmade carafe is fitted with both a rimmed ash lid and coaster. Combine with the Utility tumblers or highballs to create a mixed material set for entertaining.
Our Price £28.00
Versatile and stylish with a classic flat rim, this set of porcelain plates is ideally sized for starters, sides or desserts.
Our Price £20.00
A modern twist on Art Deco, these eight tumblers are embellished with assorted linear motifs and glamourous metallic finishes.
Our Price £50.00
Made from heavy-gauge steel with a thick enamel coating, this cheese dome has a natural leather handle and sits on a solid, stepped ash base. The practical, mixed material design celebrates the integration of form and function.
Our Price £42.00