Festicket.com - Europe's largest music festival travel platform - is now live on Affiliate Window!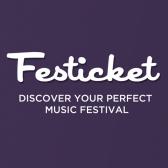 Dear Affiliates
We are delighted to announce the launch of 'Festicket' at Affiliate Window.
With an average basket price of over £430 on our packages, affiliates earn an average of £16.70 per transaction.
Festicket makes it easy to book music festival trips whether home or abroad, whilst saving festivalgoers money. We curate ticket + travel packages for over 150 music festivals, that are tailored to music fans whether travelling on a shoestring or looking for 5 star luxury.
For Affiliates, Festicket offers a truly unique platform to grow their revenue via a vibrant and growing audience of festival goers around the world through Festicket's generous affiliate programme.
Advantages of Becoming a Festicket Affiliate
Festicket provides timely reporting and generous affiliate terms. Your site and social pages will also benefit from the association with a vibrant, dynamic and growing market.
Festicket are a PRIMARY ticket seller and always an official partner of every festival we work with. Be assured by our close relationships with each event and our status as official partners.
• Create a new revenue stream via an untapped, booming market.
• Increase your existing eCommerce offering and improve average transaction rates.
• Be associated with a cutting edge, experience driven audience.
• Enjoy the support of Festicket's Partner network.
Why join the Festicket Affiliate programme?
• The UK and Europe's most extensive range of music festivals and packages
• Festicket packages always beat, or match, the cheapest online for each element of the package.
• We work with over 150 of the world's leading music festivals (as of May 2014) with more coming on board each week.
• Festivalgoers very often travel to multiple festivals per year
• With an average basket price of £430 per package transaction, affiliates earn an average of £16.70 per sale.
Festicket is offering a launch commission rate an extra £1 on all commissions for the first 90 days.
Cookie Period: 30 Days
Festicket also offer a great range of creative designed to grab the users attention, which is ready to be uploaded to your account as soon as you have joined Banners and text links are available within the "linking methods" section in affiliate window. If there are any sizes not there that you require please partners@festicket.com
Terms and Conditions
The following is prohibited from the Festicket Affiliate programme unless an individual publisher/affiliate is invited to do so in writing by Festicket:
1. Using the Festicket brand name, brand misspellings or similar variations in the written copy of adverts on PPC (Pay-Per-Click) search engines or SNS.
2. Using the Festicket brand name, brand name misspelling or similar variations as keyword or key word phrases for the purposes of targeting adverts on PPC search engines or SNS.
3. Using the Festicket brand name, brand name misspelling or similar variations in any main domain names.
Please note that PPC search engines and SNS include Google, Bing, Facebook, Twitter and any other platform that offers full or partial PPC advertising.
Examples of prohibited terms include but are not limited to:
• Festicket
• Festiticket
• Festickets
• Festticket
• Festtickets
• Festitickets
Failure to comply with the above points will result in permanent exclusion from the Festicket Affiliate/Partner programme.
CASHBACK
Please note: Cashback cannot be used in conjunction with any voucher codes, in instances where a code and cashback have been used in conjunication the commission for the cashback will be declined
For cashback/incentive sites please make sure you have the following message displayed on your site:
Please note that transactions will only be approved after the festival has started. In the event of a cancellation no cashback will be awarded. Please also note that in the event of any transactions that have not tracked for any reason; you cannot raise a disputed transaction until 4 weeks after the date of the festival.
VOUCHERS
Festicket reserves the right to withhold payment of commissions if non-authorised voucher codes are used in an affiliate sale. Festicket appreciate that consumers may use voucher codes that they have found via another site other than that which is awarded the sale and this will be investigated before decisions on commission payments are made. Any affiliate found to be displaying unauthorised codes may also have their commission set to zero until the code(s) are removed.
Where voucher codes are issued with an expiry date this should be clearly displayed, and codes should be removed or explicitly marked as expired after the expiry date unless you are advised otherwise. Any affiliates displaying expired codes without marking them as being expired may be suspended from the programme. Please also ensure that you observe the IAB voucher code best practice guidelines available here.
Festicket also offer a great range of creative designed to grab the users attention which is ready to be uploaded to your account.
If you have any questions about the Festicket programme, please get in touch.
Barri Coen - partners@festicket.com
Tags: camping, europe, festivals, glamping, hostels, hotels, international, live, music, travel