Fantastic Festive Socks Available at Sock Shop
---
Fantastic Festive Socks Available at Sock Shop
Step into seasonal cheer in these special Christmas socks and slipper socks available at Sock Shop. Full of festive fun, these are a great treat for Christmas feet or a fantastic stocking filler.
Click here to find out more.
It's the big festive gift that really does keep giving (well, up to and including Christmas anyway) — our giant 25-Pair SockShop Wild Feet Christmas Calendar Socks gift set! This big, big 43cm x 31cm advent-style gift box is chock-full of ladies socks in seasonal and year-round designs, ranging from Kawaii-style Christmas trees to the angelic pugs shown on the lid of this set.
Was £79.99 Now £39.99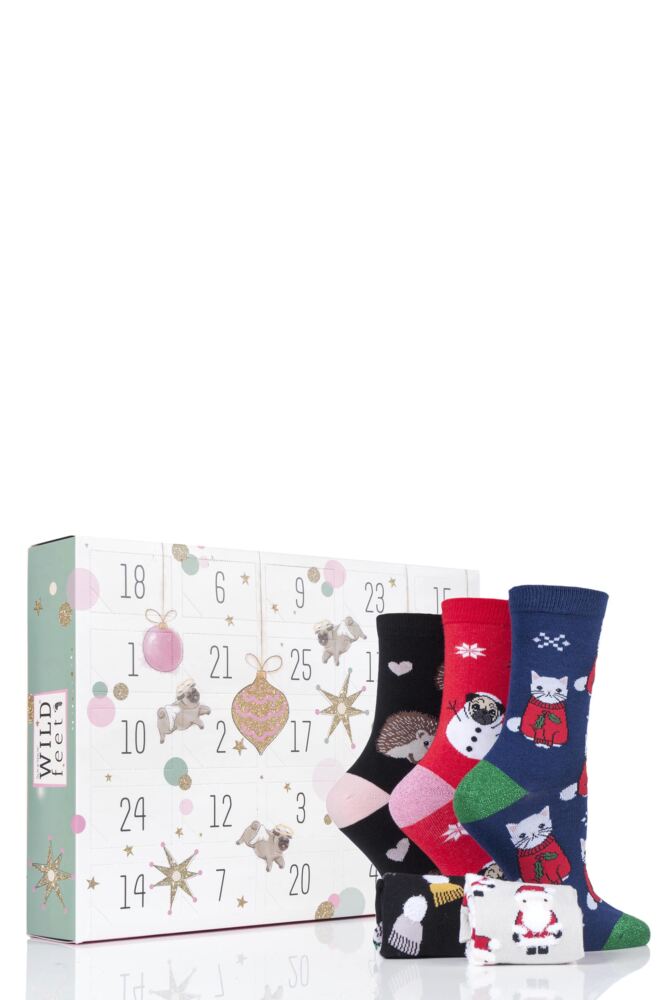 There's nothing quite like the anticipation of a really good advent calendar... and this 25-Pair SockShop Wild Feet Christmas Calendar Socks gift collection can absolutely be classed as really, REALLY good, with a different pair of 'surprise' socks for every single day of pre-Christmas December, right up to the big day itself.
Our Price £79.99
Make every one of the 12 days of Christmas fun for a special someone by giving them a daily surprise gift with this men's 12 Pair SockShop Wild Feet Christmas Calendar Socks gift set. Concealed behind each door in this big boxed set is a new pair of fun styled designs from our popular Wild Feet range of novelty and patterned socks. Each pair will be different, and will be great quality in a cotton rich blend for softness.
Was £44.99 Now £22.49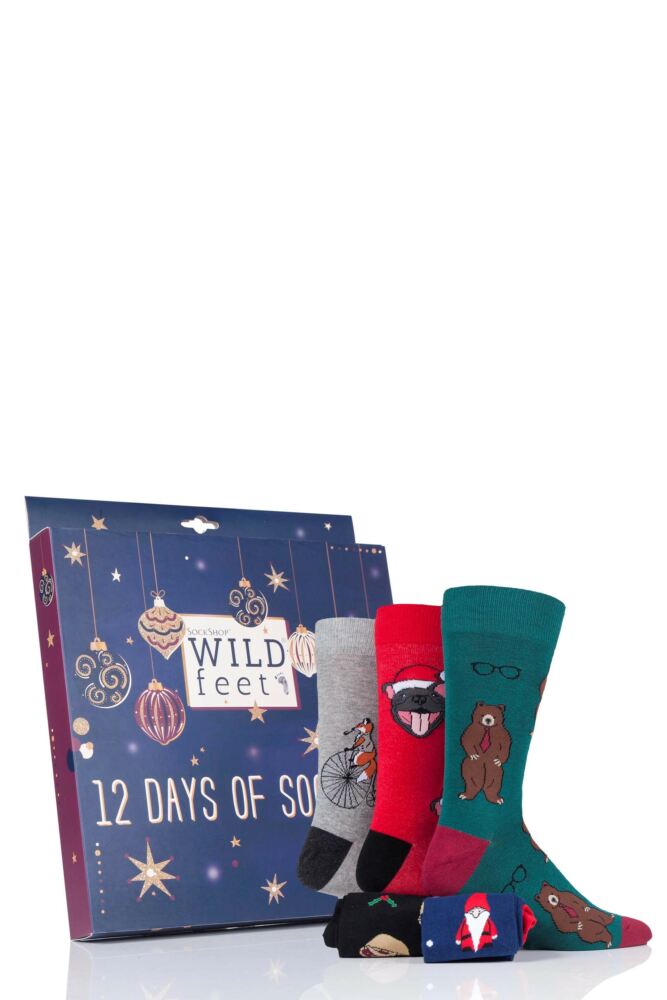 Every day, another surprise! Bring back that bit of excitement you used to get from kid's advent calendars to the 12 days of Christmas by giving someone you love this 12-Pair SockShop Wild Feet Christmas Calendar Socks gift box with its surprise-laden contents. Behind each of the doors in the case lies a new pair of novelty design socks, different every day. Some seasonal, some with special fur textured details, some with glitter, but all great quality and fun to wear.
Was £44.99 Now £22.49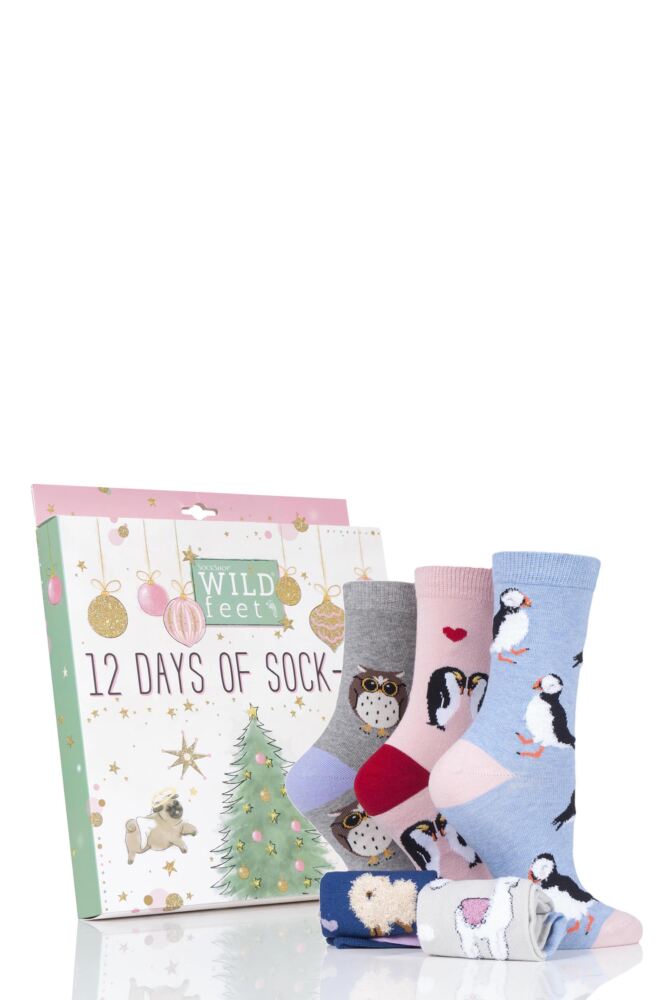 In a novel, triangular tree-shaped pack, when opened this Happy Socks Happy Holidays Christmas Socks in Gift Box produces not one but three gifts of pairs of festive-themed socks to put a little more fun in anyone's Christmas fashion choices.
Our Price £34.99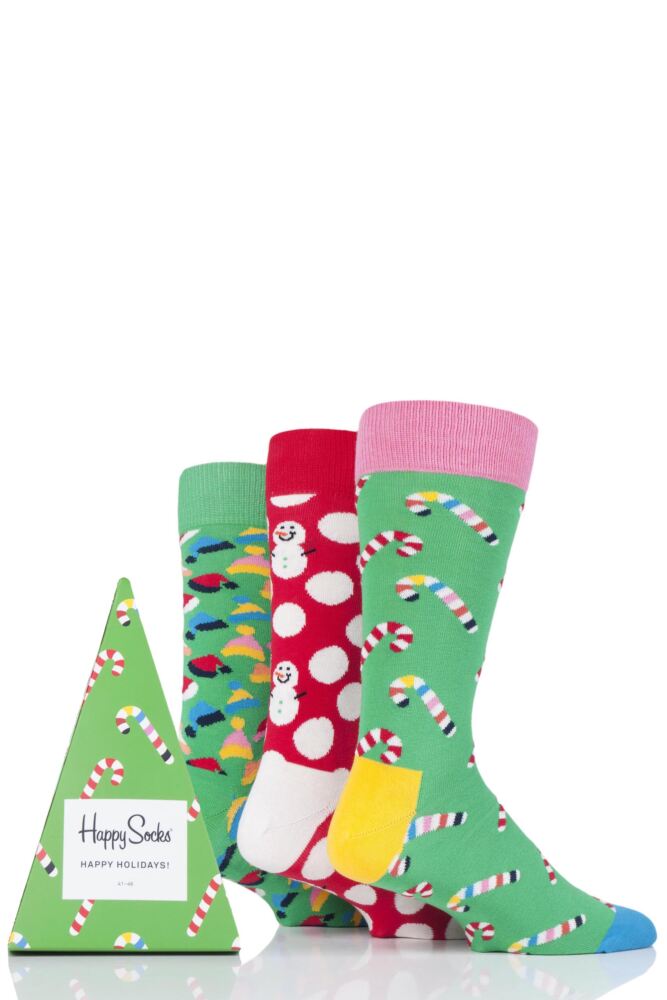 Give a surprise greeting with your surprise gift this Christmas. This triple pack of Happy Socks Christmas Socks in a Musical Gift Box plays "Jingle Bells" immediately it is opened, surely getting anyone receiving it into the holiday spirit!
Our Price £34.99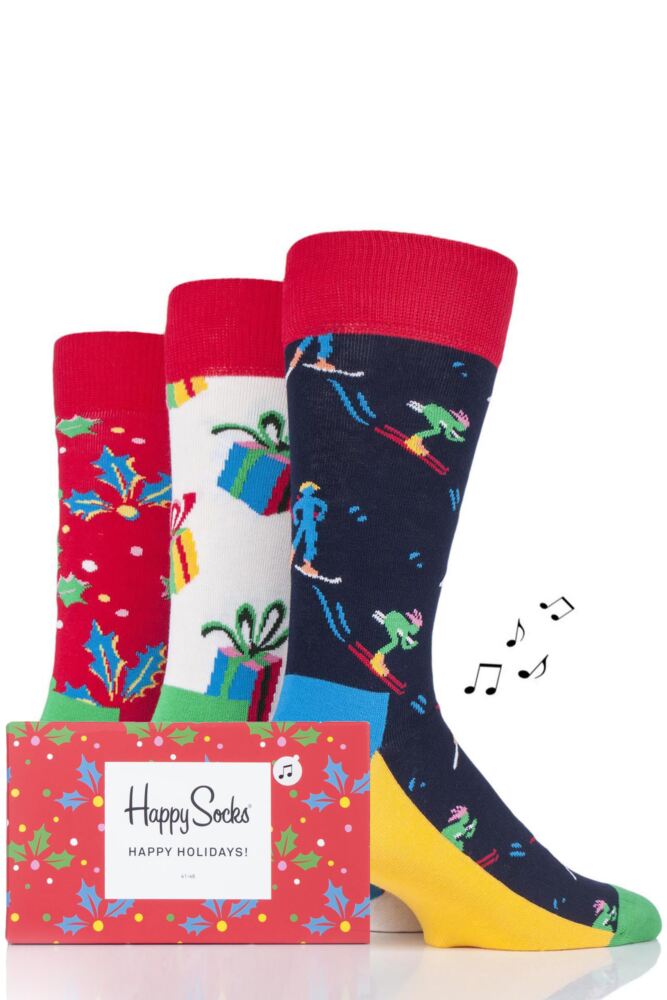 Rarely has a set of socks come with such an honest (and funny) statement. This triple pack of men's Burlington Christmas Argyle Mixed Cotton Socks in a Gift Box comes as a mixed collection with a modern deconstructed Argyle diamond design, a classic Argyle pattern and a pair which are festive-themed, woven with the simple statement: 'You get Socks'.
Our Price £29.99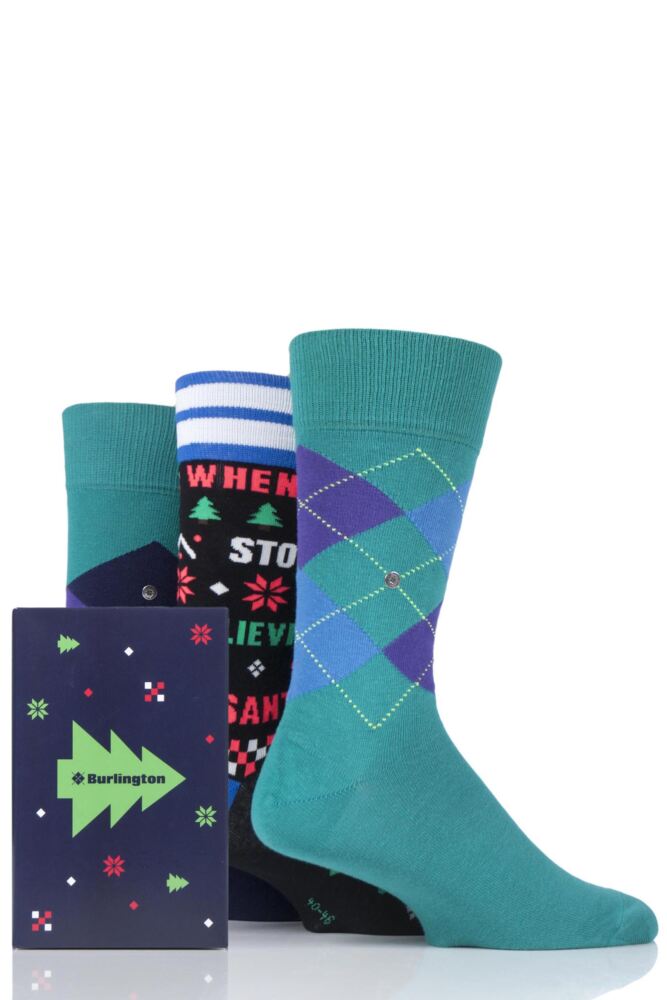 In three different party-ready styles, this set of ladies Burlington Xmas Nights Assorted Socks Gift Box is the one that you need this Christmas… or indeed, any time of year when you want to bring colour, pattern and pizazz to your ankles!
Our Price £29.99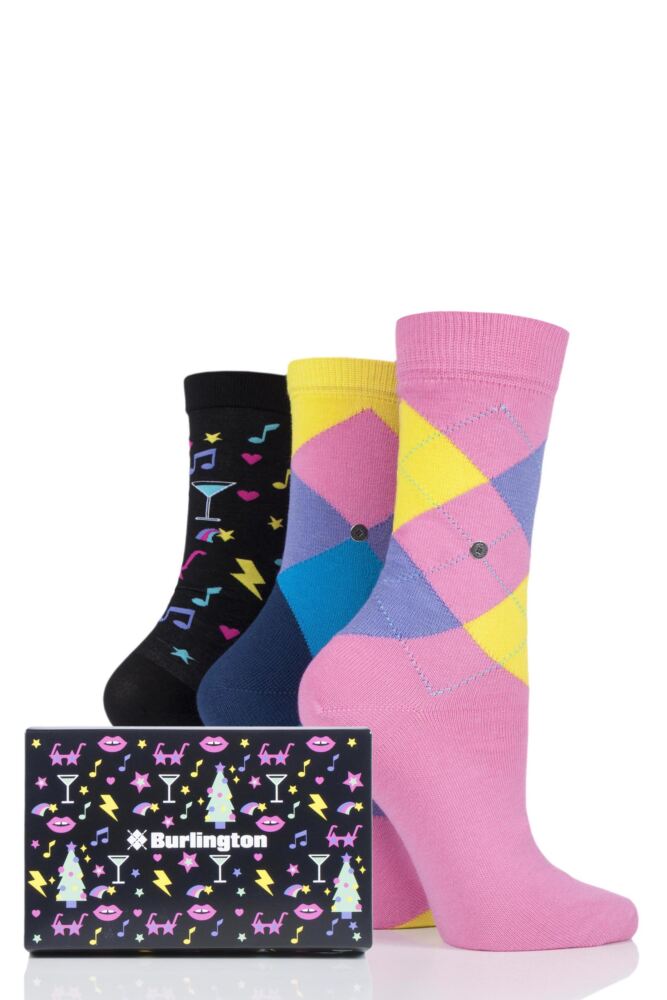 A classic Nordic/fair isle look for winter, these deliciously soft, warm ladies leisure weight cashmere socks are what you think about when 'winter woollens' are mentioned.
Our Price £26.99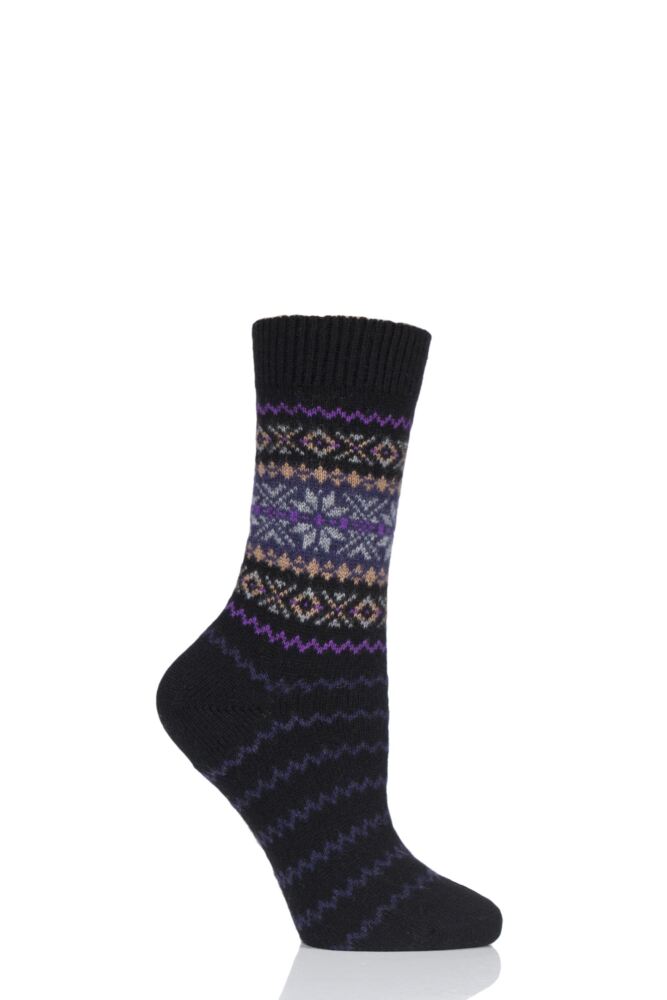 The Thought Classic Christmas Bamboo and Organic Cotton Socks Gift Box is a stylish four-pair festive collection for men, with a pair with bold snowflake motif, a fun snowman with polka dot 'snow', a reindeer design and finally, one pair that is wholly-striped. All socks in the set have superb looks, a super-soft feel and are sent in a reusable magnetic-closing gift box.
Our Price £24.99