Extra 20% Off In The 24 Hour Hoodies Sale At MandMDirect UK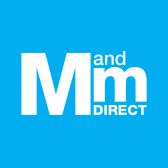 Hurry, for 24 hours only MandMDirect UK is running a hoodies sale, which sees you save an extra 20% off the hottest brands. Make sure you take advantage of this limited time sale, as it must end 10am Wednesday, 27th June.
24 Hour Hoodies Sale
Price includes extra 20% savings. To see other hoodies in the sale, click here.
London 2012 Mens Team GB Hoody Blue


- London 2012 brushback fleece overhead hoodie.
- Applique branding.
- 65% cotton 30% polyester 5% organic cotton.
- Lined drawcord hood.
- Ribbed cuffs and hem.
- Two side pockets.
RRP £24.99
Our Price £19.99
Duffs Junior Overlay 2 Hoody Grey Marl


- Duffs brushback fleece overhead hoodie.
- Printed graphics and branding to the chest.
- 60% cotton 40% polyester.
- Contrast lined hood.
- Ribbed cuffs and hem.
- Pouch style pocket.
RRP £29.99
Our Price £13.59
adidas Originals Mens Trefoil Hoody White/Black


- adidas Originals brushback fleece overhead hoodie.
- Embroidered logo to the chest.
- 70% cotton 30% polyester.
- Lined drawcord hood.
- Ribbed cuffs and hem.
- Pouch style pocket.
RRP £49.99
Our Price £27.99
Replay Mens Hoody Black


- Replay brushback fleece overhead hoodie.
- Distressed print retro graphics to the chest.
- 80% cotton 20% polyester.
- Lined drawcord hood.
- Ribbed cuffs and hem.
RRP £74.99
Our Price £27.99
Pineapple Girls 79 Hoody Fuchsia


- Pineapple brushback fleece overhead hoodie.
- Printed branding and graphics to the chest.
- 100% cotton.
- Ribbed cuffs and hem.
- Pouch pocket.
RRP £28.99
Our Price £13.59
Bench Mens Accompany Hoody Black


- Bench jersey overhead hoodie.
- Printed branding to the chest.
- 100% cotton.
- Lined drawcordh ood.
- Ribbed cuffs and hem.
- Pouch style pocket.
RRP £54.99
Our Price £19.99
Bench Mens Gavin Hoody Flame Scarlet


- Bench jersey overhead hoodie.
- Printed graphics and branding to the chest.
- 100% cotton.
- Lined hood.
- Ribbed cuffs and hem.
- Pouch pocket.
RRP £59.99
Our Price £23.99
883 Police Mens Linx Hoody Charcoal


- 883 Police brushback fleece overhead hoodie.
- Gel print branding to the shoulder.
- 80% cotton 20% polyester.
- Lined hood.
- Concealed 1/2 zip neck with a popper flap.
- Multiple pockets.
RRP £69.99
Our Price £27.99
Criminal Damage Mens Skinny Hoody Kelly Green


- Criminal Damage soft brushback fleece jersey hooded zip through top.
- Embroidered branding.
- 60% cotton 40% polyester.
- Lined drawcord hood.
- Fitted cuffs and hem. Two pockets.
- Contrast white zip and drawcords.
RRP £34.99
Our Price £15.99
883 Police Mens Suzuki Hoody Black


- 883 Police full zip hooded top.
- Tonal print branding to the chest.
- 80% cotton 20% polyester.
- Full zip fastening with a button placket.
- Lined drawcord hood.
- Ribbed cuffs and hem.
RRP £64.99
Our Price £35.99