Evans: New custom merchandiser feed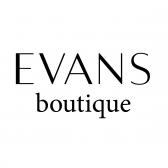 Hi
It's been a fantastic summer here at Evans, and we have some gorgeous new trends due to launch for Autumn Winter. We also wanted to update you on a fantastic addition to the programme, today we have launched our new custom merchandiser feed. Find out more about how to use the feed and increase your commissions below. Any questions, please ask us!
Evans have partnered with GoldenFeeds to deliver a new Merchandiser Feed. We recommend publishers who are currently using the feed should migrate to a more the EasyFeed platform.
Found at: https://easyfeed.goldenfeeds.com
The feed improvements include:
1. Two feeds! A parent feed and a variant feed where each product variation is in a separate listing
2. Separated attributes such as colour, size, material, best sellers, before and after prices.
3. Additional images
4. All social information – number of reviews, review rating, tweets, Facebook likes and Google Pluses as well as an aggregated field to show you which products are most socially active
5. Updated categorisation
6. Updated promotional information
EasyFeed is a platform allowing you to simply create and customize multiple feeds from Evans product catalogue. Upon registration you'll enter your affiliate ID so the network tracking is enabled on all deep links to all products in the catalogue/feed. The purpose of this system is to help you access the feed without the need of any professional involvement of programmers. Additional advantages include the ability to create multiple feeds for the same merchant, manage all EasyFeeds in one platform and have them uploaded to your FTP seamlessly.
You may customize feeds by:
1. Selecting Additional Attributes
2. Choosing your format – add/remove/reorder/rename fields
3. Filtering by category, price, and keywords
4. Entering your FTP details
Please download the instructions to get setup with the new feed here:
http://www.goldenfeeds.com/The_EasyFeed_How-to_Guide_Awin_signup.pdf 
Please visit here to sign up for this feed: https://easyfeed.goldenfeeds.com 
We hope that this new tool will help you promote Evans and lead to even more commissions for you. If you have any questions on getting signed up, please email service@goldenfeeds.com to have them help you complete your registration.
Should you have any questions please don't hesitate to get in touch at: evansclothing@affiliatewindow.com
Many thanks,
Evans Affiliate Team
evansclothing@affiliatewindow.com