Evans - £3 Assist scheme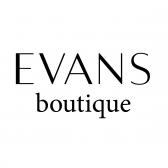 Hurry - Shop Now !
£3 Evans Assist Campaign
- Please read below for more details and other promotions –
Evans are currently running a new Assist campaign - for every assist you make, you will get a £3 reward even if you do not win the last click! This offer will be valid with Content and Community publishers until 07.12.17. 
Thank you for promoting Evans!
If you have any questions or wish to discuss any promotional opportunities please get in touch with the affiliate team at: uk-evans@awin.com, and stay in the know by checking the Evans Programme.
We look forward to hearing from you soon.