Europe Newsletter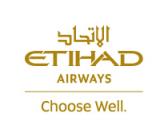 Welcome to the Etihad Airways Affiliate Newsletter! This week's issue is filled with exciting features including:
Spring Sale 2015
Inaugural flight to Madrid
Affiliate Opportunities
Etihad Airways will be launching a European Fare Sale on the 13th April running for 3 days until the 16th April. The sale will cover Economy and Business Class with discounts of up to 30% on flights to some of the most popular destinations on the Etihad Airways network.
We will have details of the landing page and full creative closer to the launch date of the sale but in the meantime, if you are interested in promoting this sale please get in touch on craig.thomson@digitaslbi.com and we will assist you in any way that you need.
We will be offering commission increases for the duration of the sale, we would be delighted to hear about any on-site opportunities you would have for increases in activity around this sale.
Etihad Airways, the national airline of the United Arab Emirates (UAE), today commenced four times a week, non-stop services between Abu Dhabi and Madrid.
The inaugural flight – EY075 – departed Abu Dhabi Airport on schedule at 02:35 local time and touched down at Adolfo Suárez Madrid-Barajas Airport at 08:45 local time today, Monday 30 March.
Madrid is the capital and largest city of Spain, and is Etihad Airways' first destination in the southwestern European country. Madrid joins a group of 20 leading European cities that the airline flies to including Brussels, Dublin, Frankfurt, Geneva, London and Paris.
Find all deals to Madrid here.
We would love to hear from you around increased exposure opportunities with your site now and throughout 2015. Get in touch on craig.thomson@digitaslbi.com to discuss further and find out what we can offer you including increased commission rates!
UK: http://www.etihad.com/en-gb/deals/promotions-main/
USA: http://www.etihad.com/en-us/deals/promotions-main/
UAE: http://www.etihad.com/en-ae/deals/promotions-main/
Australia: http://www.etihad.com/en-au/deals/promotions-main/
Germany: http://www.etihad.com/en-de/deals/promotions-main/
India: http://www.etihad.com/en-in/deals/promotions-main/
France: http://www.etihad.com/en-fr/deals/promotions-main/
Italy: http://www.etihad.com/en-it/deals/promotions-main/
Russia: http://www.etihad.com/en-ru/deals/promotions-main/
Netherlands: http://www.etihad.com/en-nl/deals/promotions-main/
Should you have any questions about the highlights this week or any feedback as to what updates would be relevant for you to receive on a weekly basis, please get in touch with myself or the Etihad Airways Affiliate Team via email, craig.thomson@digitaslbi.com. Alternatively, we are happy to pick up the phone with you to discuss any aspect of the campaign.
The Etihad Airways Affiliate Team