Etsy Commission Structure Change!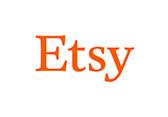 REMINDER:
Have you heard we changed the commission structure for the entire Affiliate Program on April 17th? The new commission structure is as follows:
• 5% for existing buyers
• 8% for new buyers
To celebrate this change, we have increased the commission even more for the first 2 weeks! From Friday 17th April to Friday 1st May, you get 6% commission for existing buyers, and 10% commission for new buyers. Happy posting!