Etihad UK Promo Newsletter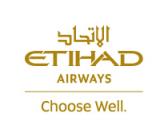 Hello!
Welcome to this week's edition Etihad Airways Affiliate Newsletter. In this issue we have included all your latest local deals to promote alongside some useful information about exactly what is offer on board an Etihad Airways flight!
As we come to the end of the year, all eyes are on 2015 and we would love to discuss increased exposure opportunities with you. If you have any ideas about how we can work together to make the most out of 2015, please do get in touch!
This week's highlights:
Top UK deals
Fine Dining with Etihad Airways
Guests can take advantage of fantastic fares in Economy & Business Class from London, Manchester & Edinburgh to some of Etihad's most popular destination. Offer valid until 8th December 2014.
Economy
Manchester – Bangkok from £505
London – Ho Chi Minh from £527
Manchester – Kuala Lumpur from £545
Business
Bangkok – Manchester from £2005
Edinburgh – Ho Chi Minh from £1853
London – Kuala Lumpur from £1975
Find all other UK deals here.
With award winning on-board chefs and Food & Beverage managers recruited from the finest restaurants around the world, guests can enjoy an exquisite menu on all Etihad Airways flights.
Etihad Airways offer a wide range of meals so guests will always find something that suits their taste. Whichever cabin guests fly in. the portions are always very generous.
Guests can complement their delicious meals with a selection of vintage wines. All wines chosen by Etihad Airways are done from the world's best vineyards.
Find more information on the on board services offered by Etihad Airways here.
UK: http://www.etihad.com/en-gb/deals/promotions-main/
USA: http://www.etihad.com/en-us/deals/promotions-main/
UAE: http://www.etihad.com/en-ae/deals/promotions-main/
Australia: http://www.etihad.com/en-au/deals/promotions-main/
Germany: http://www.etihad.com/en-de/deals/promotions-main/
India: http://www.etihad.com/en-in/deals/promotions-main/
France: http://www.etihad.com/en-fr/deals/promotions-main/
Italy: http://www.etihad.com/en-it/deals/promotions-main/
Russia: http://www.etihad.com/en-ru/deals/promotions-main/
Netherlands: http://www.etihad.com/en-nl/deals/promotions-main/
Should you have any questions about the highlights this week or any feedback as to what updates would be relevant for you to receive on a weekly basis, please get in touch with myself or the Etihad Airways Affiliate Team via email, craig.thomson@digitaslbi.com. Alternatively, we are happy to pick up the phone with you to discuss any aspect of the campaign.
Thank you for your hard work on the program.
The Etihad Airways Affiliate Team