ETIHAD AIRWAYS WINS WORLDS LEADING AIRLINE - UK Promotional Email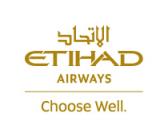 Hello!
Welcome to this week's edition Etihad Airways Affiliate Newsletter. In this issue we have included all the latest deals from your local country and some exciting Etihad news.
We would love to hear from you around increased exposure with your site for any of the below deals. Get in touch to discuss further!
This week's highlights:
Top local deals
Etihad Airways Wins 'World's Leading Airline' for Sixth Straight Year
Enhancements To Inflight Guest Experience
Guests can discover the best destinations at the best prices with these special fares. Deal valid until the 18st December 2014.
Manchester – Colombo from £480
Edinburgh – Ho Chi Minh City from £526
Manchester – Kuala Lumpur from £545
Find all other UK deals here.
Etihad Airways have been awarded the highly coveted title of 'World's Leading Airline' for the sixth straight year at this year's World Travel Awards.
In addition to winning 'World's Leading Airline', Etihad Airways scooped up two further awards 'World's Leading First Class' and 'World's Leading Cabin Crew'.
Read more about Etihad Airways at the World Travel Awards here.
Etihad Airways has introduced innovative new inflight products and enhancements to its long-haul and ultra-long-haul cabins lifting the level of its acclaimed onboard service in all cabin classes. The changes include:
Luxury hotel-style reception service in First Class
Cotton loungewear, mattress and turndown service in Business Class
Revolutionary ergonomic pillow which converts into a neck pillow in Economy Class
For all inflight services and entertainment offered on Etihad Airways Flights, click here.
UK: http://www.etihad.com/en-gb/deals/promotions-main/
USA: http://www.etihad.com/en-us/deals/promotions-main/
UAE: http://www.etihad.com/en-ae/deals/promotions-main/
Australia: http://www.etihad.com/en-au/deals/promotions-main/
Germany: http://www.etihad.com/en-de/deals/promotions-main/
India: http://www.etihad.com/en-in/deals/promotions-main/
France: http://www.etihad.com/en-fr/deals/promotions-main/
Italy: http://www.etihad.com/en-it/deals/promotions-main/
Russia: http://www.etihad.com/en-ru/deals/promotions-main/
Netherlands: http://www.etihad.com/en-nl/deals/promotions-main/
Should you have any questions about the highlights this week or any feedback as to what updates would be relevant for you to receive on a weekly basis, please get in touch with myself or the Etihad Airways Affiliate Team via email, craig.thomson@digitaslbi.com. Alternatively, we are happy to pick up the phone with you to discuss any aspect of the campaign.
Thank you for your hard work on the program.
The Etihad Airways Affiliate Team