Etihad Airways – Weekly Promotions Email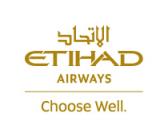 Welcome to the Etihad Airways Weekly Promotions Email.
Following the interactive tour last week, this week we show you why Etihad Airways has been voted the World's Leading Airline for four years in a row at the World Travel Awards!
On top of this, we release information about the new Sao Paulo Schedule with increased routes daily. Also, we highlight breaking deals this week from the USA.
If you require any further promotional information, deep-links, or anything else to aid in your promotion of Etihad Airways, please get in touch with affiliates.etihad@lbi.com and we will be happy to assist.
KEY PROMOTIONS
Why Etihad is the World's Leading Airline:
Whether this be fine dining, inflight entertainment, hospitality on board or having your own Etihad Chauffeur when on the ground, Etihad Airways offers so much more than just the flight. For details on anything and everything Etihad, take a look here where you will find some superb content to promote the airline.
Etihad announces new Sao Paulo Schedule:
Unveiled on 17th September, Etihad Airways have introduced new timings for their daily service between São Paulo and Abu Dhabi.
The new schedule will greatly improve the number of connections over the airline's Abu Dhabi hub to more than 350 flights a week to destinations in the Gulf region, North Africa, Levant, and the Far East.
Breaking Deals from the USA:
Discover the best fares at Etihad Airways to top destinations. Etihad's special prices offer you the opportunity to experience Etihad's outstanding service for less. To view all current deals from the USA, click here
USA - Breaking Deals Deep Link:
Code:
http://www.awin1.com/cread.php?awinmid=5326&awinaffid=!!!id!!!&clickref=&p=http%3A%2F%2Fwww.etihad.com%2Fen-us%2Fdeals%2Fpromotions-main%2F
Please remember to replace !!!id!!! with your AWID
We will continue on a weekly basis to highlight any information we find relevant in regards to Etihad Airways. Should you have questions about any of the highlights this week, or any feedback as to what would be relevant for you to receive on a weekly basis, please get in touch with myself of the Etihad Airways affiliate team onaffiliates.etihad@lbi.com. Alternatively, we are keen to join calls to discuss any aspect of the campaign.
We are extremely keen on continuing to grow the program, and we hope to do this by working with you more closely.
Thanks & Happy Promoting!
The Etihad Airways Affiliate Team