Etihad Airways - Europe Affiliate Newsletter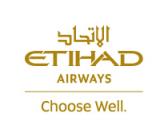 Welcome to the Etihad Airways Affiliate Newsletter! This week's issue is filled with exciting features including:
Etihad Continues to Reimagine Flying
Breaking Deals from Europe
Affiliate Opportunities
Welcome to the world's most luxurious living space in the air
A truly unique and bespoke travel experience, delivered with complete discretion and limitless hospitality - The Residence.
An Etihad experience provides a tailor-made service including the following and much more:
VIP travel concierge
Butler at your service, trained by the Savoy Hotel
Private three-room suite in the sky
Private ensuite bathroom with shower
Fine-dining experience – Including breakfast in bed, in the clouds
Signature cognac experience
Comfort with luxurious linen from Pratesi of Italy
Premium in-flight entertainment
For a full immersive experience, watch the video here
Discover the best deals in Europe right now ready to promote to your customers.
Promote the best fares at Etihad Airways to our top destinations. Our special prices offer you the opportunity to experience Etihad's outstanding service for less. Book now before seats fill!
To view deals from all regions click here
Are your users interested in visiting Thailand, Maldives or maybe Australia? No matter what destination they decide, you can be sure that even the longest flight will become a comfortable journey with Etihad. By promoting our Breaking Deals you they can enjoy this comfort at fantastic low fares. Book until 03 March, 2016 and benefit from great discounts for flights to worldwide destinations for travel until 30 November, 2016.
To view deals from all regions click here
Where are your guests going for their next holidays? Promote super deals on our Economy Class from Paris to some of our most popular destinations. Promote now to avoid disappointment, as this amazing promotion ends on 30 March, 2016 - Travel is valid until 10 December, 2016.
To view deals from all regions click here
Easter Holidays on Sale! Guests can fly to the most beautiful destinations in our network. Book now!
To view deals from all regions click here
We would love to hear from you around increased exposure opportunities with your site now and throughout 2015. Get in touch on proetihadaffiliates@publicisgroupe.net to discuss further and find out what we can offer you including increased commission rates!
UK: http://www.etihad.com/en-gb/deals/promotions-main/
USA: http://www.etihad.com/en-us/deals/promotions-main/
UAE: http://www.etihad.com/en-ae/deals/promotions-main/
Australia: http://www.etihad.com/en-au/deals/promotions-main/
Germany: http://www.etihad.com/en-de/deals/promotions-main/
India: http://www.etihad.com/en-in/deals/promotions-main/
France: http://www.etihad.com/en-fr/deals/promotions-main/
Italy: http://www.etihad.com/en-it/deals/promotions-main/
Russia: http://www.etihad.com/en-ru/deals/promotions-main/
Netherlands: http://www.etihad.com/en-nl/deals/promotions-main/
Should you have any questions about the highlights this week or any feedback as to what updates would be relevant for you to receive on a weekly basis, please get in touch with myself or the Etihad Airways Affiliate Team via email, craig.thomson@digitaslbi.com. Alternatively, we are happy to pick up the phone with you to discuss any aspect of the campaign.
The Etihad Airways Affiliate Team