ENDS MIDNIGHT | Up to £10 OFF at Chemist Direct
Chemist Direct Affiliate Newsletter
---
ENDS MIDNIGHT | Up to £10 OFF at Chemist Direct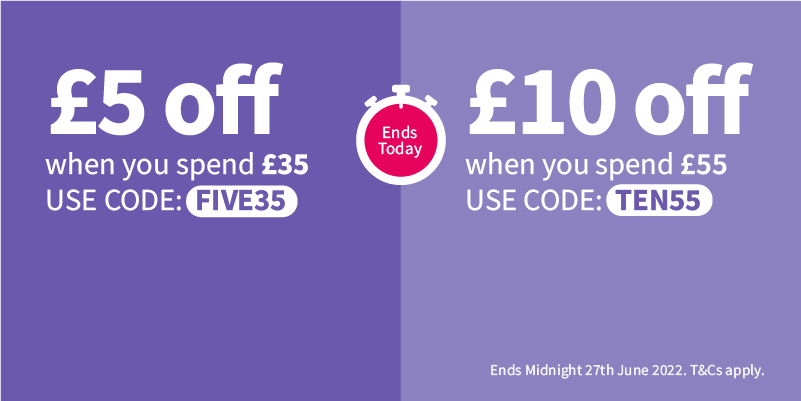 Shop our FLASH SALE at Chemist Direct and save up to £10 until MIDNIGHT!
Use code FIVE35 for £5 off orders over £35.
Use code TEN55 for £10 off orders over £55.
Be quick, these codes EXPIRE at MIDNIGHT TONIGHT!
Terms apply, UK delivery only.
Click here to find out more.
Give the gift of Childs Farm's most popular products thanks to the Childs Farm Little Essentials Money Box Tin. Each keepsake tin contains hair and body wash organic sweet orange 50ml, bubble bath organic raspberry 50ml, 3 in 1 swim strawberry & organic mint 50ml, and baby moisturiser mildly fragranced 50ml.
Our Price £10.00
Bio Oil 125ml is a specialist skincare oil for the face and body that helps to improve the appearance of scars, stretch marks, and uneven skin tone.
Our Price £16.98
Avéne Very High Protection Lotion For Children is Very high protection for the sensitive skin of children. Suitable for the Face & body. Fragrance free, leaves no white marks.
Our Price £16.00
Alpecin Double Effect Caffeine Shampoo Triple Pack helps fight against dandruff and hereditary hair loss. By thoroughly cleansing away all dandruff from the scalp in the first instance, the caffeine complex is able to deeply penetrate into the hair root and strengthen it against hereditary hair loss. And now with this triple pack, you can continue the regime without fear of running out.
Our Price £21.95
Proactively help to maintain healthy and radiant hair growth with Nourkrin Maintain. With unique Marilex to reduce the risk of a disruption to the hair growth cycle.
Our Price £29.95
Alpecin Tuning Shampoo Twin Pack gives you a multipack of daily hair washing shampoos that protect your dark shade hair with intense colour pigments while preventing hair loss at the same time. Only apply on very dark brown or black hair.
Our Price £14.34
Nexium Control 20mg gastro-resistant tablets provide 24 hours relief from the symptoms of heartburn and acid reflux. Only suitable for adults aged 18 and over. Please always consult your GP in the first instance and always read the packaging directions clearly. Please note: contains Esomeprazole. Contains 14 tablets.
Our Price £12.89
Gaviscon Advance Liquid Aniseed provides fast, effective and long lasting relief from heartburn and acid indigestion. Product contains 600ml.
Our Price £15.99
Relieve the symptoms of heartburn and indigestion in as little as 2 minutes thanks to Rennie Dual Action Chewable Tablets. These powerful tablets neutralise excess acid and form a protective barrier to prevent further discomfort.
Our Price £3.99
Milk of Magnesia provides gentle soothing relief for upset stomach and indigestion with a traditional mint flavour. Can also be used as a laxative.
Our Price £5.89