Elias & Grace – BLACK FRIDAY & CYBER MONDAY!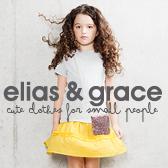 Elias & Grace will be featuring an incredible Black Friday & Cyber Monday Weekend Sale, across all products on the website.
All kids and babies clothes & accessories will be reduced up to 70%, with current season Autumn / Winter products at a minimum of 30% off.
The offer starts at 00.01 GMT 25/11/2016 - ends 23.59 GMT 8/11/2016, and there's no promo code required.
This once-a-year promotion will be loved by customers, generating additional sales and conversions, so do not miss out this great opportunity to increase your earnings!
By referring traffic to EliasandGrace.com via banner ads, text links, product feeds and content units, you can earn commission of up to 8% on sales that you helped generate.
The Black Friday & Cyber Monday banners are now available on the platform, please do not hesitate to contact us via mail costanza@eliasandgrace.com and we will be happy to support you with additional images and material.
If you're not joined to Elias & Grace click here to become part of the team.
Happy Promoting
The Elias & Grace affiliate team
Tags: babieswear, baby accessories, Black Friday, black friday deal, black friday fashion promotion, black friday offer, cyber monday, cyber monday deals, cyber monday fashion promotion, cyber monday offer, fashion, kids clothing, kids fashion, kidswear, promotion