Elemental Herbology Joins AWIN receive 12% commission for a limited time!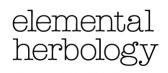 Hi Affiliates!
We are delighted to have joined the AWIN platform and look forward to working with you!
About Elemental Herbology
Elemental Herbology is a British beauty brand specialising in natural skincare and body care that gives ultimate skin nutrition. We base our products on the 5 Element Theory in Traditional Chinese medicine to bring balance to your skin and wellbeing.
To celebrate the launch of Elemental Herbology on the AWIN platform, we are offering a 12% commission structure until 9th September 2017.
After this date, 10% commission structure is available on a 30-day cookie as standard.
Learn more about Elemental Herbology here.
Reasons to join the Elemental Herbology Affiliate scheme:
A competitive commission structure
Generous customer promotions updated on a monthly basis
An average order value of £60
Free delivery on order over £50 plus two free samples with all online orders
Creative banners & links to place across affiliate sites with custom banners available on request.
30 day Cookie period
Regular communication & a designated point of contact.
A fully responsive site for enjoyable customer journey.
If you have any questions or would like to discuss further opportunities, don't hesitate to get in touch.
Kind regards,
Kelly
kelly@elementalherbology.com