Easily New Domain Names Live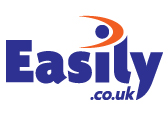 Hi,
Easily.co.uk are releasing brand new generic Top Level Domains (gTLDs) every week. With 120 million .com domains registered it can be hard to find anything suitable, gTLDs go in place of .com or .org and allow you to personalize your website url to fit your industry. You can check out there brand new domain extensions here.
This week .ACTOR and .ROCKS have been released, so make sure to check them out along with the fantastic catalogue of memorable domain names by going to easily.co.uk/newgtlds. 
You can also take advantage of Easily.co.uk's great deals on web hosting and email packages, which you can look at in more detail at easily.co.uk
For standard domain names commission is 8.5%, and you can earn 20% for the business and personal creator full packages.
If you have any questions or promotional opportunities please get in touch!
Thanks,
Chris and the Easily.co.uk Team