---
Don't Let Summer Stop You From Sleeping at Mattressman
This warm summer weather is great for BBQs and family fun, with everyone in good spirits and enjoying the fresh air – but it's not always that great when it comes around to bedtime…
It's generally a struggle to sleep in the summer, feeling sweaty, sticky, restless and agitated.
At Mattressman, we've got products to help you get a good night's kip in the heat.
Get a thin, low-tog duvet to stop you from overheating.
The duvet is filled with 85% feather and 15% of sumptuous down, giving it a soft feel. With a cotton cover and 4.5 tog, the duvet is very ideal for the summer as it's not too heavy and it helps you to stay cool on the hottest nights.
Our Price £27.99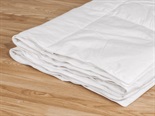 Perfect for summer or those who prefer a thinner duvet, 4.5 Tog duvets are designed with this in mind. Microfibre fillings provide outstanding softness and as a man-made material, it's made to stand the test of time. Microquilted in place, the fillings will stay plump and in place for years to come.
Our Price £17.99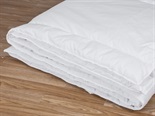 A comfy duvet from Fogarty. Designed for those warmer summer months, 4.5 Tog is a thinner duvet without compromising on comfort. Man made, hollowfibre fillings make it anti-allergenic at a bargain price.
Our Price £10.00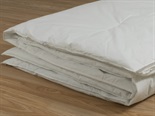 Designed to be cool in summer, 4.5 Tog duvets offer a low-profile feel perfect for those who find themselves over-heating at night. The fillings are a mix of man-made hollowfibre and polypropylene, providing a soft feel at a low cost.
Our Price £10.99
Covered with a hard-wearing, soft-touch 70/30 polycotton-overlock cover, the Hollowfibre Polycotton pillow is made to stand the test of time.
Our Price £5.00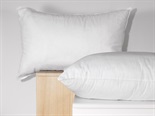 This wonderful pillow has a soft tension rating and is packed with Duck Feathers, providing excellent comfort and allows you to sink into your sleep with ease.
Our Price £12.00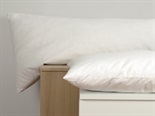 Designed to improve the quality of your sleep, the unique contoured shape cradles and supports your neck and head like no other pillow. Filled with polyester clusterfibre with a 100% cotton cover makes it a truly comfy and soft feeling pillow.
Our Price £15.00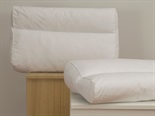 This deep filled, firm pillow has a special box wall construction to provide neck and shoulder support - ideal if you usually prefer to sleep on your side.
Our Price £17.50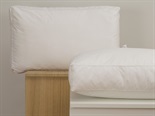 The Quilted Memory Cluster pillow from Carpenter moulds to the countours of your head and neck, supporting you throughout the night. The quilted cover reduces the warmth that memory foam produces whilst also adding to the overall comfort of the pillow.
Our Price £20.00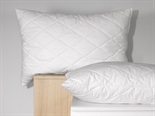 Perfect for back, side and front sleepers, the Supersoft Foam Pillow has a super comfy medium tension.
Our Price £30.00