Domu UK - Free Delivery on All Orders for a limited time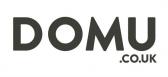 Calling All Affiliates!
Our summer campaign is now live, so what better way to launch it, than with our fantastic offer of FREE DELIVERY on all orders! This is for a limited time only, so it's a great incentive to drive sales to site.
Although the weather may be rainy, now is the time to get your home and garden ready for the sunshine. Therefore this week we will be pushing the following three categories:
In addition to the above categories, every week we like to push individual items that are at great price points. Shop these affordable buys below:
Happy selling!
Domu Affiliate Team