Daybreak Hotels Discount Code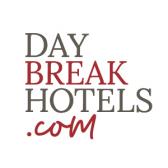 Hi,
Daybreak Hotels are reinventing hotel use by allowing guests to book hotel rooms and luxuries facilities by day or evening all at a fraction of the cost of an overnight stay and they now have a 10% off code running until March 31st
Code: DAYBREAK -10% off your first booking
Valid until March 31st 2019
Some information for you below and if you think you have the audience that might be interested to know more about day use hotel then get in touch as we are open to working on brand building content and promotion.
What do they offer - Day Use hotel rooms that can be booked for the day or evening. They also offer bookings for Spa and other Hotel facilities. The bookings are for a fraction of the cost of an evening stay
Who would use them - Commuters, business people, travellers, people on city breaks or romantic breaks
Where are they available - Major cities in the UK like London, Manchester, Birmingham, Edinburgh, Glasgow, Nottingham and across Europe.
Commission - 8% new and 4% existing
Here is your standard link - (please replace !!!id!!! with your Awin ID)
https://www.awin1.com/cread.php?awinmid=16049&awinaffid=!!!id!!!&p=
A selection of Offers (exclusive codes are a possibility for some good exposure)
Novotel Heathrow - Available 07:00- 18:00 - from £55
Double Tree Hilton - Edinburgh - Available 09:00-17:00 from £55
Holiday Inn - Birmingham Airport - Available 10:00-17:00 from £50
Some Copy
"DayBreakHotels' are reinventing hotel use and offering something much more exciting with the opportunity to enjoy all the benefits of staying in a hotel during the day or evening time. At DaybreakHotels you can choose from a wide variety of hotels across major cities and book rooms by the day or for an evening giving you access to all the fabulous spa and amenities during your stay.
"This new trend in hotel use is now in the UK and it's perfect for travellers, commuters, business people, city breakers and romantic breaks. With up to 75% discount on usual hotel room prices its a great way to enjoy or rest at top hotels at a fraction of the cost of an overnight stay and at Daybreak Hotels we have the best choice across the UK and Europe."
We'd love to hear from you if you have opportunities to push Daybreak Hotels and if you need any more offer info, imagery or content then get in touch.
Thanks
Chris & The Daybreak Hotels Team
Tags: 10% off code, day use hotels, day use hotels 10% off, hotel bookings, hotel discount code, hotels, hotels london, hotels Manchester