Create & Craft - Mayhem Event!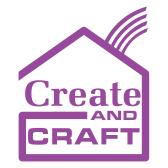 Merchant ID: 4453
Merchant Name: Create and Craft
Offer: Join our Mayhem event for fantastic product bundle offers and new product launches!

Start Date: Thursday 21st May - 8:00 am
End Date: Monday 25th May - 11:59 pm
Commission Rate: 4%
Deeplink: http://www.awin1.com/cread.php?awinmid=4453&awinaffid=!!!id!!!&clickref=&p=
http%3A%2F%2Fwww.createandcraft.tv%2F%3Futm_source%3Dawin%26utm_medium%3Dawin%26utm_campaign%3Dmayhem
If you have any questions regarding this event, or otherwise, then please don't hesitate to contact me at: gareth.skellett@idealshoppingdirect.co.uk.
 Event Highlights
Offer: Save £49.97 on Tattered Lace Broderie Dies Bundle - Now Only £249.99
Start Date: Thursday 21st May - 9:00am
Deeplink: http://www.awin1.com/cread.php?awinmid=4453&awinaffid=!!!id!!!&clickref=&p=http%3A%2F%2F
www.createandcraft.tv%2F_345412%3Futm_source%3
Dawin%26utm_medium%3Dawin%26utm_campaign%3DTatteredLace
Offer: Save £12 on Craftwork Cards Summer Days Card Making Bundle - Now Only £19.99
Start Date: Friday 22nd May - 12:00pm
Deeplink: http://www.awin1.com/cread.php?awinmid=4453&awinaffid=!!!id!!!&clickref=&p=http%3A%2F%2F
www.createandcraft.tv%2F_345342%3Futm_source%3
Dawin%26utm_medium%3Dawin%26utm_campaign%3DCraftworkCards
Offer: Singer XL550 Embroidery Machine with Accessories and 2 Year Warranty - Now £1299
Start Date: Sunday 24th May - 5:00pm
Deeplink: http://www.awin1.com/cread.php?awinmid=4453&awinaffid=!!!id!!!&clickref=&p=http%3A%2F%2F
www.createandcraft.tv%2F_294946%3Futm_source%3
Dawin%26utm_medium%3Dawin%26utm_campaign%3DSinger
Tags: craft, Crafting, discount, discounts, knitting, offer, offers, papercraft, promotion, promotions, sewing, special offers