Clinton Cards - Double Commission Rates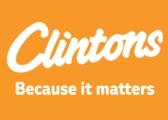 Clinton Cards are pleased to announce that we are doubling our commission rates!
Now is a great time to promote Clinton Cards, in the lead up to Valentine's Day. The Valentine's peak is similar to the Christmas one for us! We also have Free Delivery on all cards, with a great range of personalised and standard cards available.
The new commission rates are:
Cards - 33.3% (this includes our fantastic Celebrity Fastcard range)
Gifts - 16.6%
Party - 16.6%
Flowers - 10%
The only thing we exclude are Gift Cards.
These rates will remain until Sunday 12th February.
If you are already signed up to our programme, then the new commission rates have already been applied. For anyone who would like to sign up, please do so here.