---
Christmas Hampers at Hampergifts.co.uk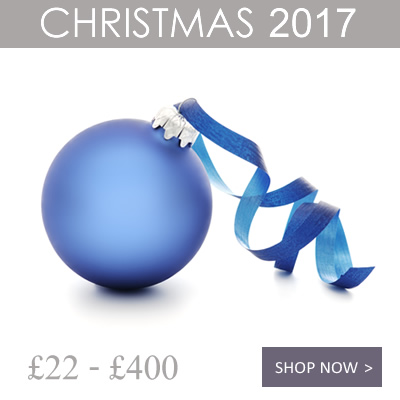 'Tis the season of goodwill so why not spread some happiness with a Christmas Hamper from Hamper Gifts? We have a wide range of Christmas Hampers available so you can be sure that you'll find the right gift for friends, family or corporate clients.There's something to suit every taste!
There's a fruity, nutty theme to this wonderfully attractive xmas hamper. Start by sharing out the unusual diced Mango chunks. Cut a thick slice from the Raisin and Cherry Filled Fruit Cake, or enjoy the Chocolate Coated Cashews.
Our Price £27.50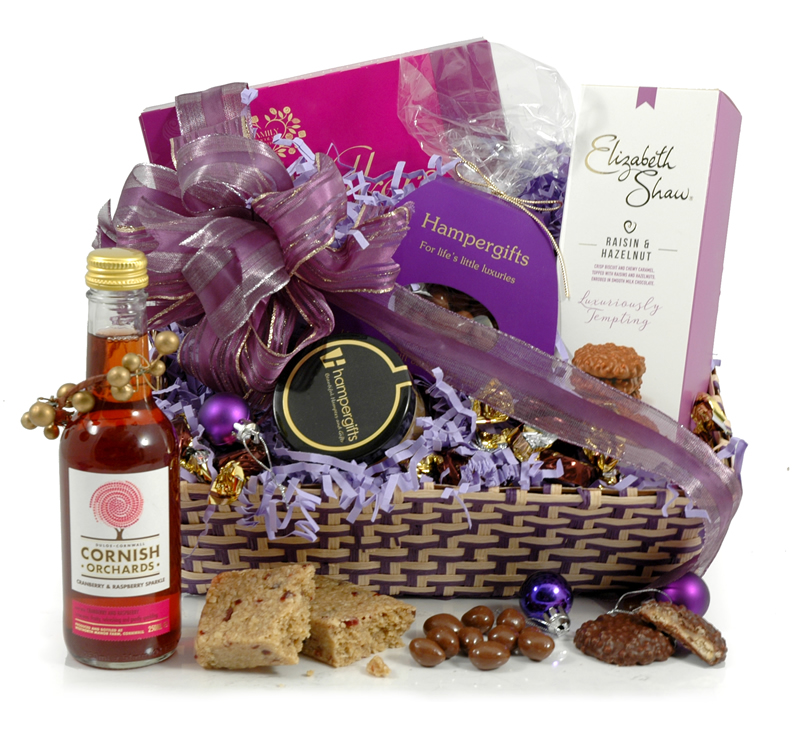 This stunning Christmas gift has a whopping seven layers of beautiful green and gold gift boxes - each one packed with delicious sweet treats.
Our Price £39.99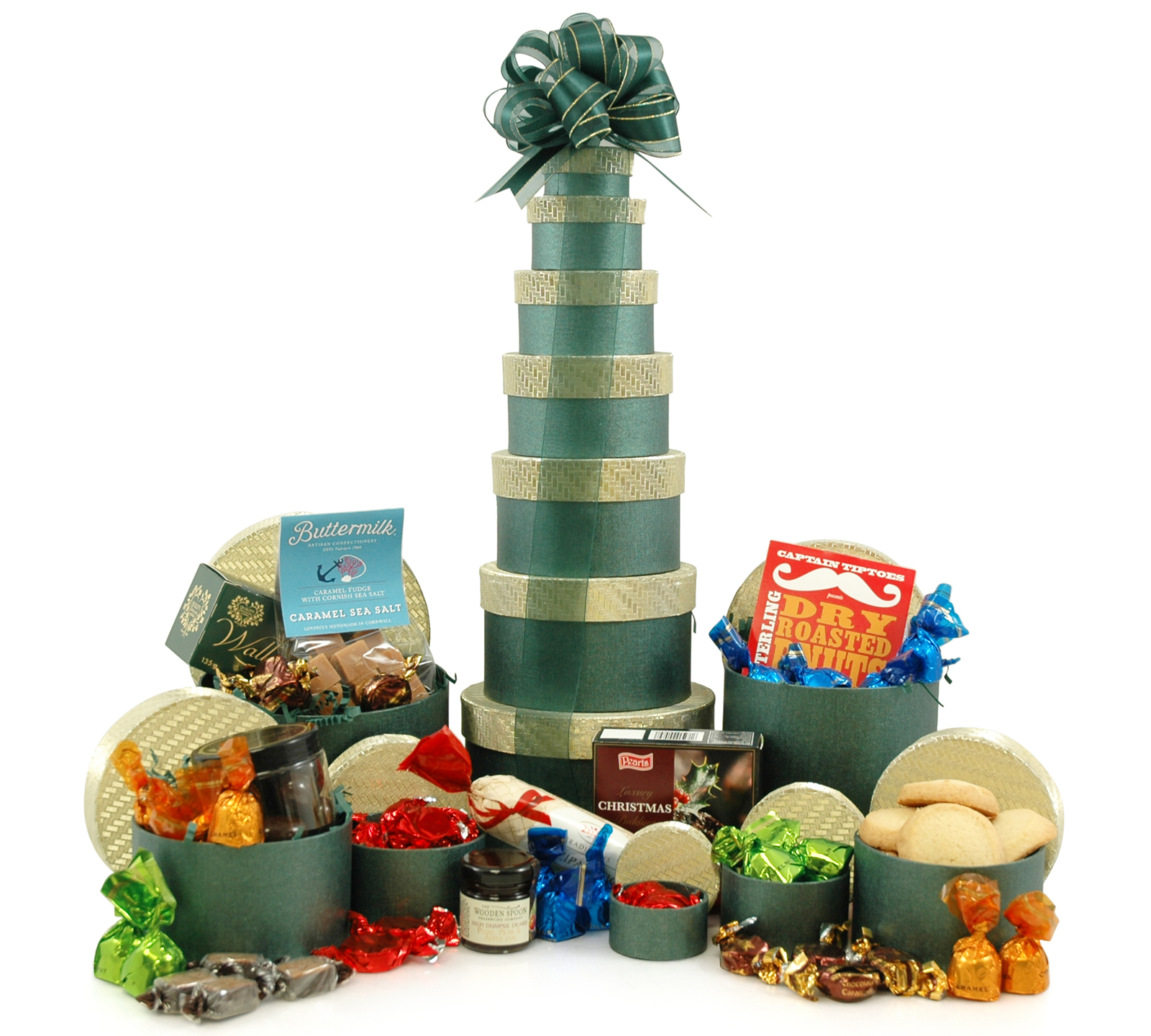 Featuring a lovely merlot and a half bottle of Champagne, this hamper will bring a touch of class to any festive gathering. And with oatcakes, pickle and pâté to choose from, as well as shortbread, cranberries in syrup and chocolate liqueurs, this sweet & savoury hamper is certain to cater for all tastes.
Our Price £95.00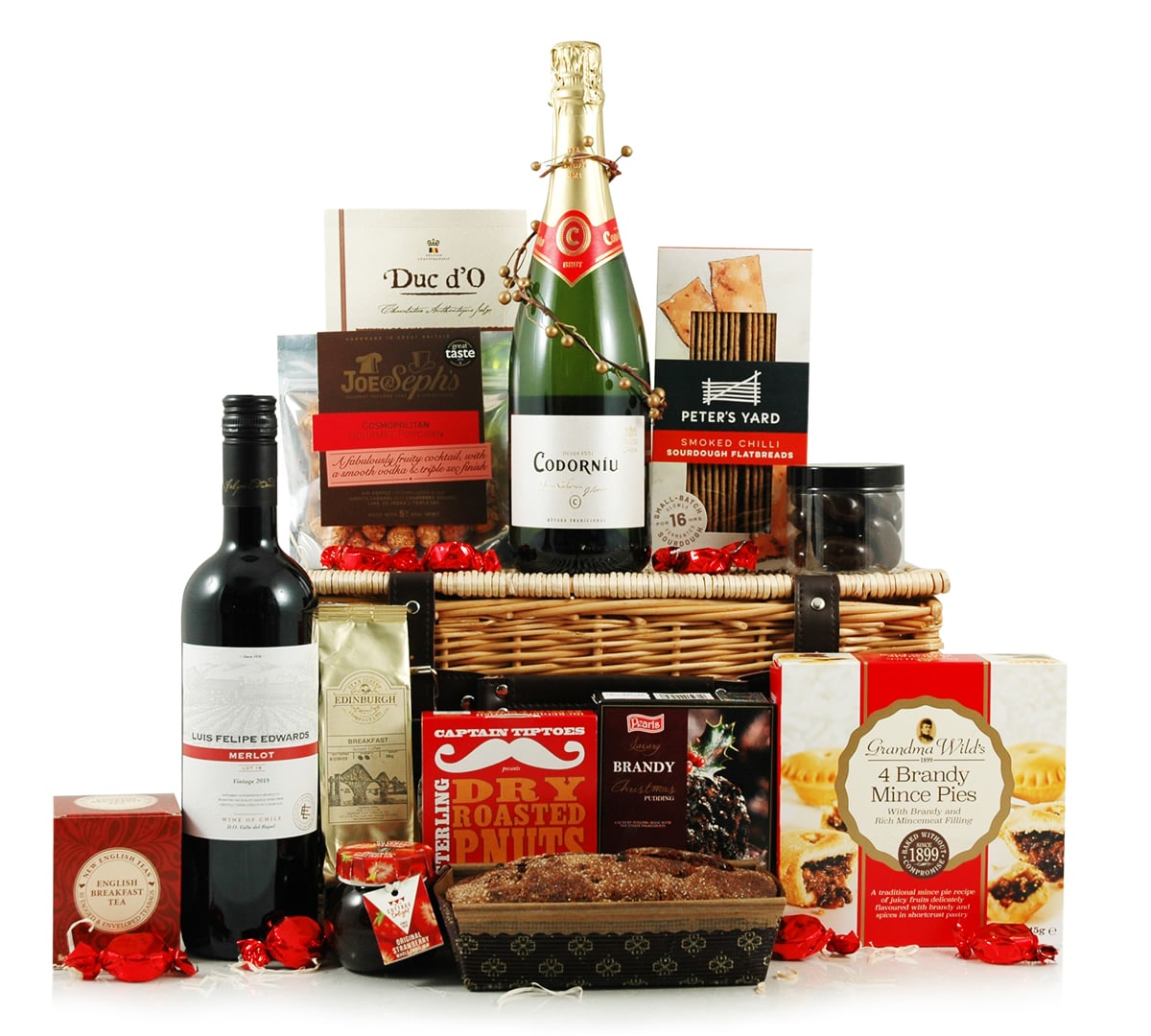 Lovers of all things chocolate will enjoy digging into this charming basket. From chewy caramels and Belgian truffles, to chocolate hazelnut cookies and perfectly-sized milk chocolate discs, this hamper will delight on Christmas day.
Our Price £22.50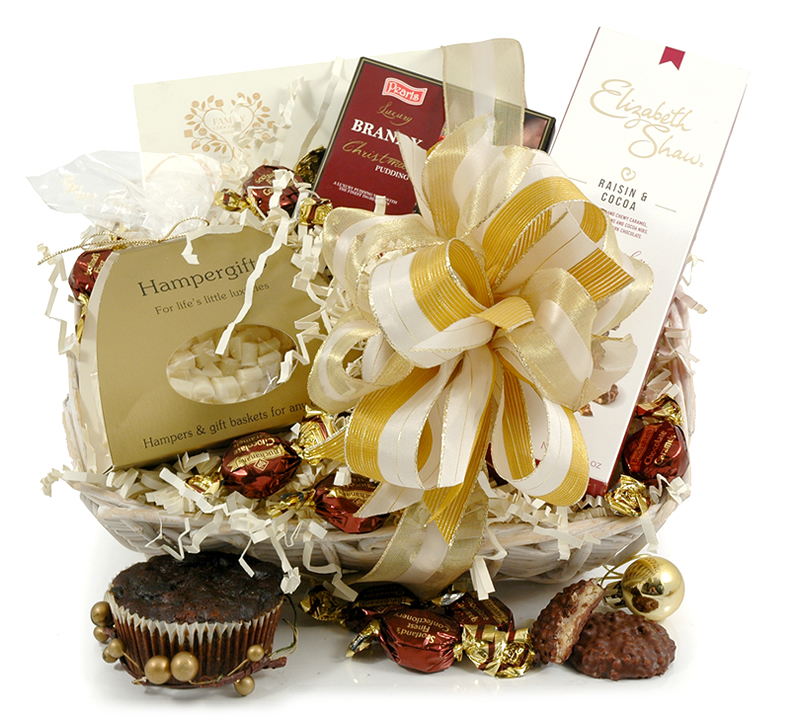 Say Merry Christmas in style by sending this attractive hamper filled with an abundance of sweet treats. Savour the exotic rose & lemon Turkish delight, enjoy the crunchy honey biscuits or nibble on the award-winning cranberry & white chocolate fudge.
Our Price £23.99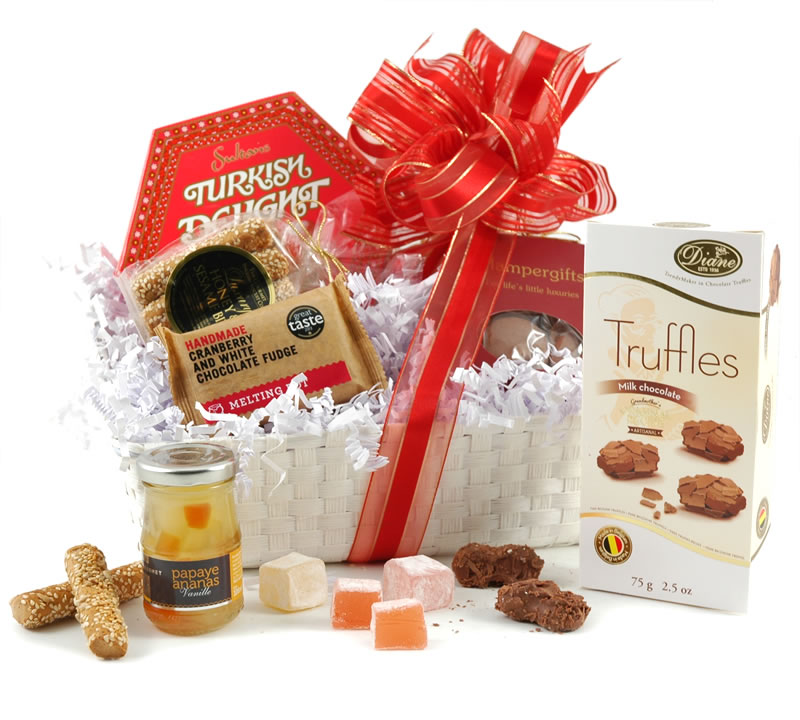 Start things with a bang by pulling the pair of Christmas crackers in this hamper of delights. Nesting in the sleek, magnetically fastened box, you'll also find that festive staple - a large, rich fruitcake - plus chocolate coated ginger thins, cranberry cookies, tomato chutney and other carefully chosen items.
Our Price £26.50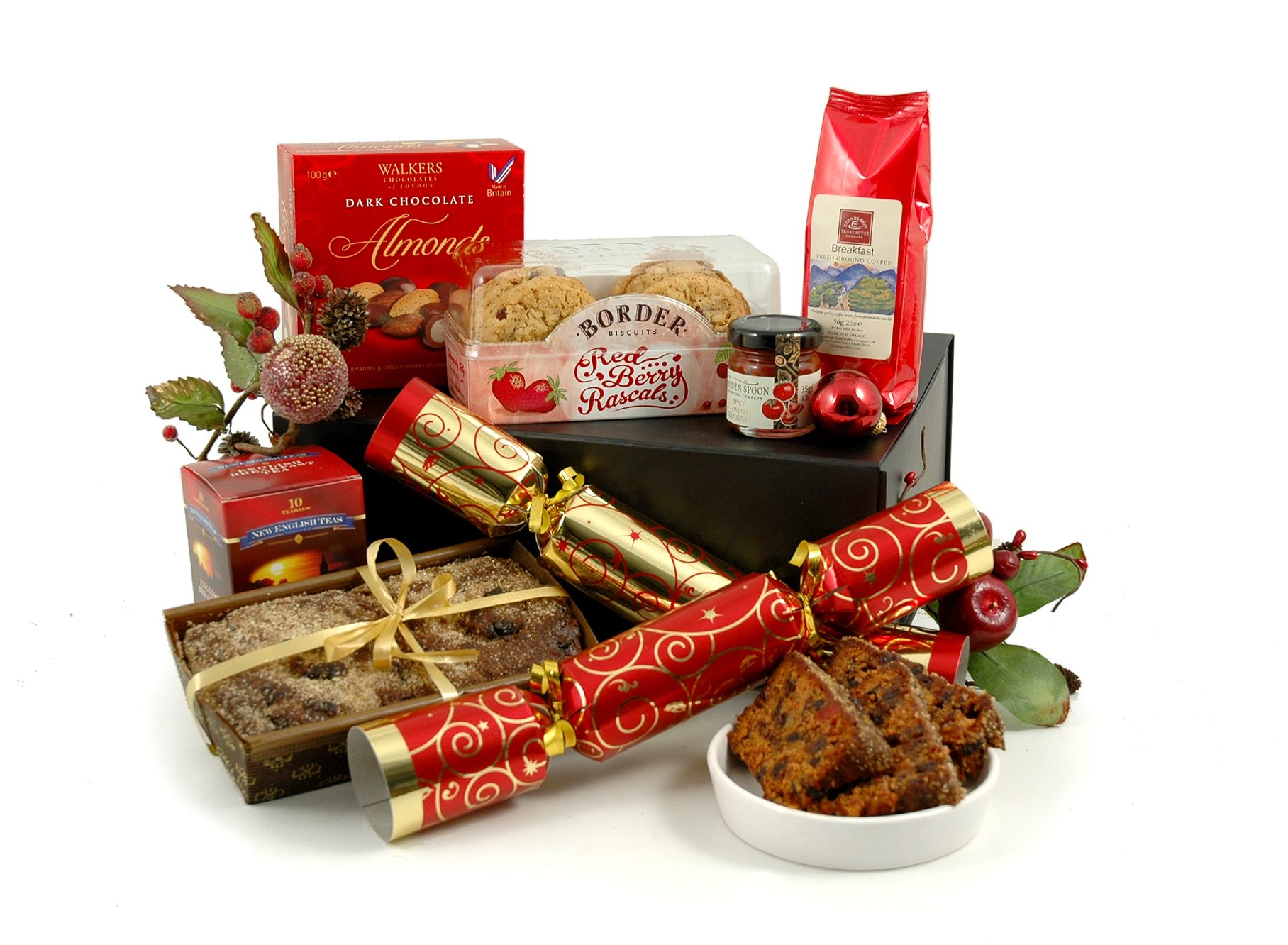 Demolishing this elaborate construction will be a special treat! Each of the striking, reusable burgundy & silver boxes is filled to the brim with indulgences like Honey Roasted Nuts, Hazelnut Praline Pieces, Sugared Almonds and more.
Our Price £30.00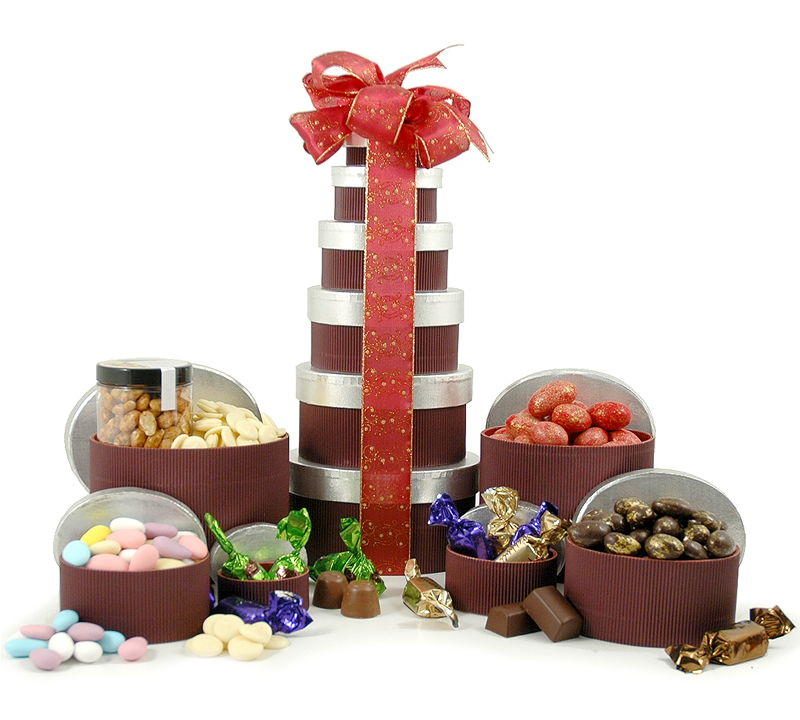 A charming hamper bursting with some medal winning delights. Cut a slice of the award-winning cheddar truckle and enjoy with the Ardennes pâté, crisp oatcakes and gold medal Cheese Makers Pickle.
Our Price £32.50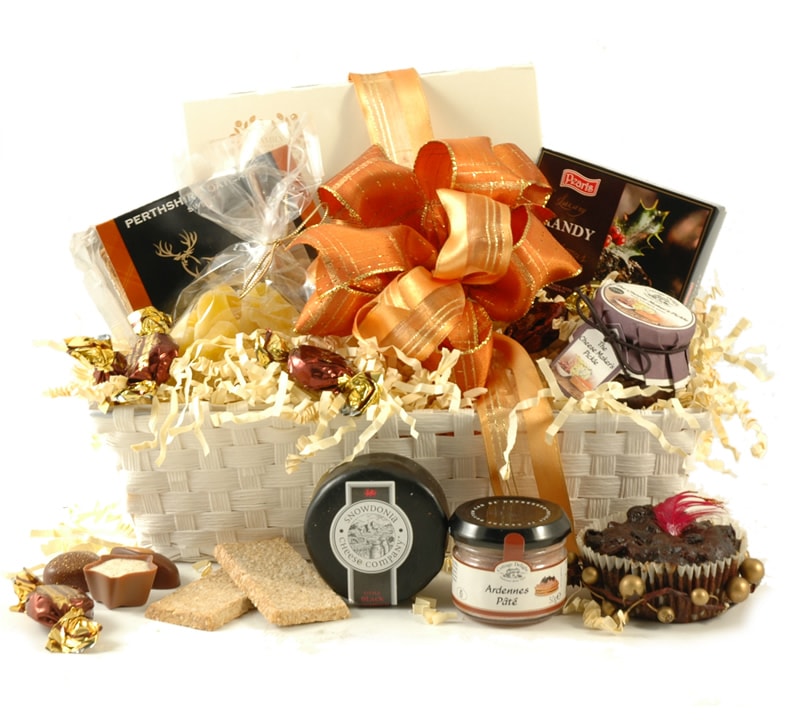 Uncork the delicious bottle of South Africa wine, unwrap the dark chocolate mint sticks and settle down to relax and enjoy Christmas with our special Christmas Holly Box. Peek inside the attractive, magnetically fastened box and you'll also find strawberry & cream shortbread, honey-baked flapjack, unusual and tempting milk chocolate 'stones' and exquisite sweet apple & prunes in syrup.
Our Price £42.50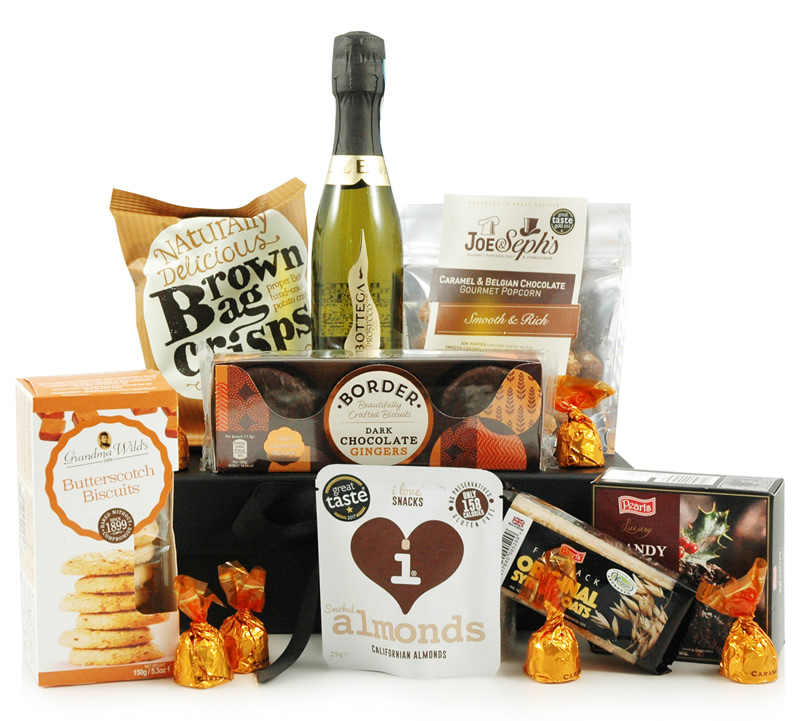 You wont know where to start with this delightful Christmas basket - but unearthing all the little goodies will certainly be fun!
Our Price £52.50