---
Christmas Hampers & Gift Baskets at Hampergifts.co.uk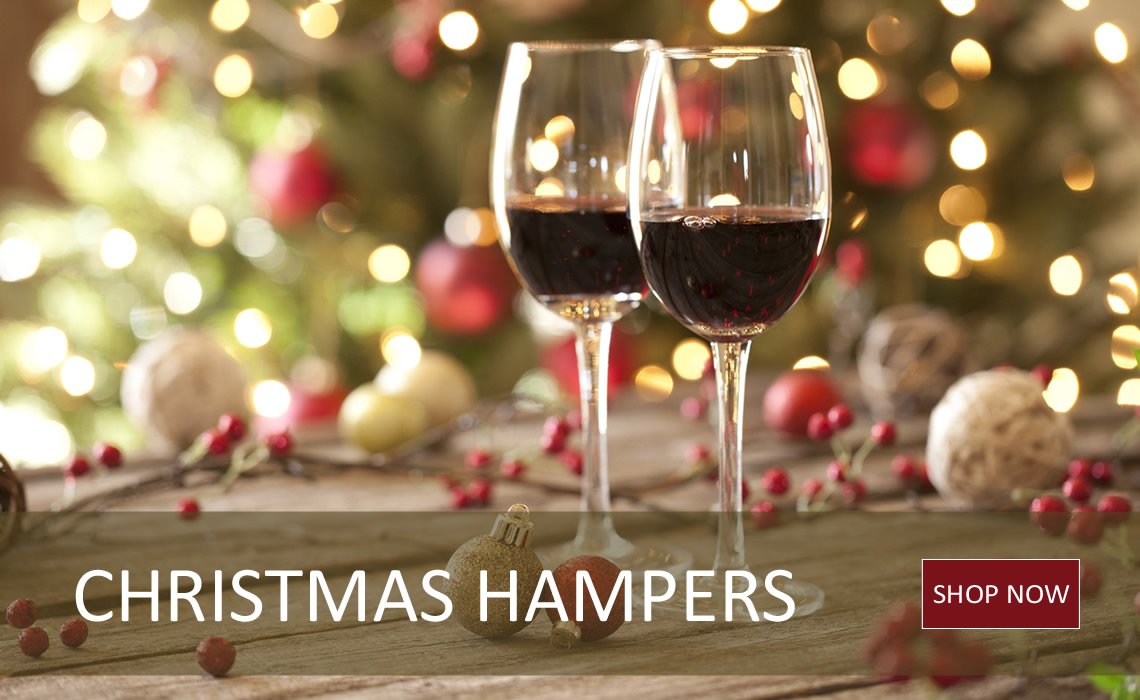 'Tis the season of goodwill so why not spread some happiness with a Christmas Hamper from Hamper Gifts? We have a wide range of Christmas Hampers available so you can be sure that you'll find the right gift for friends, family or corporate clients. There's something to suit every taste!
There's a fruity, nutty theme to this wonderfully attractive xmas hamper. Start by sharing out the unusual diced Mango chunks. Cut a thick slice from the Raisin and Cherry Filled Fruit Cake, or enjoy the Chocolate Coated Cashews.
Our Price £27.50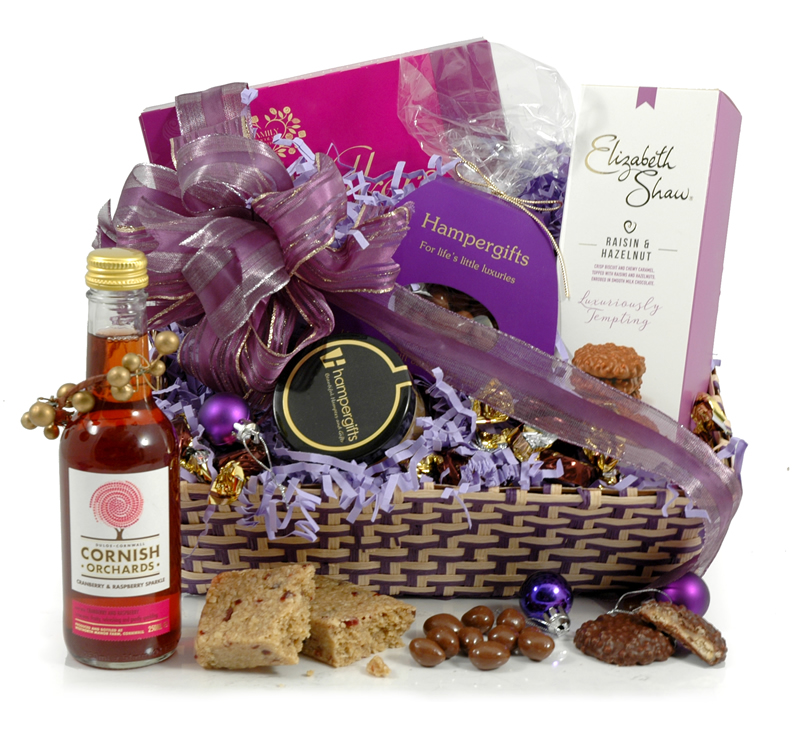 Featuring a lovely merlot and a half bottle of Champagne, this hamper will bring a touch of class to any festive gathering. And with oatcakes, pickle and pâté to choose from, as well as shortbread, cranberries in syrup and chocolate liqueurs, this sweet & savoury hamper is certain to cater for all tastes.
Our Price £95.00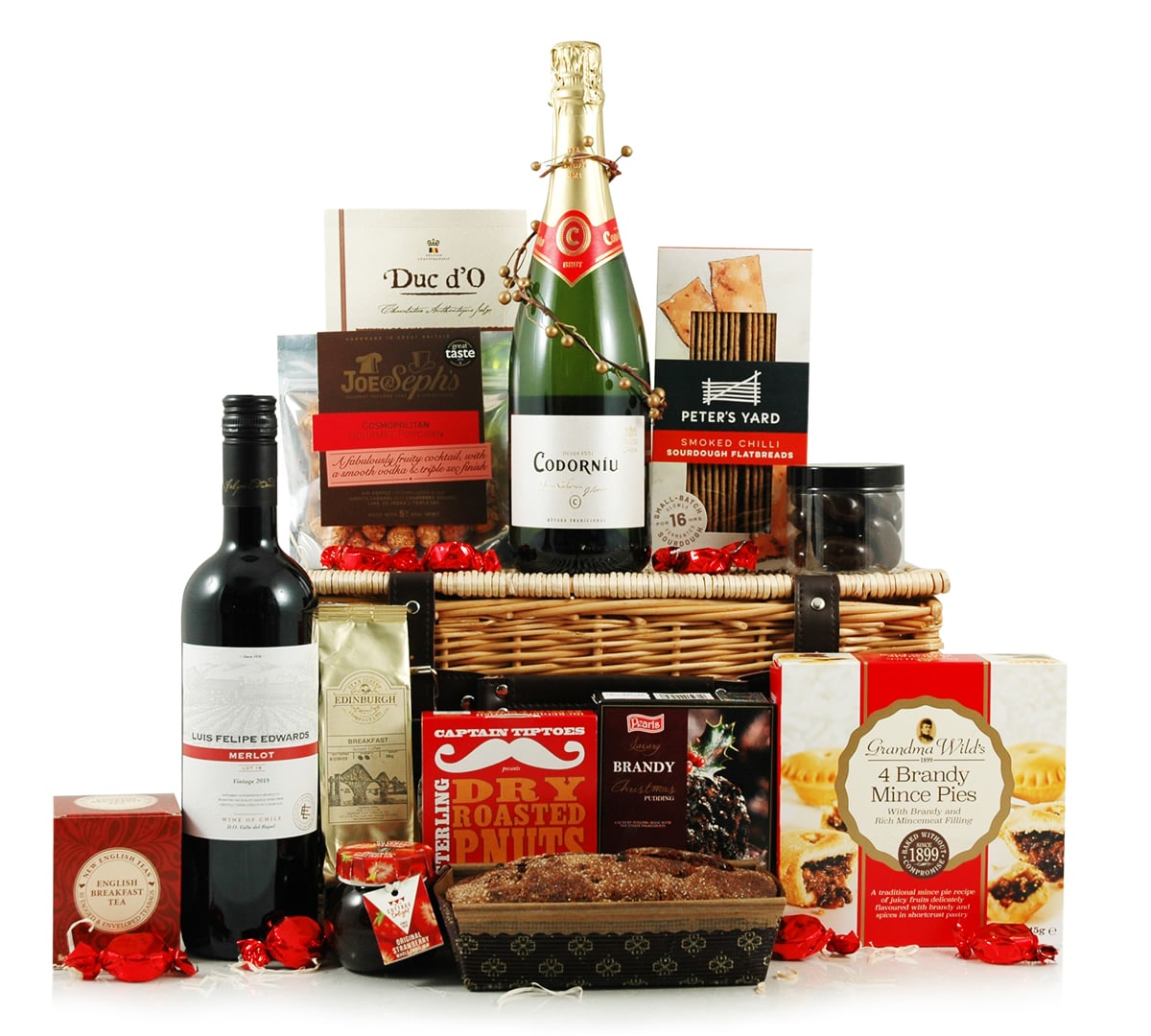 Lovers of all things chocolate will enjoy digging into this charming basket. From chewy caramels and Belgian truffles, to chocolate hazelnut cookies and perfectly-sized milk chocolate discs, this hamper will delight on Christmas day.
Our Price £22.50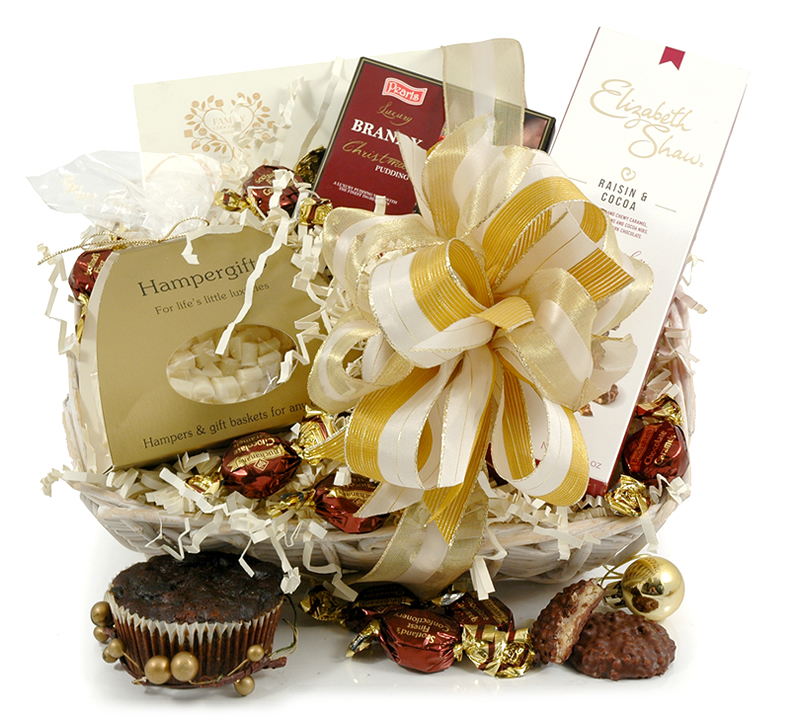 Say Merry Christmas in style by sending this attractive hamper filled with an abundance of sweet treats. Savour the exotic rose & lemon Turkish delight, enjoy the crunchy honey biscuits or nibble on the award-winning cranberry & white chocolate fudge.
Our Price £23.99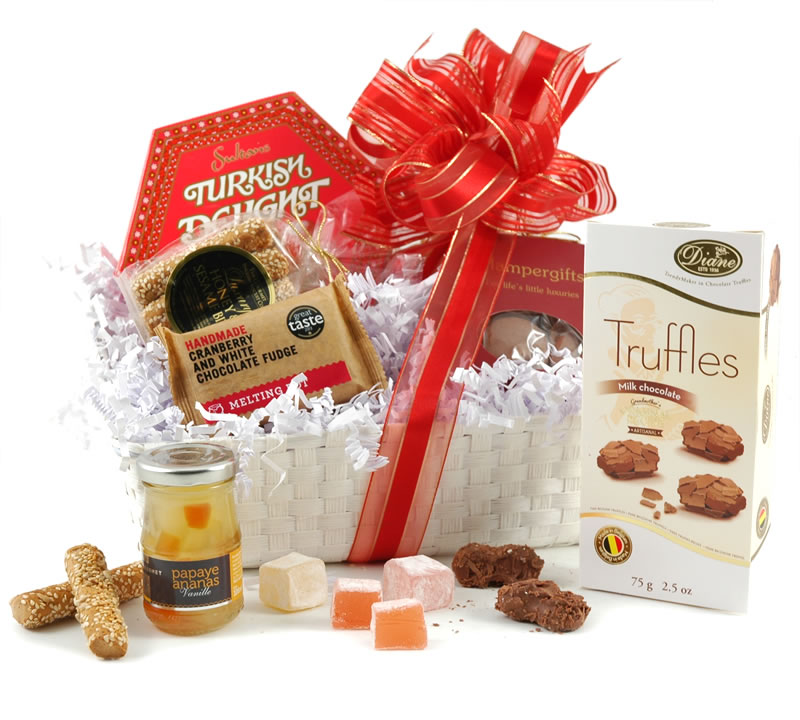 Start things with a bang by pulling the pair of Christmas crackers in this hamper of delights. Nesting in the sleek, magnetically fastened box, you'll also find that festive staple - a large, rich fruitcake - plus chocolate coated ginger thins, cranberry cookies, tomato chutney and other carefully chosen items.
Our Price £26.50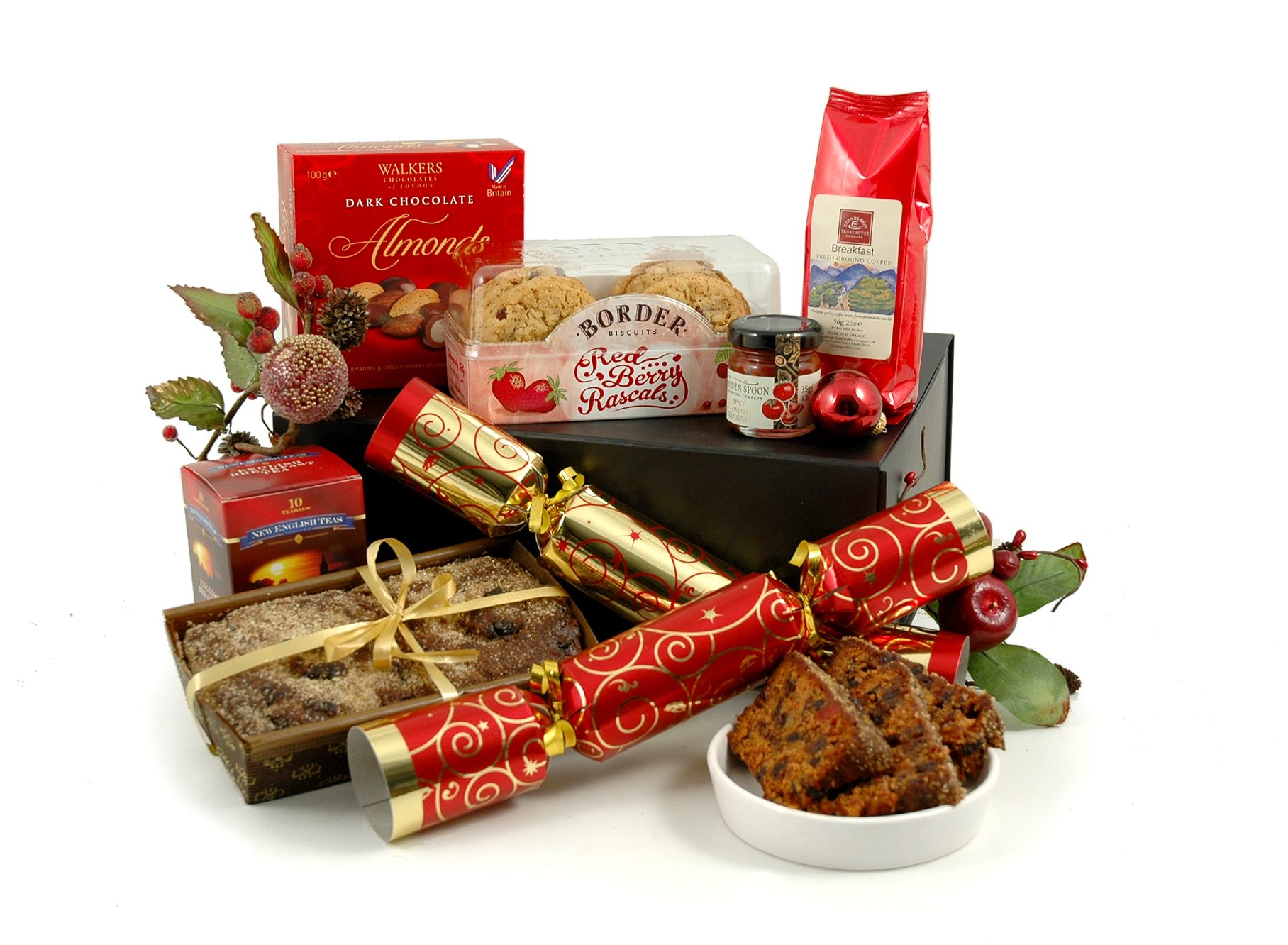 Demolishing this elaborate construction will be a special treat! Each of the striking, reusable burgundy & silver boxes is filled to the brim with indulgences like Honey Roasted Nuts, Hazelnut Praline Pieces, Sugared Almonds and more.
Our Price £30.00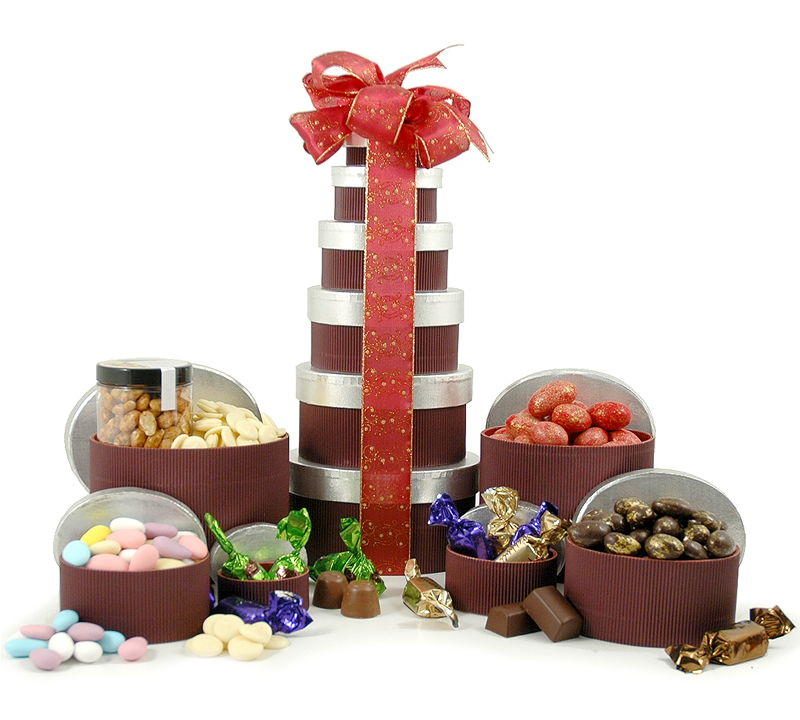 Our unique Silver Christmas Tower has six layers of gift boxes packed with a perfect blend of sweet and savoury treats. The award-winning extra mature cheese truckle will go perfectly with the baked mini breadsticks and the tangy caramelised onion chutney.
Our Price £37.50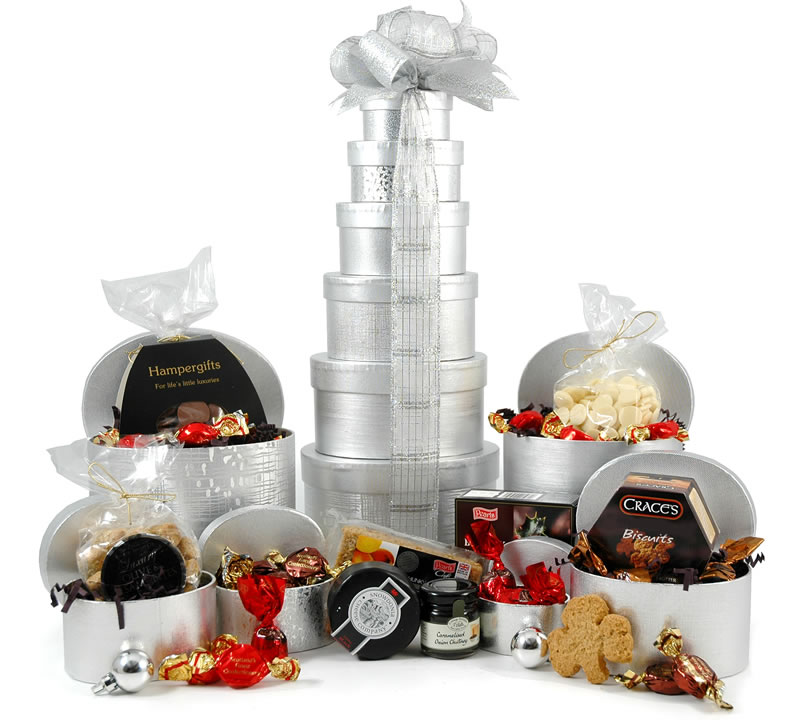 Our top-of-the range chocolate tower is a soaring 50cm tall and features 8 golden gift boxes, each one filled to the brim with a vast amount of chocolates, cookies and other sweet treats.
Our Price £49.99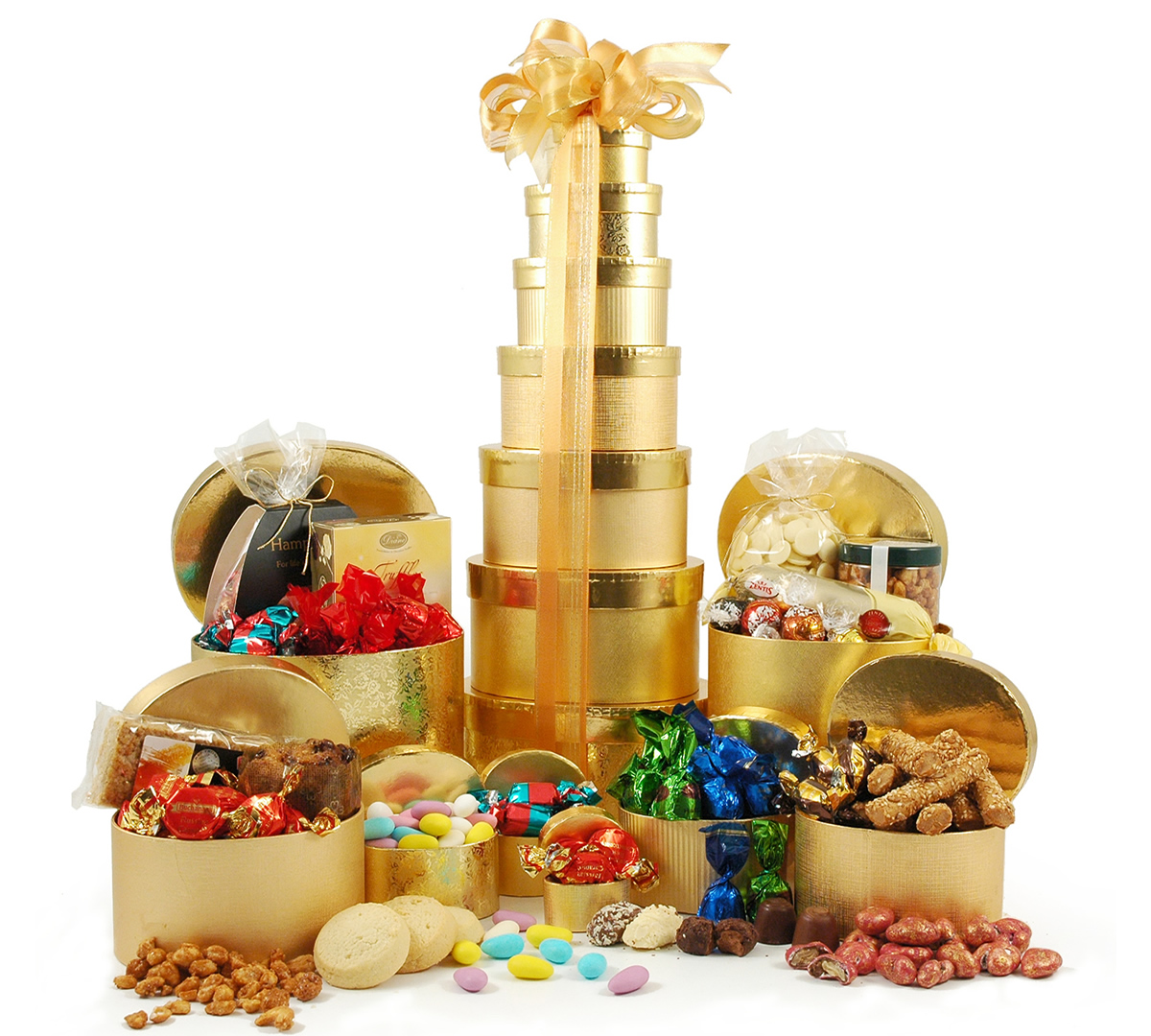 This gorgeous Christmas food hamper is perfect for friends, family, colleagues or clients. The carefully-chosen combination of sweet and savoury snacks, nibbles and treats means this hamper really offers something for everyone's tastes.
Our Price £49.99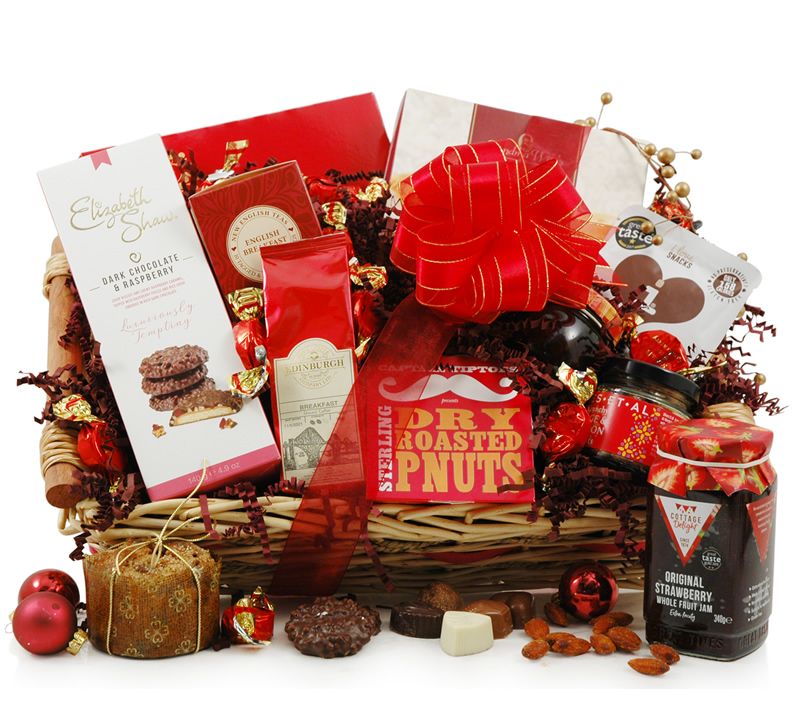 Indulge in this luxury Xmas hamper, jam-packed with Christmas goodies and a delightful duo of award winning wines. The fruity Australian Shiraz is a silver medal winner and the zesty South African Chenin Blanc is also one to cherish.
Our Price £67.50