---
Start things with a bang by pulling the pair of Christmas crackers in this hamper of Christmas delights. Nesting in the sleek, magnetically fastened box, you'll also find that festive staple - a large, rich fruitcake - plus chocolate coated gingers, spicy tomato chutney and other carefully chosen items.

Our Price £24.00 inc Vat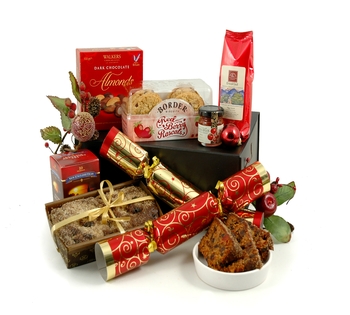 Always one of our most popular Christmas hampers, this charming gift is crammed with Xmas delights. Including a Brandy Christmas Pudding, a box of mouth-watering Mince Pies, After Dinner Chocolate Mints, a mini pot of Acacia Honey and a whole lot more.

Our Price £25.99 inc Vat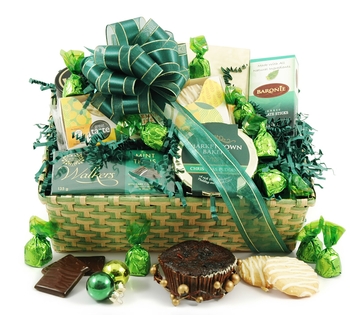 There's a fruity, nutty theme to this wonderfully attractive xmas hamper. Start by sharing out the chocolate roasted nuts - with cashews, brazils & macadamias. Cut a thick slice from the raisin and cherry filled fruit cake, or enjoy the unusual yoghurt coated brazils & cranberries. The hand woven basket also features a moist cranberry flapjack, cherry brandy liqueurs as well as turkish delights domes.

Our Price £27.50 inc Vat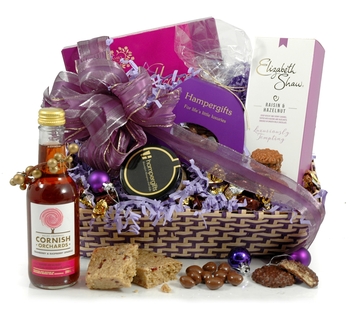 This pair of award-winning Kleine Zalze wines from South Africa would be perfect as a corporate gift to customers or colleagues. The honey-drizzled and deliciously refreshing Chenin Blanc won a Gold Medal at the Decanter World Wine Awards 2011. And the medium-bodied, soft and elegant Merlot is an incredibly easy drinking wine.
Our Price £29.99 inc Vat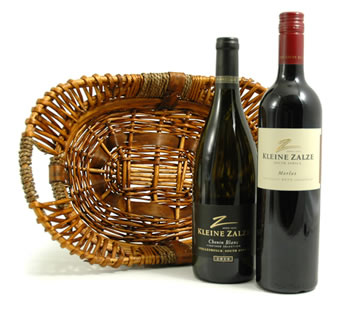 This beautiful Christmas hamper includes a memorable combination of delicious, tasty food, complemented by a bottle of deep red, award-winning Shiraz from Australia. The lucky recipient of this hamper is bound to be seduced by the unusual yoghurt coated nuts and sumptuous Belgian chocolates. They'll also enjoy the fiery wholegrain mustard and indulge in the moreish savoury olive biscuits.

Our Price £32.50 inc Vat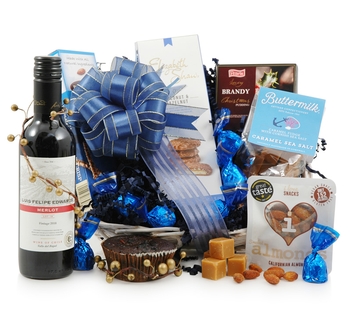 Uncork the delicious bottle of South Africa wine, unwrap the dark chocolate mint sticks and settle down to relax and enjoy Christmas with our special Christmas Holly Box. Peek inside the attractive, magnetically fastened box and you'll also find strawberry & cream shortbread, honey-baked flapjack, unusual and tempting milk chocolate 'stones' and exquisite sweet apple & prunes in syrup.

Our Price £34.99 inc Vat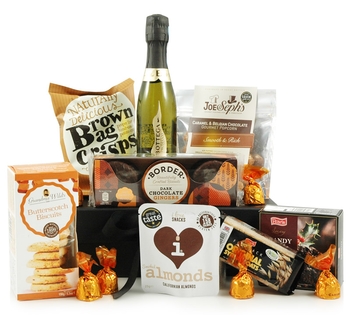 Our unique Silver Christmas Tower has six layers of gorgeous gift boxes packed with a perfect blend of sweet and savoury treats. The award-winning extra mature cheese truckle will go perfectly with the baked mini breadsticks and the tangy caramelised onion chutney. And the rich brandy Christmas pudding can be savoured alongside a whole feast of other goodies including fruit filled marzipans, chocolate caramels, savoury tomato bites and sweet apricot flapjack.

Our Price £37.50 inc Vat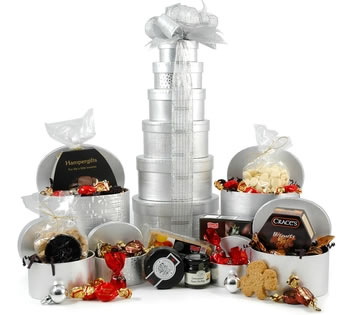 This stunning Christmas gift has a whopping seven layers of beautiful green and gold gift boxes - each one packed with delicious sweet treats. Standing at an impressive 45cm tall, the tower contains a multitude of hidden surprises including Lemon Butter Cookies, Crumbly Fudge Cubes, award-winning Strawberry Jam, Turkish Delight Domes, Caramels, Marzipans, a lovely Brandy Christmas Pudding and of course Chocolates.

Our Price £39.99 inc Vat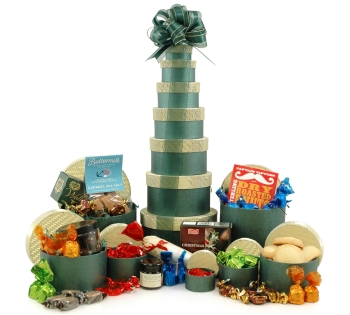 There's a beautiful, award-winning Argentinean Merlot at the heart of this impressive Christmas hamper. And with plenty of other supremely tasty items to eat, drink and tuck into, you won't be able to resist removing the attractive ribbon and getting stuck in.
Our Price £39.99 inc Vat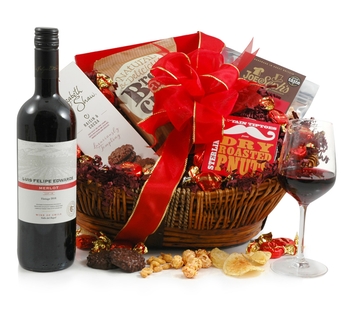 Simply a classic, this Port & Stilton hamper is a cut above the norm. The generously sized Blue Stilton wedge is from the famous Cropwell Bishop creamery. Possessing a velvety-soft texture, it's melt in the mouth delicious and will go perfectly with the Fine Ruby Port.

Our Price £44.50 inc Vat