---
Christmas Fun At Sock Shop
Brighten up their Christmas with a huge range of fun, funky socks and gift sets from Happy and Hot Sox Socks here at Sock Shop - but hurry, products are subject to available stock.
Wide stripes are the most direct way to let your socks make a bold colour statement, and no better than these Happy Socks Stripe Combed Cotton Socks with their vibrant colour combinations and contrast cuff, toes and heels.
Our Price £7.99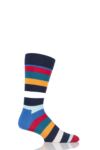 These beautiful, Swedish-designed socks are supremely stylish and superbly comfortable, thanks to the high quality, fine gauge combed cotton rich weave.
Our Price £7.99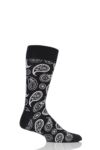 If wild zebra stripes weren't already enough of a statement, with these unisex Happy Socks Multi Zebra Combed Cotton Socks you get vivid shades and exciting color blocks to give them their striking, unmissable looks - these are not socks for shrinking violets!
Our Price £7.99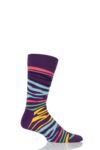 Made to deliver a striking 3D illusion, Happy Socks Filled Optic Combed Cotton Socks are ready to add some colour and eye-catching impact to your wardrobe choices, The 'filled' optic pattern (as opposed to a wire frame style outline) increases the contrast for the most intense 3D effect, with blocks appearing to advance and recede.
Our Price £7.99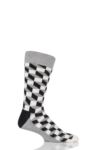 Made using a soft, cotton rich blend of fibres with added elastication for stretch, these HotSox Artist Collection Mona Lisa Cotton Socks will make you smile as much as the lady herself.
Our Price £6.99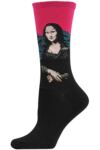 The socks are part of the Hot Sox Famous Artist Series and made from a soft, cotton rich fibre blend for you by this NYC-based sock brand.
Our Price £7.99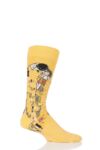 New York's HotSox has attempted to capture a sense of the intricate detail of this classic painting - and all the works selected for their Famous Artist Series - with fully woven designs, done using colourful cotton rich yarns.
Our Price £7.99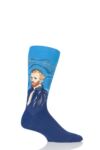 These cotton rich socks are part of the HotSox Famous Artist Series and feature detailed weaves in a mix of beautiful colours.
Our Price £7.99