Christmas Flowers Available With Free Delivery at Serenata Flowers
---
Christmas Flowers Available With Free Delivery at Serenata Flowers
Send a little sparkle this Christmas with Serenata Flowers.
Free Christmas Flower Delivery up until Christmas Eve 24th December.
Click here to find out more.
Blow a Christmas kiss with this flamboyant arrangement of lipstick-red Lilies swathed in a collar of soft red Chrysanthemums, ruby red Carnations, red Roses with a glittering peaks of gold Pistachio leaves.
Was £39.99 Now £29.99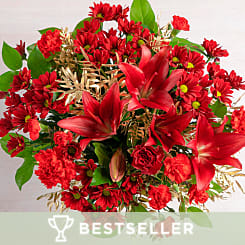 Bring all the fun of the fair into any home with this glorious bouquet filled with wonderful autumn colours capturing the essence of the season!
Our Price £24.99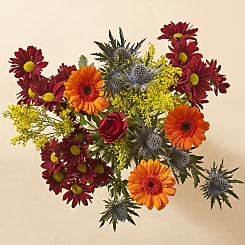 A Christmas classic of flaming grand-prix Roses and ravishing red Carnations plays out against the theatrical backdrop of fragrant natural pine, pine cones and Ilex. Staged in Salal and Conifer foliage, this smiling festive sparkler makes an inspired seasonal present for those close to your heart.
Was £49.99 Now £39.99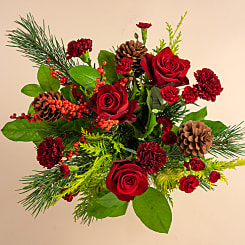 All the cheer of a special Noel is encapsulated in this armful of cherry red roses, snow white Alstroemeria and painted gold Eucalyptus, sprinkled with Salal leaves.
Was £39.99 Now £29.99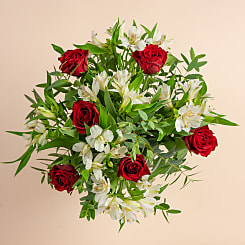 Like a warm glass of mulled wine this superb bouquet will give your loved ones a warm fuzzy feeling, with oriental white Lilies, ravishing red roses, white Stocks, red Hypericum berries surrounding a statement glittering white Brassica. This glamorous arrangement is filled with Christmas spirit.
Was £49.99 Now £39.99
Fiery red roses and scarlet carnations are accompanied by sparkly golden pine cones and elegant lilies for that special Christmas Cheer
Our Price £39.99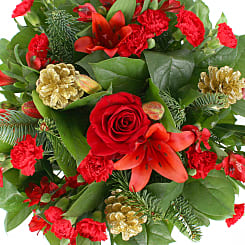 Blushing shades of dusky pink flowers make a serene display of effortless elegance. With beautiful Lily flowers, classic Roses, frilly Carnations, delicate Alstroemeria and sweet pink Gypsophila, this pretty arrangement has all the Perfect Pinks.
Was £29.99 Now £24.99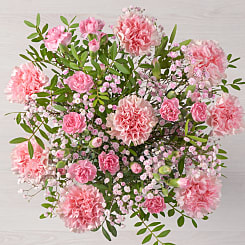 The relaxing serenity of pure white blooms create a glorious sense of peace. The delicate fragrances of Freesia, luxury Roses, Lisianthus, Oriental Lily and Waxflower create an ambience that even the UN would be proud of.
Was £49.99 Now £34.99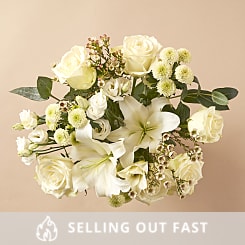 Relax and take a moment to imagine waking up to a crisp and frosty morning, a beautiful mist covers the land and golden sunlight streams through the trees, wonderful, just like this gorgeous bouquet. Single white rose embraced by a snowy landscape of white Chrysanthemums, Alstroemeria and glittering pine cones.
Our Price £29.99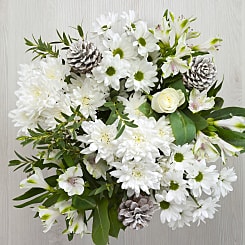 The essence of all colours that only an autumn brings. This burst of floral joy captures the rustle of the autumn leaves being swept by the wind and the smell of the autumn dancing in the breeze. A vibrant waltz of orange, red and yellow roses with yellow Alstroemeria will take their breath away.
Was £39.99 Now £29.99