---
Chocolate Hampers From Hampergifts.co.uk
This week, Hampergifts.co.uk are thrilled to bring you a selection of Chocolate Hampers. Featuring melt-in-the-mouth chocolates of all descriptions, from cookies, truffles and pralines to mints, nuts and everything in between. Perfect for any chocolate lover and ideal alternative Easter gifts.
See our selection below or take a look here for the full range.
Please note, you can still receive 5% off your order with voucher code MAR5HAMP, but hurry as this expires 31st March 2016.
This beautiful chocolate hamper contains a mix of well-known and boutique chocolate treats. Also featuring an adorable baby teddy bear our excellent value hamper is crammed full of delicious items presented in an attractive basket & gift wrapped with ribbon.

Our Price £26.99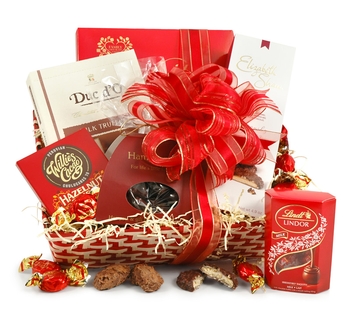 Demolishing this elaborate construction will be a special treat! This stylish gift is beautifully finished with a hand-tied ribbon - ideal for chocoholics, chocolate lovers, and people who just like a chocolate surprise now and again.

Our Price £32.50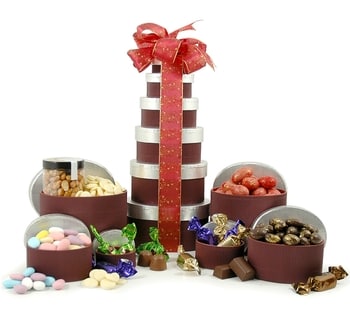 Chocolate Heaven? Its a phrase that gets thrown around a lot. But in this case our huge chocolate hamper cannot fail to impress! This delectable hamper comes beautifully gift-wrapped in a seagrass & wooden basket.

Our Price £36.99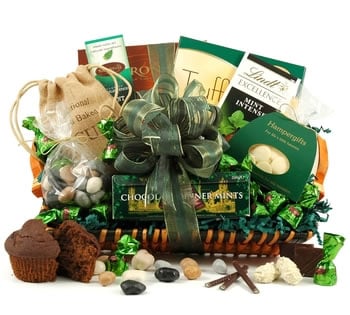 At the heart of our best selling wine hamper is a delicious medal winning Chilean Merlot. The Ruby is the perfect gift for a friend or colleague who enjoy a nice glass.

Our Price £37.99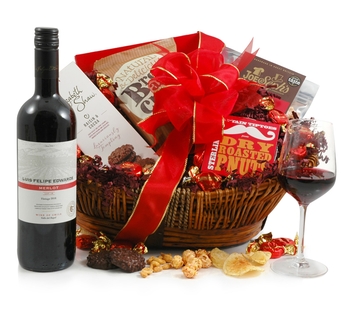 Champagne and chocolates should be enough to impress most people! The neatly presented goodies arrive in a reusable magnetic box and this sleek, classy gift is perfect for any personal or corporate occasion.

Our Price £50.00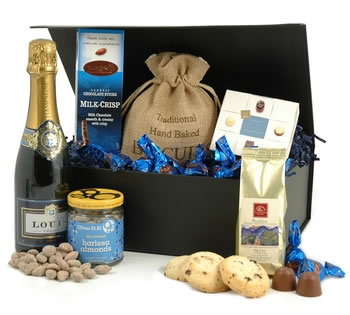 A stunningly presented, pink-hued rosé from Château de Beaulieu arrives with an adorably cuddly, soft and floppy-eared 'love you' puppy. Open the metallic red gift box and you'll also discover a mouth watering selection of Belgian & Swiss chocolates - just perfect for the one you love.

Our Price £45.00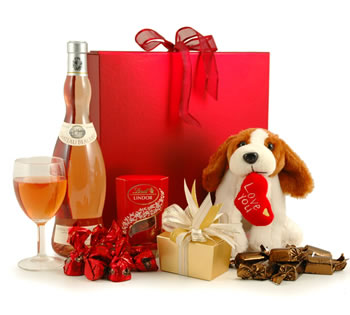 Our top-of-the range chocolate tower is a soaring 50cm tall and features 8 golden gift boxes, each one filled to the brim with a vast amount of chocolates, cookies and other sweet treats. And like all our towers it arrives beautifully gift-wrapped with our signature ribbon, ready to present to the lucky recipient.

Our Price £54.99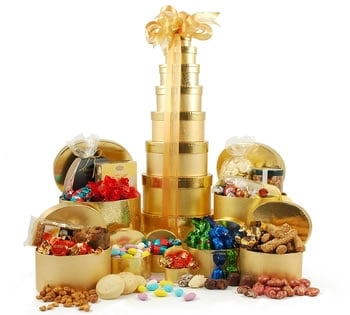 150 years of chocolate excellence is packed into one mouth watering hamper. The Lindt Gift Basket is filled with the finest products in the Lindt Lindor range. Presented in an attractive hand made wicker basket and gift wrapped with ribbon.

Our Price £54.99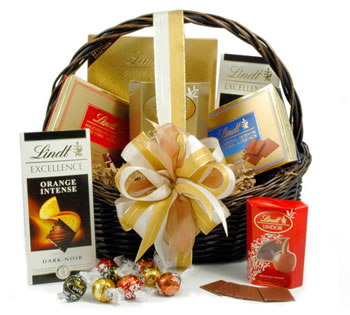 If you're stuck for ideas for that special someone, look no further than our Giant Teddy and Champagne Gift. This gorgeous hamper has been lovingly put together to include premium products, perfect for any romantic occasion.

Our Price £59.95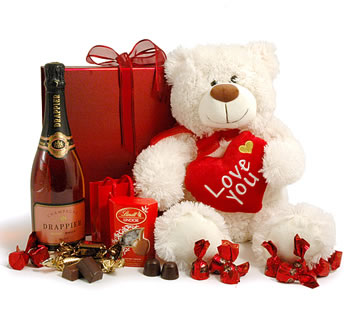 Pol Roger was the favourite champagne of Sir Winston Churchill, who famously described Pol Roger's residence as 'the world's most drinkable address'. This perfect aperitif Champagne is clean and elegant and has a delicious biscuity flavour.

Our Price £74.00