---
Chocolate Hamper Deliveries at Hampergifts.co.uk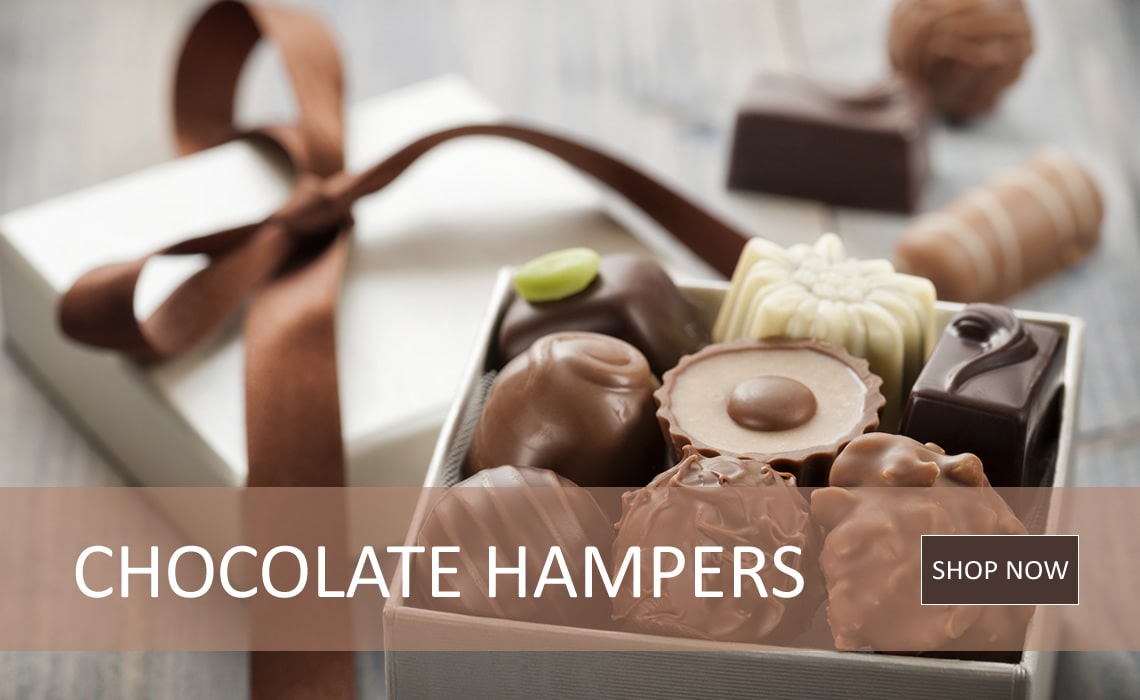 Do you have a special somebody to treat this? If they love boutique chocolate treats then they will adore our range of chocolate hampers and gifts, including sumptuous delights such as chocolate cookies, truffles, pralines, mints, chocolate nuts and much more!
Demolishing this elaborate construction will be a special treat! Each of the striking, reusable burgundy & silver boxes is filled to the brim with indulgences like Honey Roasted Nuts, Hazelnut Praline Pieces, Sugared Almonds and more.
Our Price £30.00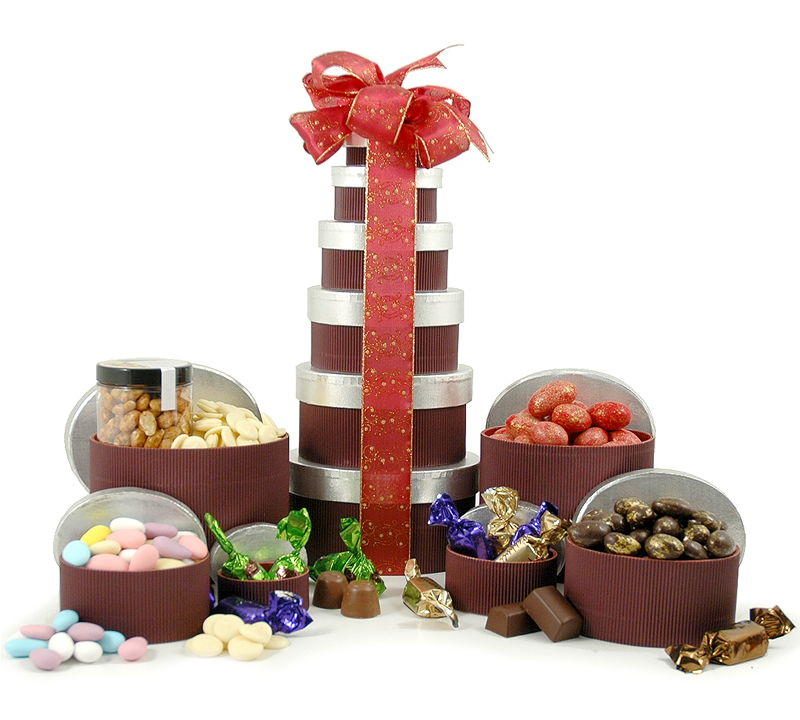 Chocolate Heaven? Its a phrase that gets thrown around a lot. But in this case our huge chocolate hamper cannot fail to impress! With a wide selection of temptations to choose from, we suggest starting with the gourmet triple chocolate cookies, the mouth watering double chocolate muffin, Belgian hazelnut pralines or the unusual milk chocolate 'stones'.
Our Price £36.99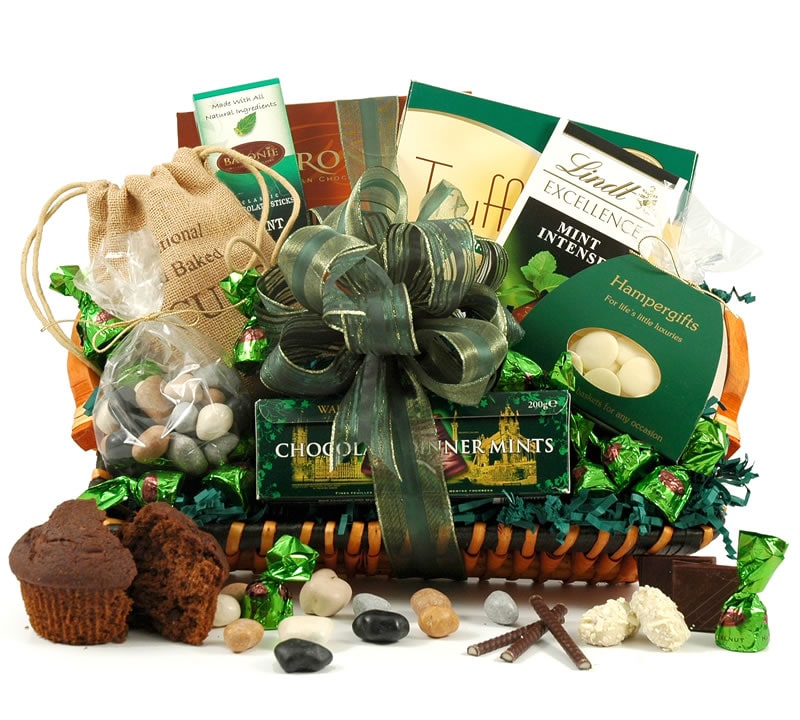 Champagne and chocolates should be enough to impress most people! This champagne gift box includes a half bottle of medal winning fizz, plus a considered selection of chocolates, nuts and snacks to enjoy with it.
Our Price £50.00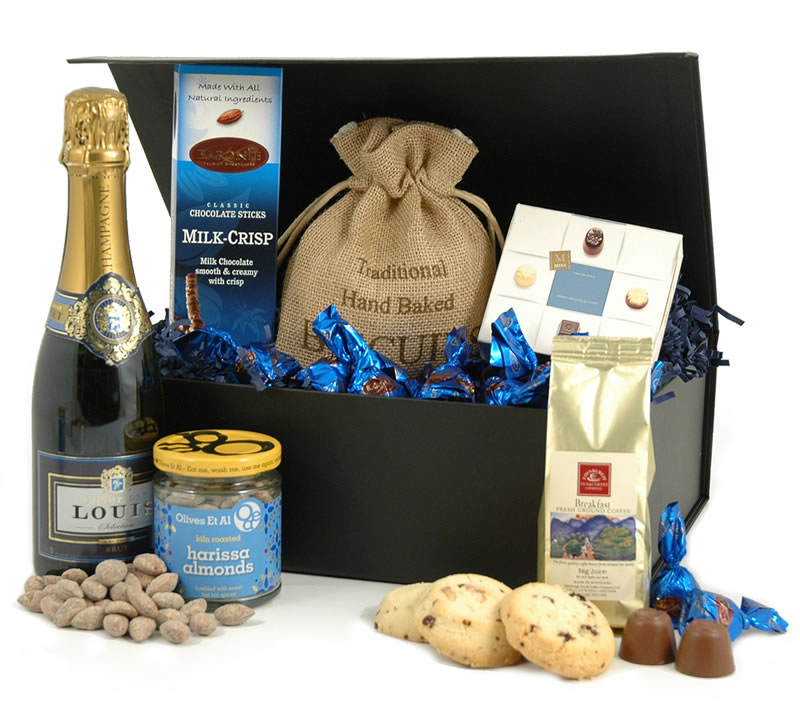 This beautiful chocolate hamper contains a mix of well-known and boutique chocolate treats. Dip into cappuccino chocolate sticks, or enjoy the white chocolate cookies, Swiss truffles, caramels, chocolate gingers and the unique chocolate stones.
Our Price £26.99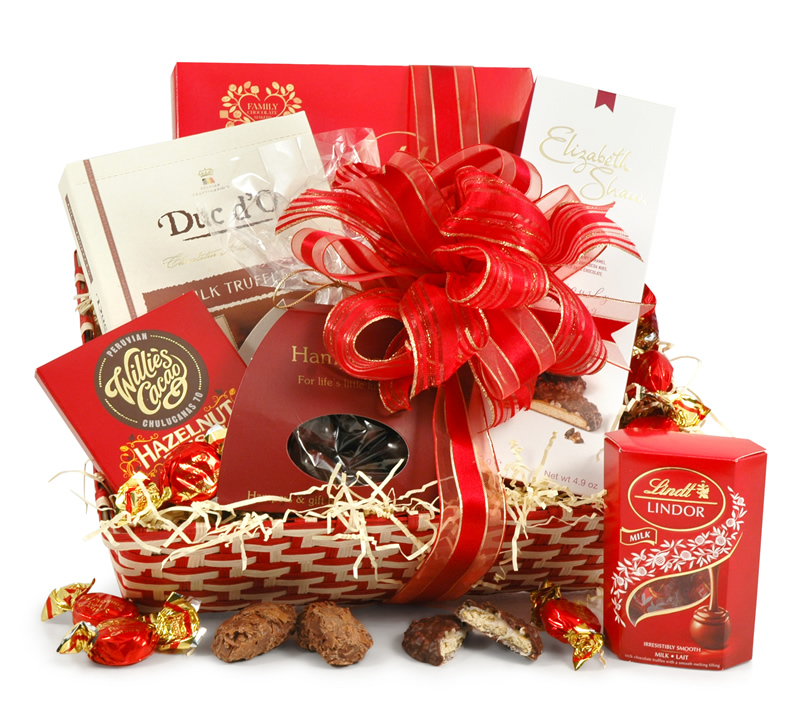 Lovers of all things chocolate will enjoy digging into this charming basket. From chewy caramels and Belgian truffles, to chocolate hazelnut cookies and perfectly-sized milk chocolate discs, this hamper is filled with mouth watering treats. Arriving beautifully gift wrapped with gold ribbon, the wicker basket can also be re-used for storage afterwards.
Our Price £23.50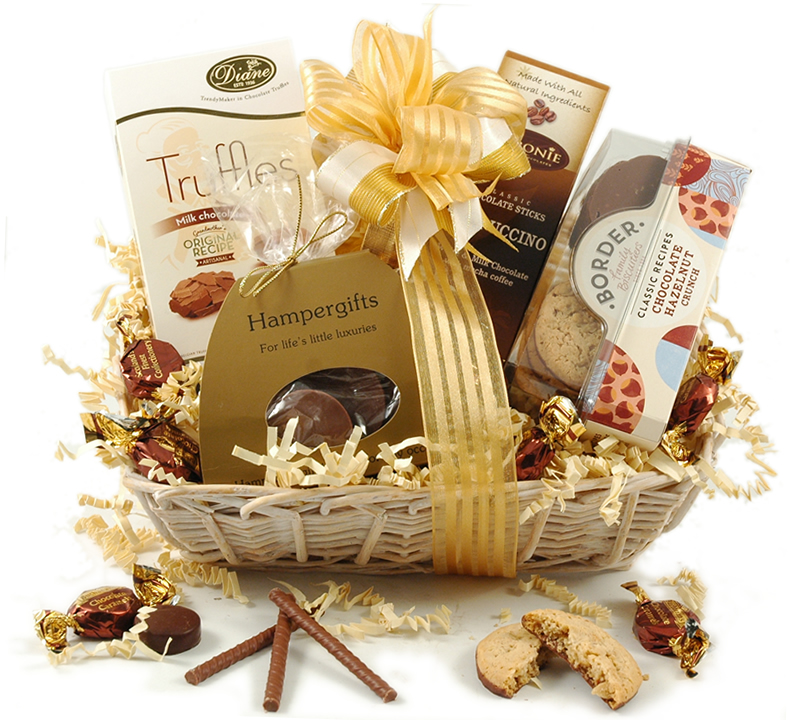 This little tower packs a lot of treats. Featuring creamy caramels, crumbly fudge and of course an abundance of chocolates - all waiting to be discovered inside three heart-shaped gift boxes. The Sweethearts Tower will arrive hand tied with red ribbon, ready to impress someone special.
Our Price £32.50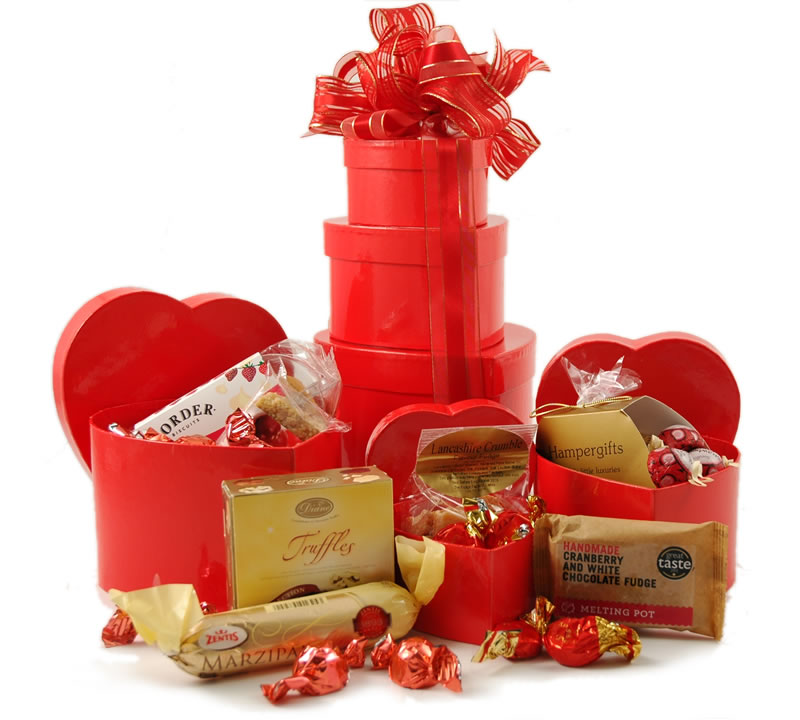 With a miniature bottle of strawberry-pink Cava, a 20cm cuddly puppy and a selection of chocolate treats, this one ticks all the right boxes for a charming romantic gift. The re-usable wicker basket arrives beautifully gift wrapped with ribbon by hand.
Our Price £33.99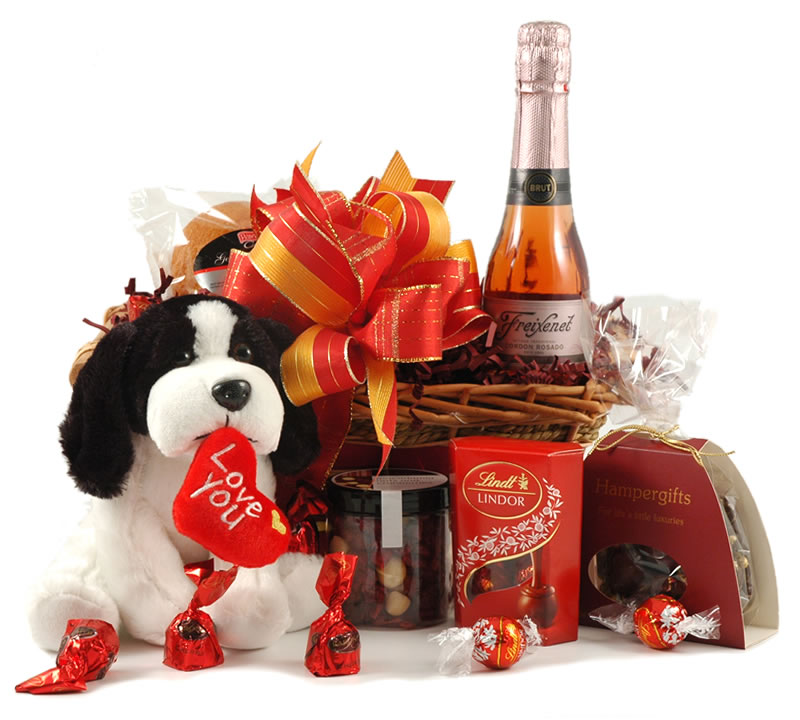 At the heart of our best selling wine hamper is a delicious medal winning Chilean Merlot. This elegantly gift wrapped hamper also includes some carefully picked Belgian chocolates, shortbread, chocolate coated honeycomb and other delights which go beautifully with the wine.
Our Price £37.99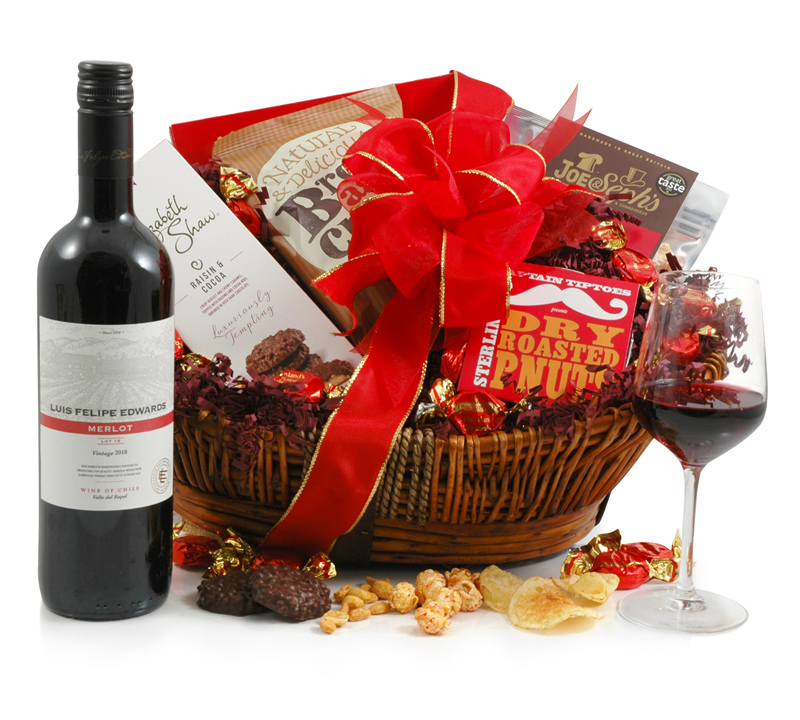 A delectable gift basket from the masters of chocolate creation. This Belgian & Swiss chocolate basket contains a mouth watering collection of white, dark & milk chocolate pralines and truffles. And you'll find them in a wonderful and unusual variety of flavours - including mint, chilli, cinnamon, Italian orange & coconut.
Our Price £43.50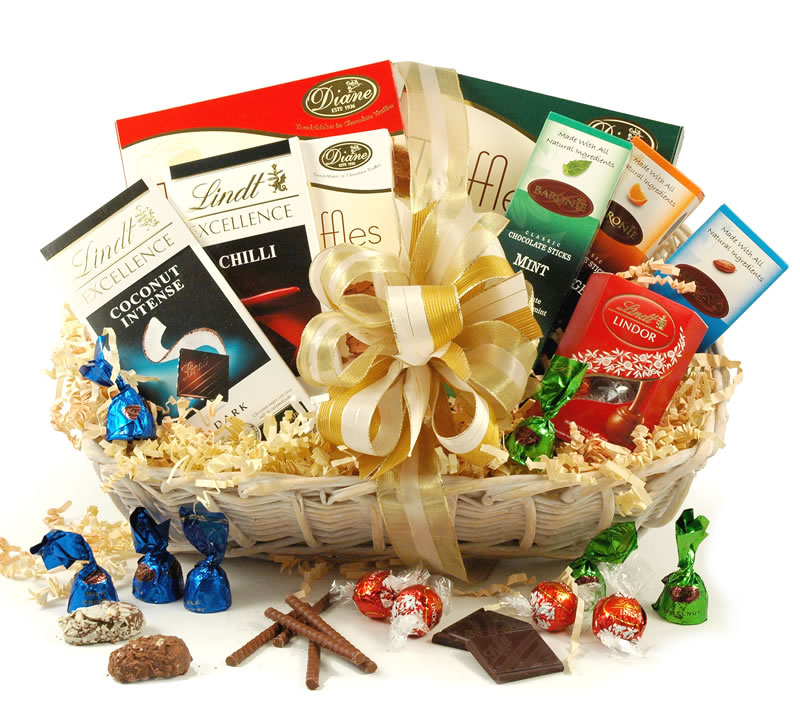 Our top-of-the range chocolate tower is a soaring 50cm tall and features 8 golden gift boxes, each one filled to the brim with a vast amount of chocolates, cookies and other sweet treats. This is pure indulgence on a grand scale!
Our Price £49.99